Hello sweet friends, and welcome to Christmas at The Castle!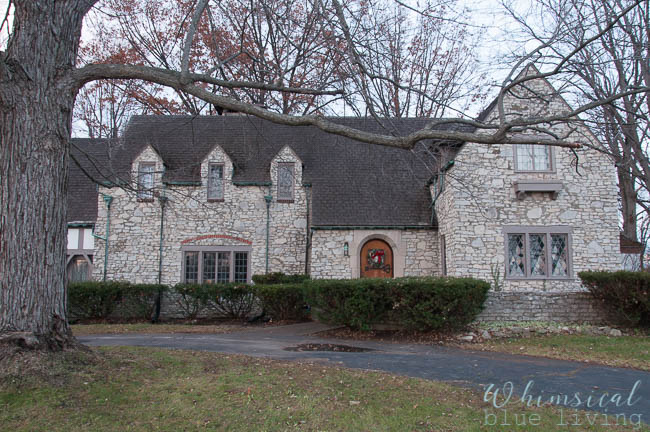 I'm so excited that you are here! A huge thank you to Jess from www.domicile37.com for hosting this Eclectic Winter Home Tour. There are so many talented bloggers sharing their spaces all decked out for the holidays, and I love all the inspiration! If you are visiting from www.gohausgo.com, welcome! Don't mind the construction dust, we've got a few projects going on in our little castle. We bought our historic 1927 home a few years ago at an auction and have been busy restoring it ever since. It is a labor of love as we strive to respect the age and character of the home while adding our own whimsical style. My husband and I do all of this while raising our three adorable kiddos, which means I'm transforming this house on a serious budget. My style incorporates tons of creativity and vintage pieces with sentimental stories. I'm on a mission to add a touch of blue to every room, as well as a vintage crystal chandelier!
Living in The Castle is a dream come true! The stone is gorgeous and I love the patina of the copper. The arched front door and original windows add such wonderful character to the home. And the view of the river is beautiful!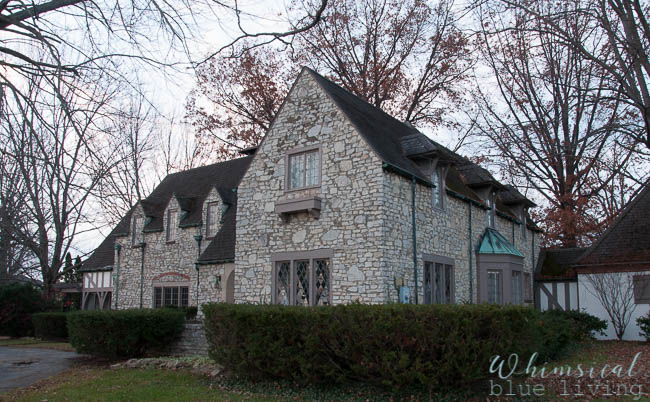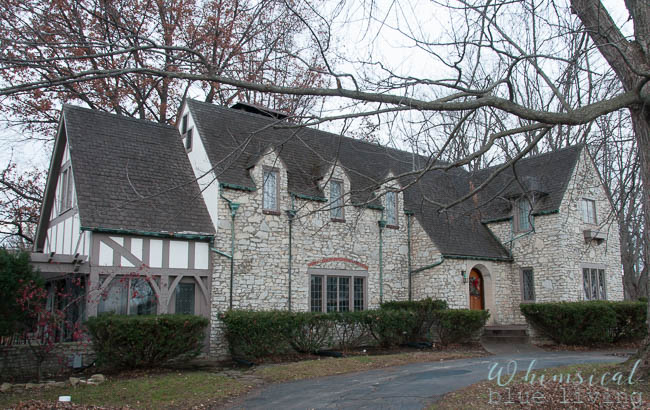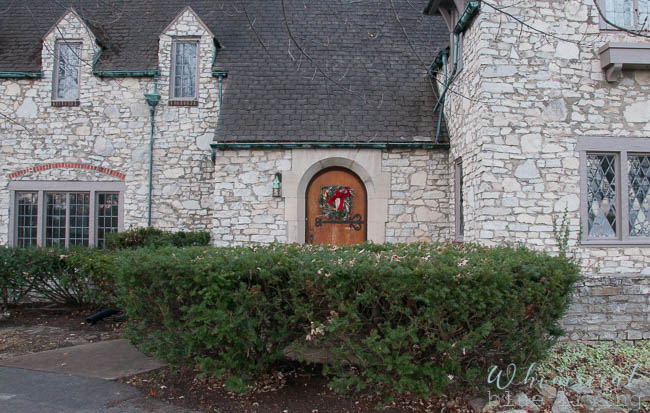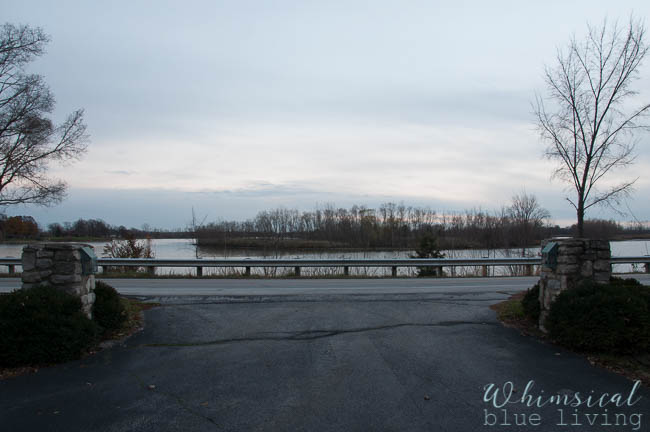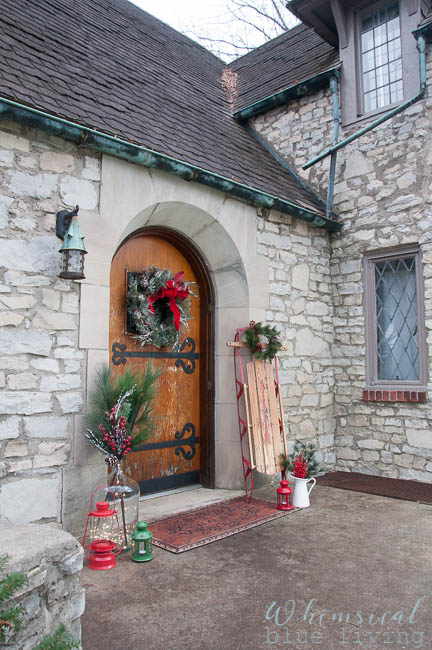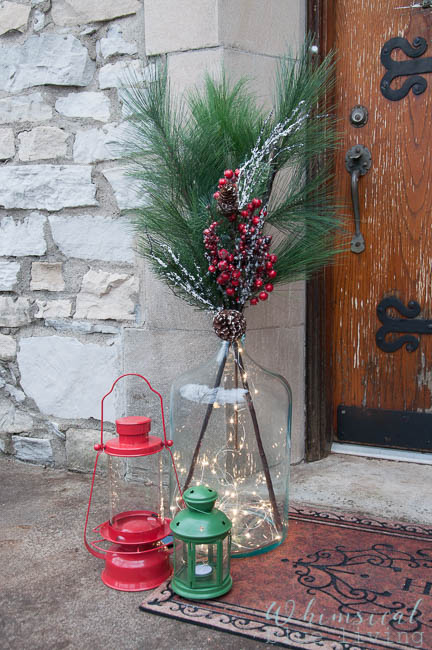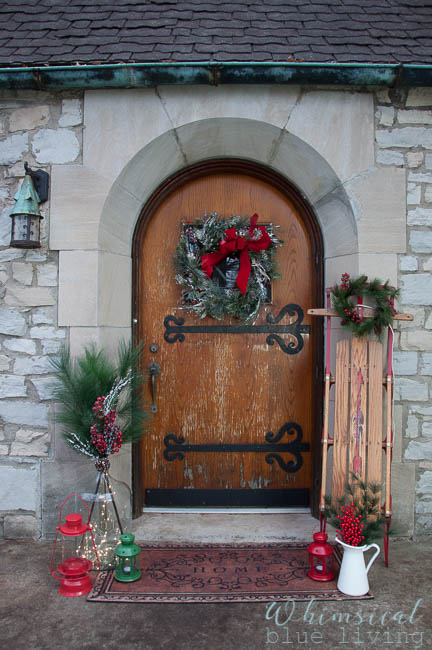 We are so excited you are here and we can't wait to show you around!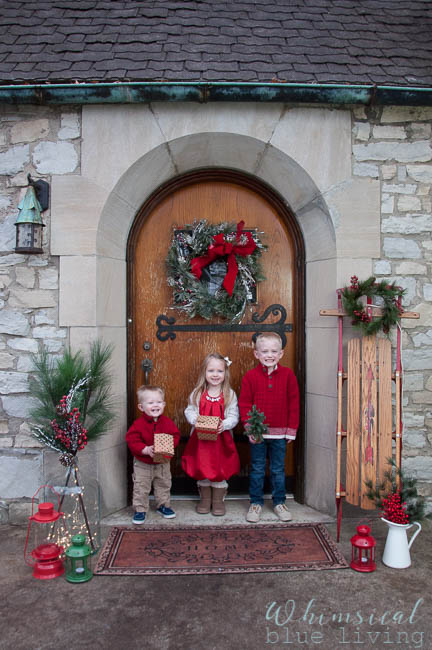 The foyer has so many original details like arched doorways, a stone floor (from France, according to the previous owners), and beautiful woodwork. We switched out the modern builder grade light that was here when we moved in with a vintage crystal chandelier from an antique store. Our blue church pew is the perfect place to sit and put on all the kiddos' shoes in the morning.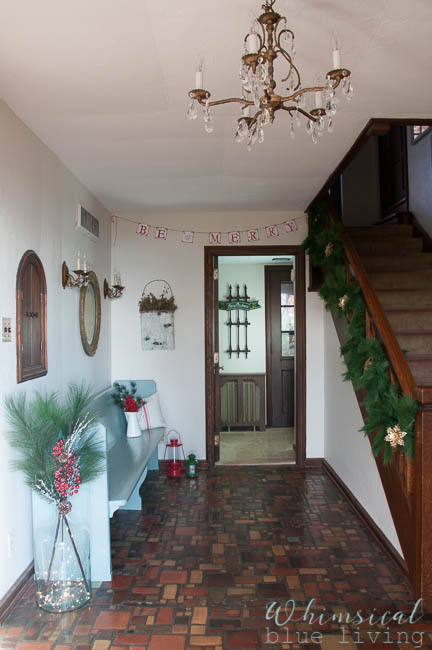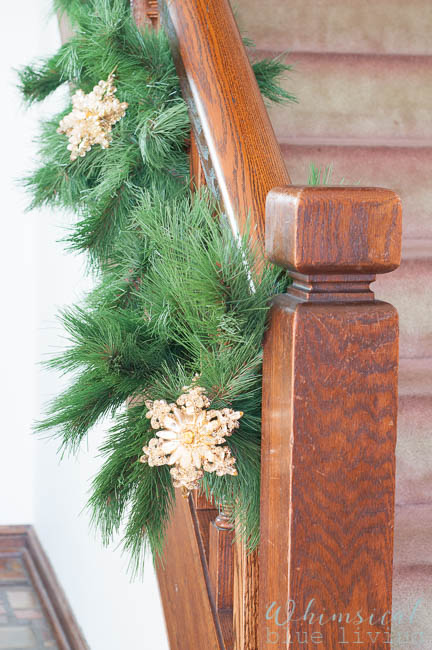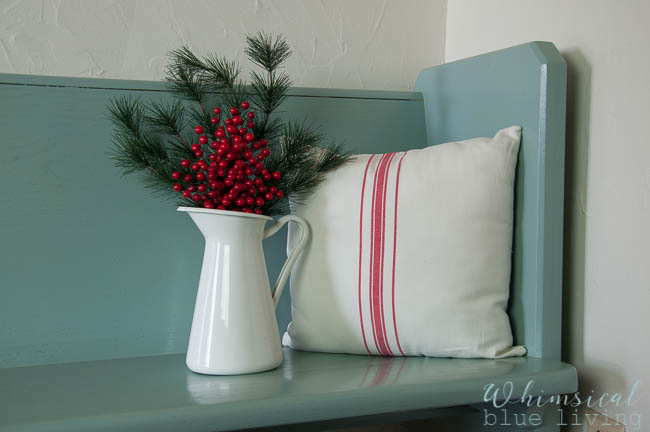 The original french doors lead into what is technically the formal dining room. Since we eat our meals in the sweet little breakfast nook off the kitchen we turned this space into a playroom. I'm a firm believer in making your house work for you and your family, and I love that I can watch the kiddos play while I make dinner in the kitchen. Someday we'll turn this room back into a formal dining room. Imagine the amazing dinner parties we'll host!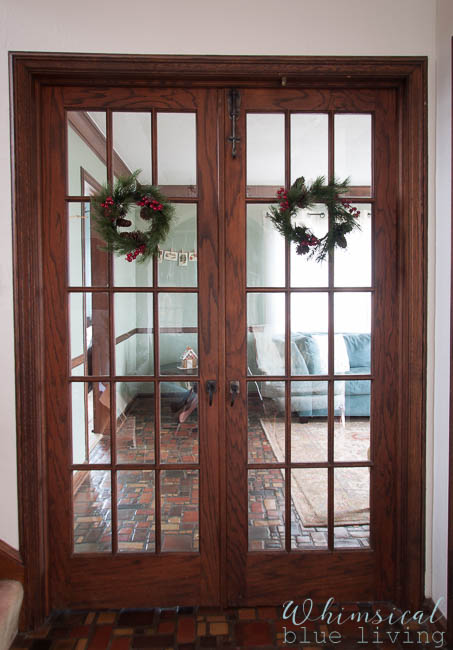 The kitchen has been our biggest project to date. For some incredible before pictures, read here and here. Doesn't this room just make you feel merry and bright?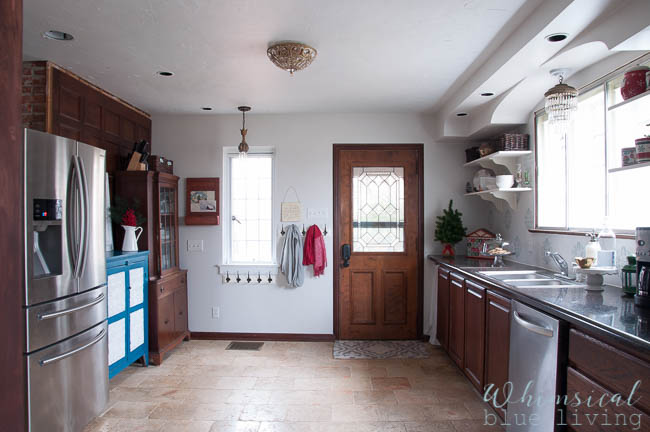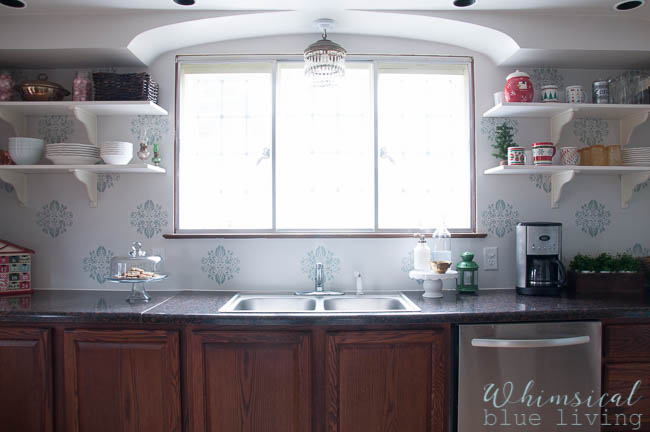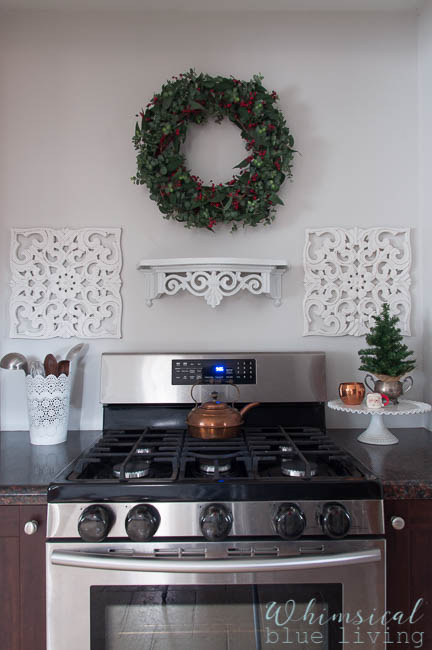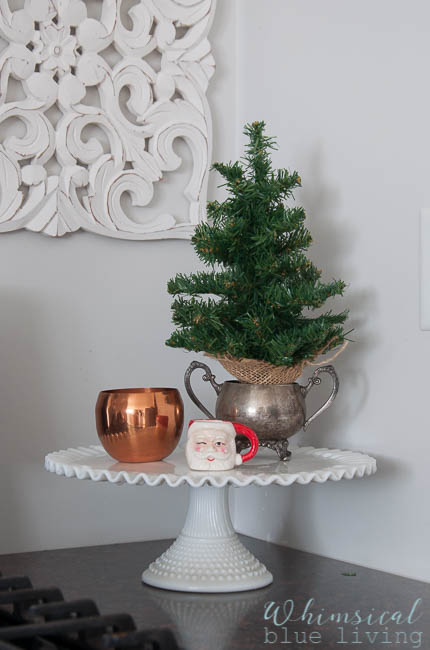 We absolutely love our open shelves! I have so much fun styling them for the different seasons. They hold a mixture of white dishes and vintage pieces, like my grandma's yellow glasses and the coffee tin my husband remembers his grandpa using every morning. I love incorporating vintage items into my designs. They have such wonderful stories associated with them, and it's such a nice way to honor the memory of our loved ones.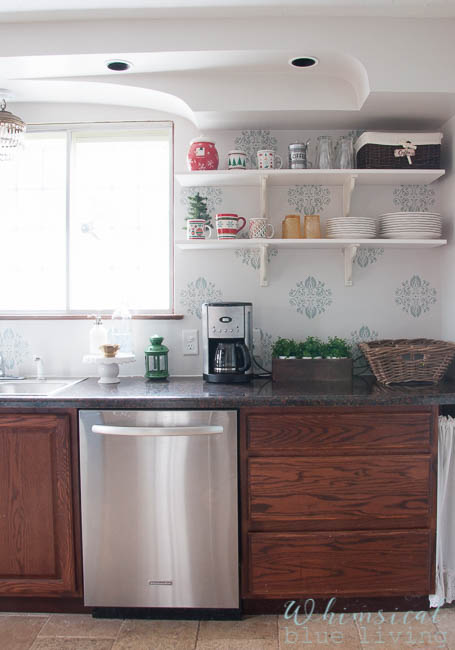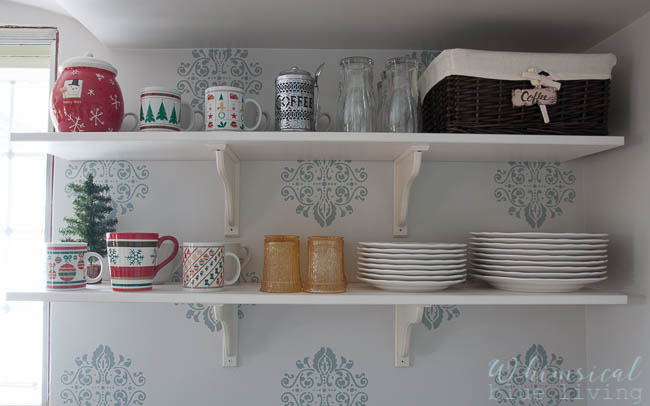 These cute Christmas mugs are so sentimental. We had a set just like them growing up and I loved using them at Christmas time. My sister found these for me on ebay and surprised me last Christmas! Aren't they adorable?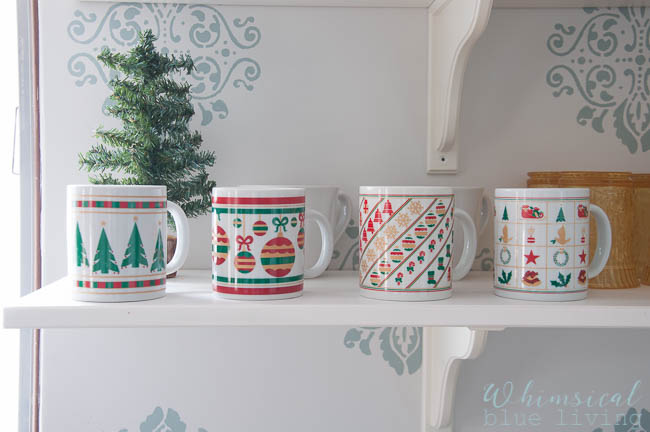 The breakfast nook is the perfect place for our family meals. The view of the river is so peaceful. We added this vintage crystal chandelier that we found at a flea market and I turned this ornate antique gold frame into a fun chalkboard!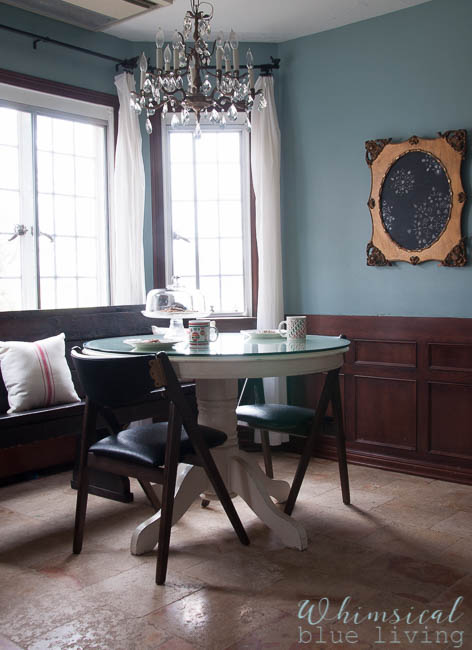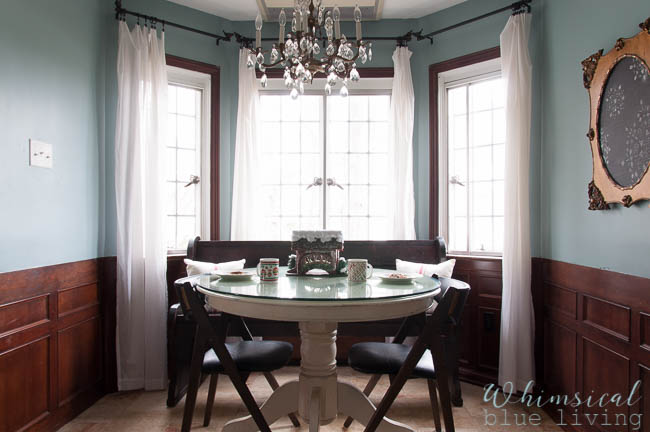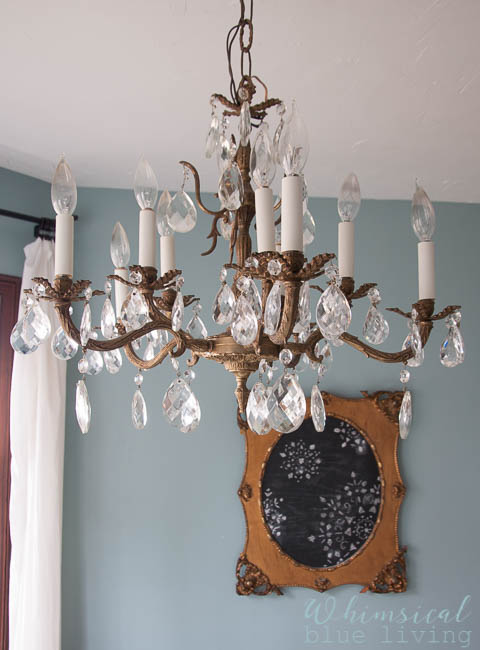 The upstairs has so many unique features that add to the castle feel of our home. This arched doorway is so neat, and I love how the bedroom door follows the slant of the ceiling!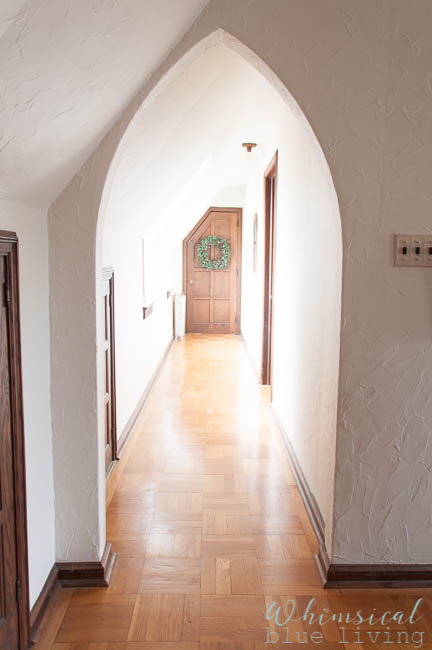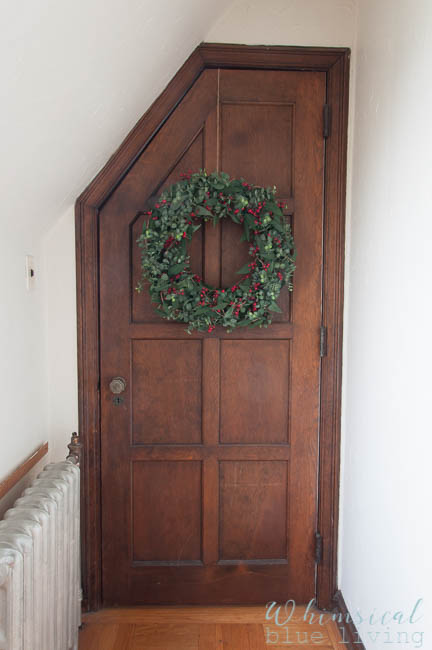 Our gorgeous headboard was created using salvaged pressed tin ceiling tiles and wood trim from an old building in downtown Toledo, Ohio. We met an incredible designer at a local antique store and worked with her to create this custom piece. I love supporting local businesses and repurposing vintage materials!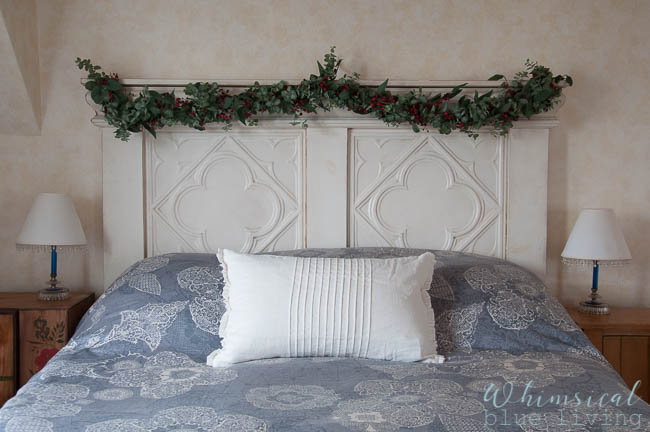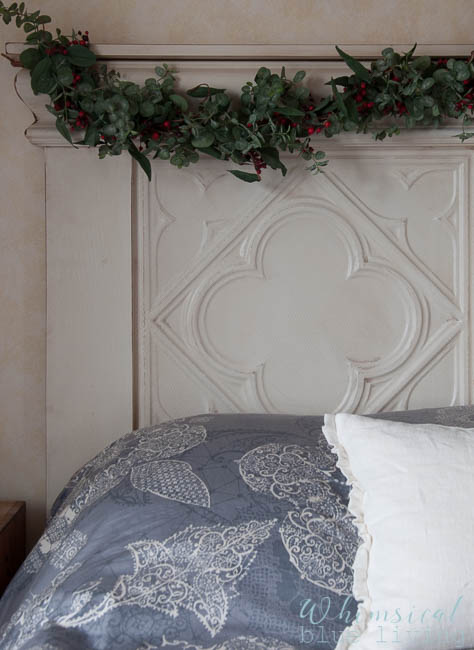 The Castle is full of so many original details like this telephone cubby and beautiful door knobs. I love adding a touch of whimsy with cute Christmas ornaments!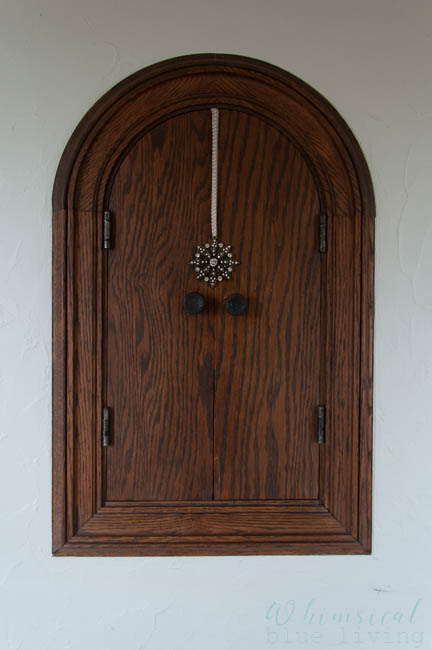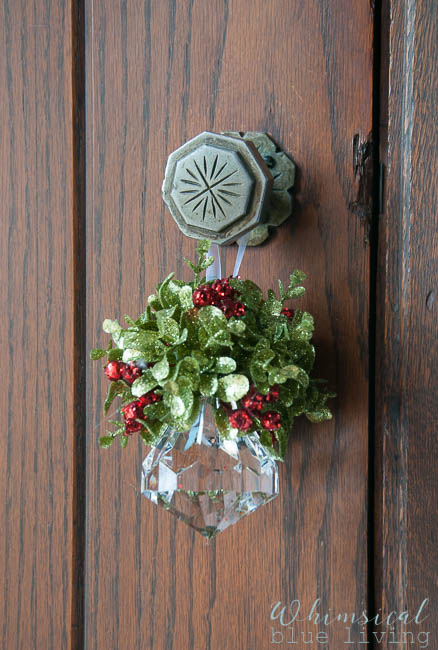 Thank you for taking a tour of our little castle today! We have several rooms under construction right now that I'll be revealing on the blog soon, so be sure to sign up for our newsletter so you don't miss any posts! I send an email out every Sunday with all the posts from the week so you can share in our dream come true as we continue to restore this gorgeous historic home! And follow us on Instagram, Facebook, and Pinterest for even more pictures of life in The Castle!
Thanks so much for celebrating Christmas at The Castle today! For more amazing inspiration, be sure to check out FOXY OXIE next. You don't want to miss it! And you can find all the bloggers featured in the Eclectic Winter Tour 2016 below. Enjoy!
Please Note: Links to Home Tour are not live until day of tour
Monday
Bright Green Door // Michelle Matangi Home // Sharon Williams // CAD Interiors // Domicile 37
Tuesday
Casa Watkins Living // Maggie Overby Studios // House Homemade // French & French Interiors // Style Mutt Home
Wednesday
Up To Date Interiors // The Striped House // Designing Vibes // Iris Nacole // Fearfully & Wonderfully Made // Blue i Style
Thursday
PMQ for Two // Maker of Home // Go Haus Go // Whimsical Blue Living // FOXY OXIE
Friday
This is Our Bliss // Monica Wants It // Insieme House // Jest Cafe // The Gathered Home