Hello sweet friends! One of my favorite things when designing is to find great deals. I don't want to brag, but it's kind of my thing. Seriously. It's a gift. And today I'm going to let you in on my secrets so you too can create your own style and still have money left in your bank account! Fair warning, creating a luxury style while saving money takes a lot of hard work. It's not just luck, although that does have something to do with it. It is a process that happens over time and requires patience and effort. You have to be willing to look past the dust and dirt that often covers items and imagine the possibilities! If you want to create a beautiful space but can't spend a fortune, this post is for you!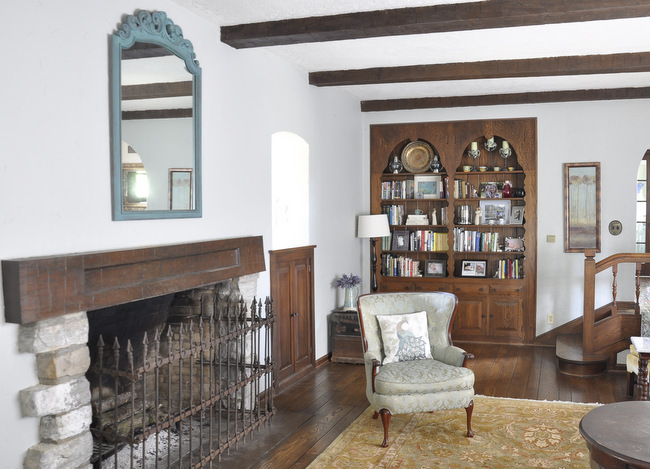 1. Say "Yes" to Free Stuff
Friends, it is absolutely shocking what people get rid of. This is the easiest way to style your home without spending any money. And once you have a reputation for being open to accepting the stuff people want to get rid of, your friends and family will keep you in mind when they are cleaning out their closets/basements/garages/grandma's attic.
For example, let's take a little tour of my house and see just a *few* of the items that have been given to me. See this cute painted table? My friend had it in her donation pile when she was spring cleaning and it caught my eye. I wasn't exactly sure where I would put it, but I loved the color and the size of it, so I brought it home and tried it out in a few different spots. It is the perfect little table to set my keys and mail on when I walk in the door. And that pretty silver tray on top? Also free from another friend whose mom was getting rid of several family pieces that didn't fit her style. My friend immediately thought of me and my love of all things vintage. Perfection!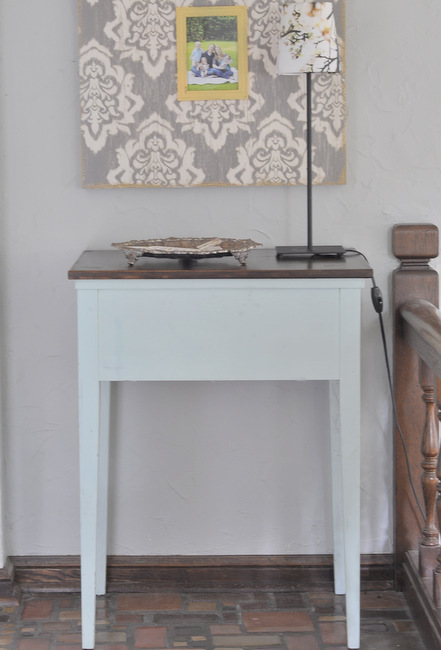 I used to have a random collection of mismatched chairs (all free, of course) around my table. While the eclectic look was cute, many of the chairs were old and wobbly and I was worried a chair would break and someone would get hurt. So when my dad told me a family member was getting rid of sturdy chairs for free, I said yes to them sight unseen. And while they aren't exactly my style, they are super comfy and so easy to wipe clean. I'm incredibly grateful for them during this phase of life with messy kiddos! Remember, not everything has to be your dream decor right now. Someday when my kids are older I'll look for different chairs, but for now these chairs are perfect and I can spend my money on other things.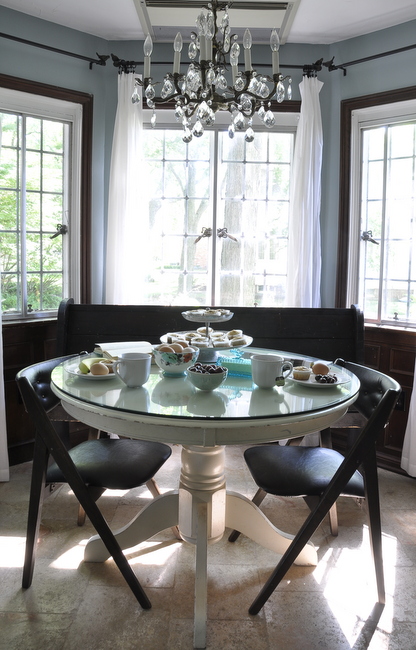 2. Share and Swap
My house is full of decor items that are on loan from family members. When my twin sister recently moved she couldn't find a good spot in her new house to hang her gold mirror. She didn't have a lot of extra storage space but yet she didn't want to get rid of it. The solution? She hung it on my wall! Someday if she wants her mirror back I'll give it to her. Until then I'm going to enjoy it!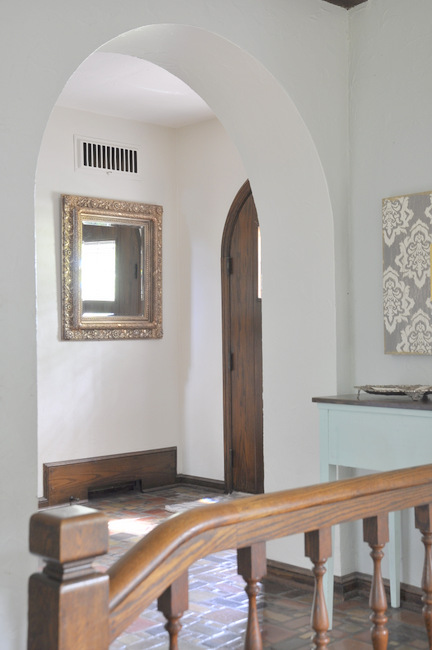 Another creative idea we had was to swap couches! My cream couch worked well in our previous house but the L shape stuck out too far in our current living room. My twin sister, however, wanted an L shaped couch for her new home. So we traded couches! Now we're both happy!
3. Search Secondhand Places
Another fantastic way to buy high quality pieces for an amazing price is by shopping at secondhand places. Some of my favorites are yard sales, thrift stores, Habitat for Humanity Restore, antique stores and Craigslist. The trick is you actually have to go to these places, and you have to go often. Many times I don't find anything when I'm shopping at a secondhand store. But when I do find a treasure, it's totally worth the time and energy spent searching! When I shop I always walk through twice, once to do a quick overview and a second time at a slower pace to really examine all the options. Occasionally I'll see something that makes my heart skip a beat and I'll snatch it up immediately before someone else snags it. But sometimes I have to take a moment and consider my options. It can be hard to look past all the ugly stuff to find the treasures. If something catches your eye but you're not sure if you really like it, ask yourself "If I saw this item in Anthropologie (or whatever your favorite store happens to be), would I like it?"
For example, when I saw these glasses left over at my Grandma K's house I wasn't sure if I wanted them because I wasn't crazy about the yellow. Everyone else in the family had passed over them because of the color. Then I remembered that Anthropologie has so many colorful vintage inspired dishes. When I looked closer and saw the darling floral design and imagined the glasses next to my pretty coffee mugs I decided to give them a try. The sunny yellow cups are a favorite of mine now, and I get so many compliments on them!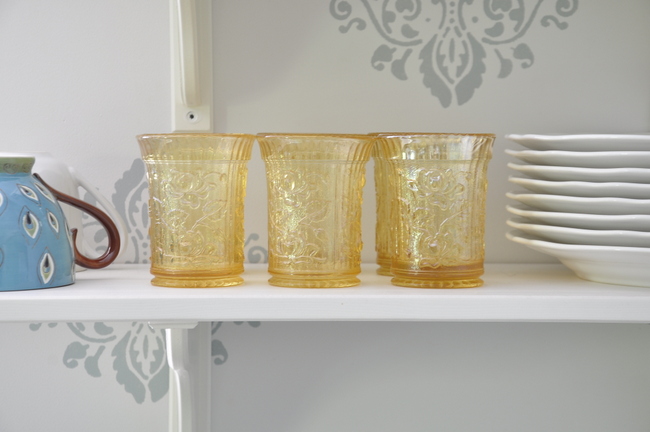 Another question to ask yourself is "Can I change an aspect of this and make it better?" When I found this discarded lamp in my Grandma's basement it was covered in dust and had a dirty, broken lampshade on top. I took it home, cleaned it up and put a new shade from Target on it. Perfection! Simple changes can give an old piece new life and save you tons of money.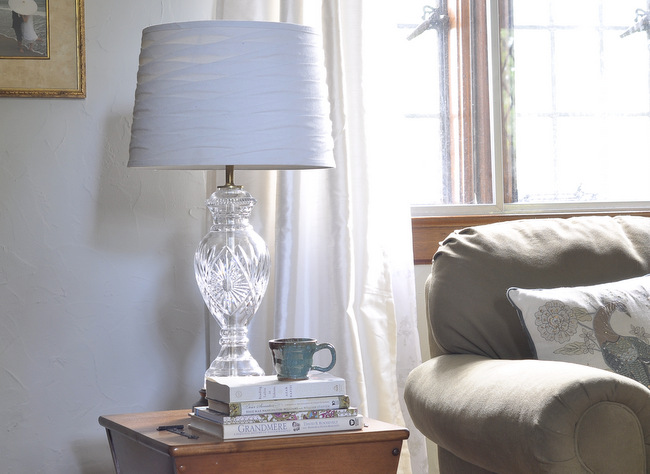 4. Tell People What You Are Looking For
Decorating your home on a budget is a team effort! I regularly discuss house projects with my sisters and friends. If we see something when we are out shopping that someone else is looking for we call or text and ask if they want us to get it for them. My twin sister called once and told me she had stumbled upon a fantastic clearance sale for picture frames for my gallery wall. They were such a good deal that she filled her entire cart. I'm so happy with how my gallery wall turned out and the price was great!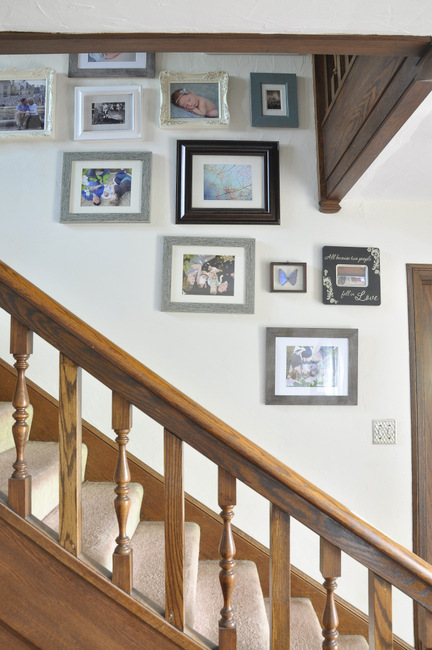 Once I jokingly mentioned to my in-laws that if they ever stumbled upon a church pew to snatch it up for me. I didn't think much of it until they called with the news that friends of theirs were getting rid of a church pew for free. Did I want it? Heck yes! The bench had a few damaged spots from sitting outside on a covered porch, so I used some leftover paint to make it whimsical and blue. Now it's one of my favorite pieces in our house!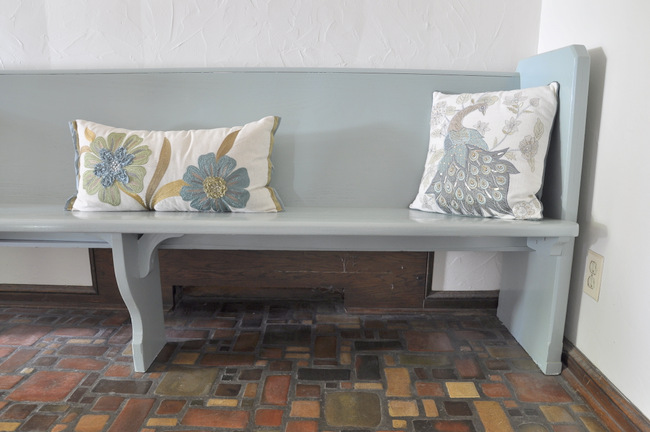 5. Don't Be Afraid To Ask For a Better Price
When shopping at yard sales, antique stores, or on Craigslist it is perfectly acceptable to negotiate on the price (unless the tag says "firm"). The key to this strategy is to always be polite. Don't feel like you have to criticize someone's items or aggressively negotiate. I simply ask in a sweet voice, "Is this the best price for this item?" Then I wait. Sometimes it is their best price, but often people will quote a lower number. Again, wait for a few seconds before answering. If it's a price I'm willing to pay I'll agree at this time. If I sense that I'm dealing with an expert negotiator I'll sigh and say, "Hmmm, that's a little more than I was hoping to pay." Based on their reaction I'll decide if I want to offer a lower price. Rarely, someone acts offended when I ask if something is listed at the best price. I don't let it fluster me. I simply smile and say, "That's fine, I understand. I'll think about it." You don't always know a person's situation when selling an item. It could have belonged to a loved one or they could be experiencing financial hardship. Always be polite when asking for a better price and be respectful in your answers.
6. Splurge When It Counts
Every now and then I'll come across a piece that is so stunning it makes my heart skip a beat! If you find something you truly love (and you can afford it) it's okay to splurge a little. By saving money on other items you can afford to spend more on the special pieces. I found our living room rug on Craigslist. It was very well priced for a high quality rug but more than I usually spend (all my other rugs are $50 Craigslist finds so I don't freak out if the kids ruin them). We splurged on it and I love it so much!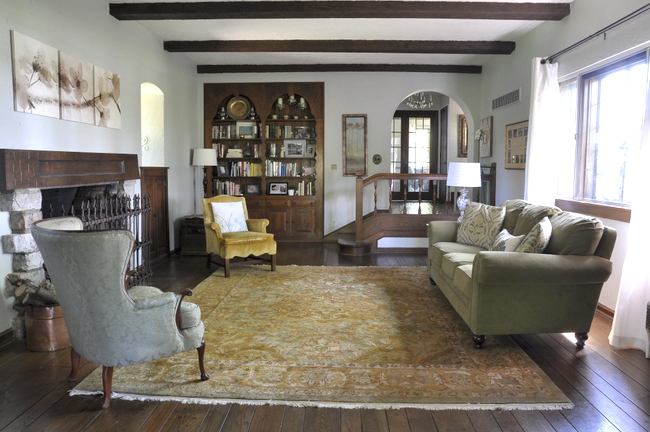 7. Be Patient
If you want the design of your home to come together quickly, be prepared to pay more for it. Luxury design on a budget takes time. When we bought our castle I wanted a large statement piece to put above the fireplace, but I didn't want to spend a fortune. So I hung up pictures we'd used in our previous house to fill the space and waited. After two years of searching I stumbled across this mirror at the Habitat for Humanity Restore. It was an amazing deal at $10! I painted it with some leftover paint from my stash to make it whimsical and blue. It was totally worth the wait to find the perfect piece at an unbelievable price!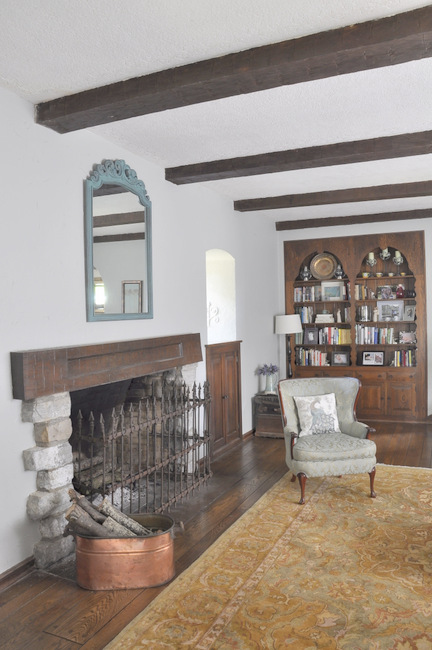 8. Be Ready
In order to find good deals you have to always be thinking ahead to future projects. It's rare to find the exact piece you need right when you are ready to start a project. I'm constantly looking for items for future projects and when I find something I store it in my garage or basement until I'm ready to use it. With this strategy in mind I keep detailed notes and measurements of rooms stored on my phone so I can easily reference them and I always keep a tape measure in my purse. Be prepared, friends!
9. Never Be Afraid To Walk Away
If you're just not sure about a piece or the price, it's fine to walk away. I've learned not to get too upset over these situations. Another (better) piece always comes along! You are under no obligation to buy anything. And if a situation doesn't feel right to you for any reason, listen to your instinct and leave.
10. Don't Be Afraid Of Failure
Don't let the fear of making a mistake hold you back. Not every idea will work, and sometimes a piece you were really excited about doesn't meet your expectations. The beauty of design is that we are constantly learning. If you change your mind about an item you bought or are disappointed in a project, keep trying. Perfection is never the goal. Enjoy the process!
So there you have it, friends! Ten of my tried and true tips for having style on a serious budget. Do you have any tips to share? I'd love to hear them! Connect with me on social media using the gray icons below, and please share this post using the colorful social media icons. Be sure to sign up for my newsletter so you don't ever miss a post! And you can pin the image below to Pinterest to refer back to this post when you are creating your own beautiful space!
Have a beautiful day!