Hello Sweet Friends! I've had several questions about our open shelves in the kitchen, so I thought I'd share an honest review of open shelving. Spoiler alert: I love them! But I will share all the details so you can decide if you would love them too, or if they would drive you crazy.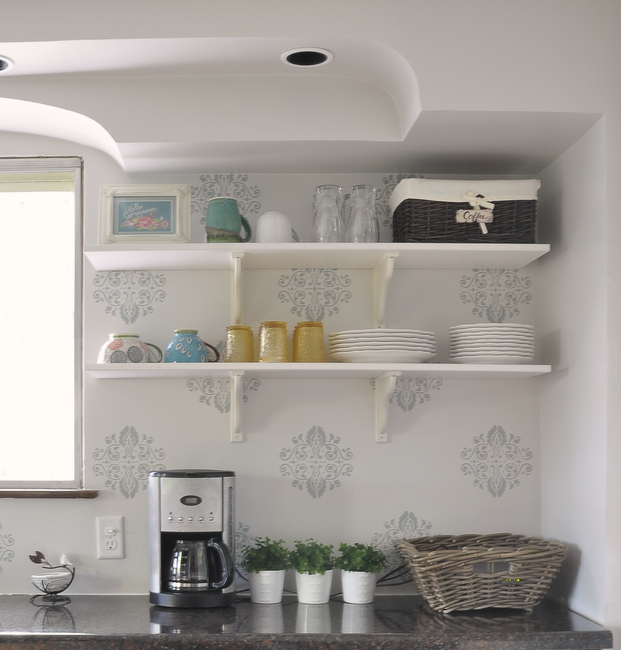 Open kitchen shelves are very trendy right now, and for good reasons. They give you a place display your favorite dishes and decor and they feel bright and airy since they allow the light to shine through. I personally love them in our kitchen! We installed them early in our kitchen remodel because they were an affordable option for storage, and now we love them so much we plan to keep them forever!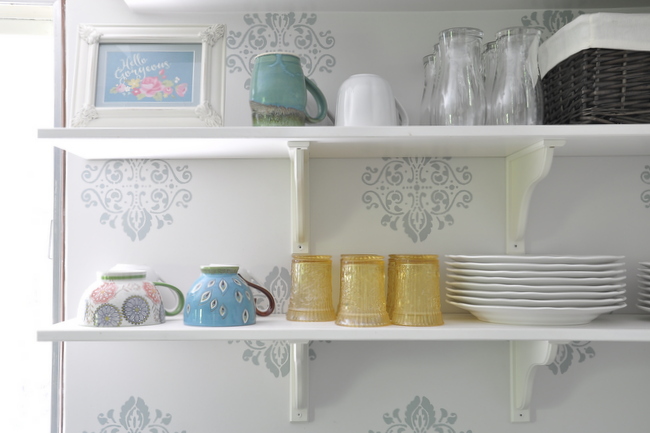 A little back story on our kitchen for those of you who are new around here. We bought our castle at an auction a few years ago. We were able to buy it at a fantastic price because we bought it "as is". The previous owners had removed the kitchen cabinets, counters, appliances, and sink before the house went to auction. So we decided to install an inexpensive "temporary kitchen" for the first six months so we could really live in the space and see how we used it before we invested a lot of money designing our dream kitchen. You can read more about the process of creating our temporary kitchen here and here. We ended up loving our temporary kitchen so much that we decided to just keep it for awhile and focus our time and money on other areas of the house. Best decision ever!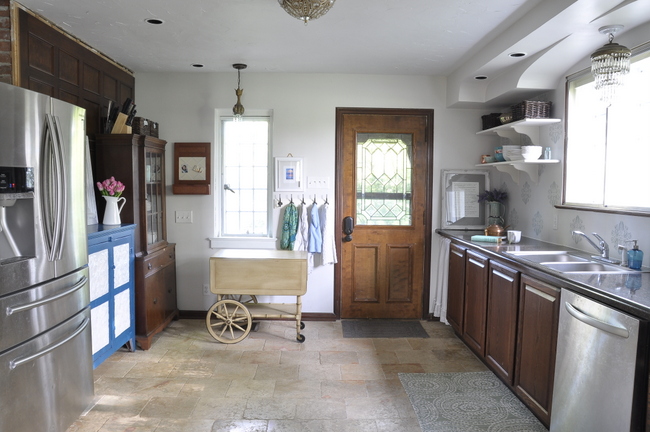 Our open shelves are from IKEA, and they are one of my favorite features of the whole kitchen! Before we installed them I stenciled a medallion design on the wall to make the room more whimsical and blue, and I love how the open shelves let the pattern be visible. The shelves really allow the light to shine in from the beautiful original windows. Upper cabinets can sometimes feel a little boxy and dark if they stick out and block the sunlight, and it can seem like you are searching for your dishes in a cave if the inside of your cabinets are dark. The open shelves feel so light, bright, and airy!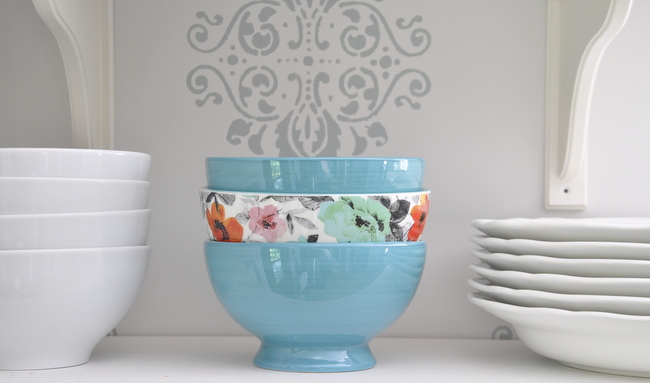 Having dishes that we use every day stored on our open shelves is so nice. Because we actually use these dishes, they don't get dusty. Every now and then I pull all the dishes off the shelves and dust off the shelves. It takes less than five minutes and is really not a big deal to me. The nice thing about open shelves is that when people come to visit they know right where everything is located and can easily grab a coffee mug or a glass for water. Unloading the dishwasher is fast and efficient. We always put the dishes back in the same place so everything stays organized.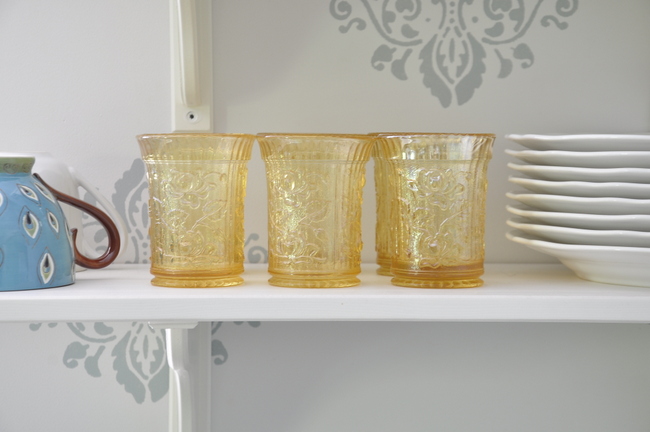 That was not always the case in our last house with our upper cabinets. I'd open up the cupboards in our previous home and it was like an avalanche of plates and bowls was coming towards me and the dishes were always getting rearranged in a weird order. I'm not sure why that happened with our cupboards. Maybe the whole out of sight, out of mind mentality? Or perhaps we were trying to shove too much stuff in all the little nooks and corners of our cupboards? For some reason with the open shelves my husband and I are both really good about putting dishes back in the same spot so it never looks unorganized or messy. And the shelves don't collect clutter like our counters tend to. Having open shelves has helped us to become more organized in our kitchen! And they helped us purge a lot of the random kitchen items that we never used.
Now, it would be challenging to have all open shelving in a kitchen and still maintain a clean and cohesive look. If you notice, I display our pretty dishes on the shelves and the not quite as pretty items like tupperware, sippy cups, and neon plastic kid dishes are stored behind closed doors in our blue cupboard. Neon plastic dishes just don't inspire the same feeling in me as my pretty white plates and colorful cups!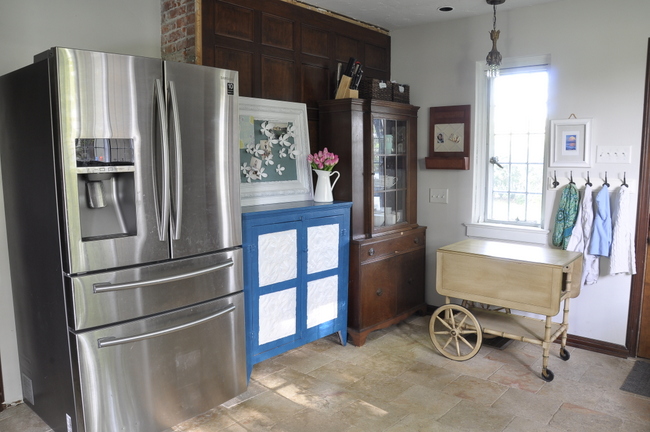 Talk about an avalanche of stuff! This blue and white cupboard tends to get crazy since the kids like to help me when we unload the dishwasher and they grab their dishes out of the cupboard and help set the table before meals. Occasionally I just can't stand it anymore and I secretly organize the cupboards after they are in bed. Then I take a picture of it the next morning to share with you, because you know it won't look like this for long! Open shelves work best if you have closed storage options as well.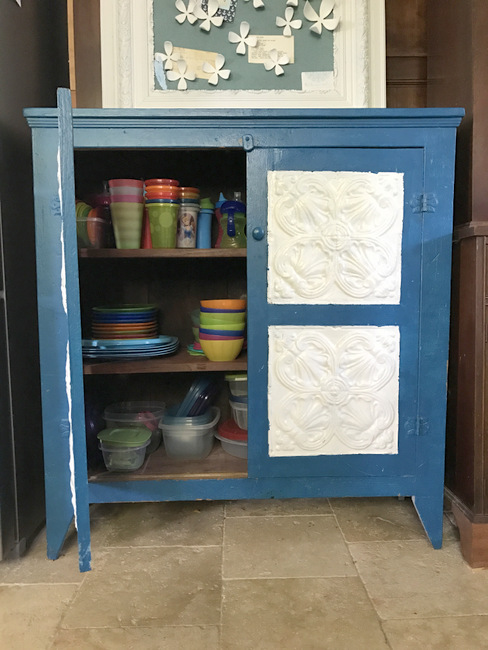 It does help to have pretty dishes to display on open shelves. Full disclosure: my first attempt at styling my shelves was not great.
We had a mismatch of dishes left over from our single days (we'd been married seven years when I took this picture) and the colors just weren't working for me anymore. When we were first married I resisted the idea of white dishes because it seemed a little boring and predictable, not at all whimsical and blue. But over time I came to realize that white dishes means you can add whatever accessories you want, and you can use them for every occasion! So a few years ago I started keeping an eye out for white dishes that I liked. When I saw these white ruffled edge plates and bowls at IKEA I gasped! They were so pretty with a vintage inspired design that was totally my style! So I put them on my Christmas list, along with the clear glasses and white coffee mugs (also from IKEA) and the pretty colorful coffee mugs from Pier One. My mother-in-law got me the dishes and my husband's grandma gave me the pretty mugs. Best Christmas ever!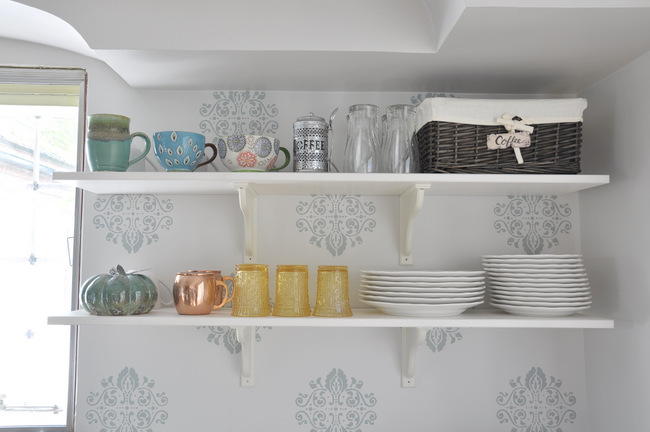 A few thoughts for styling open kitchen shelves. Keep the layout simple. I like to add a few seasonal decor items and vintage pieces, but the basic layout stays the same. Cups and plates go on the shelf to the right of the window, bowls on the left shelf. I use baskets for things that I like to have close by but not necessarily on display. The top left basket by the backdoor holds my daughter's hairbrush and headbands so I can fix her hair quickly as we are getting ready to run out the door. Smaller kitchen utensils like the ice cream scoop and wine bottle opener are in the basket to the right. Because the dishes and baskets stay in the same place it is easy to keep the shelves looking organized.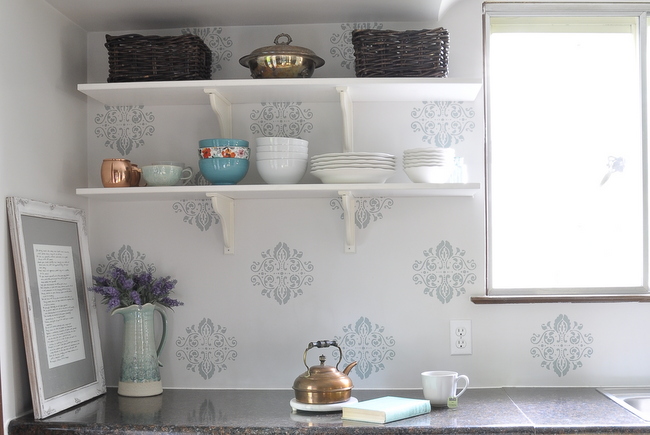 When decorating open shelves remember to go for a balance between colors and neutrals. Our white dishes allow the colorful mugs, yellow cups, and blue medallion stencil to really pop without a crazy clash of patterns and colors. If you love color and have all patterned dishes, consider keeping the wall behind the shelves a solid color to allow the patterned dishes and decor to really stand out. If neutrals are your favorite, you can easily create open shelving that is calm and cohesive using all neutral dishes with fun accents like baskets, wood cutting boards, and metal and glass containers.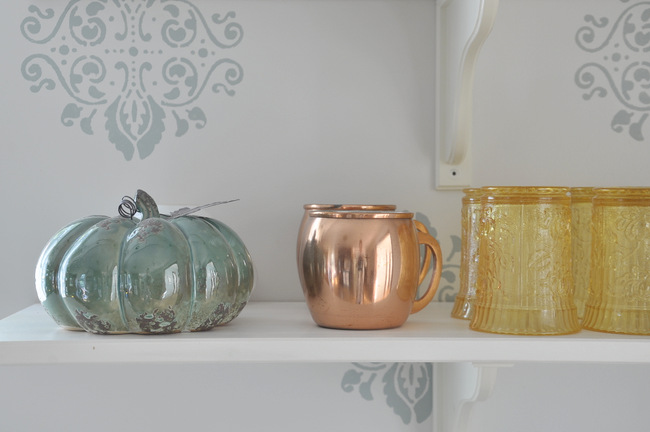 If the idea of open shelves thrills your soul but you have a kitchen full of cabinets that you don't want to take down, consider removing some upper cabinet doors like my friend Amanda did in her kitchen . And if you can't paint your cabinets like she did, try removing the doors and lining the back of the cabinet with a pretty fabric, scrapbook paper, or wrapping paper. You can even cut wood or sturdy cardboard to fit along the back of your cabinets and either cover the pieces with paper or fabric, or paint the pieces of wood/cardboard. They can then be attached using 3M products that are designed to be removed without damaging your cabinets.
What do you think, friends? Do you like the look of open shelves? Would you use them in your home? Good luck, happy decorating, and let me know if you decide to try open shelves in your kitchen!
Be sure to follow us on Instagram, Facebook, and Pinterest! And sign up for our newsletter so you never miss a post!
Have a beautiful day!
Sandy