Hello sweet friends! Hope you enjoyed the last post with the before and after pictures of our kitchen! If you haven't had a chance to read it yet, check out the previous post here. I wanted to share a few more details about our kitchen and breakfast nook including the process of how we added pretty details to make it feel sunny, happy, and inspiring. Hopefully you find a few ideas that inspire you too!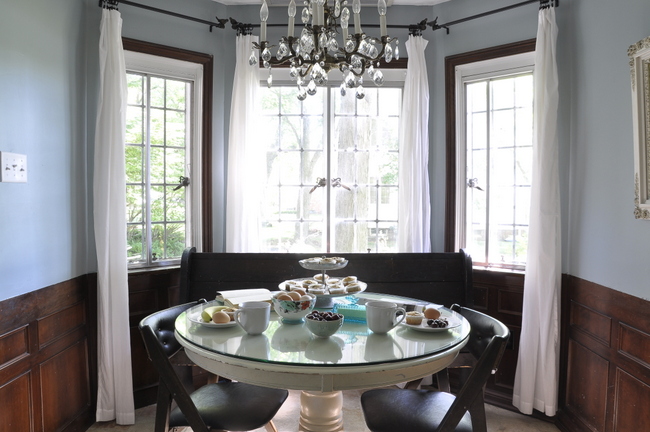 So many times when we watch decorating shows and flip through magazines it seems like the transformation of a home is instantaneous. But in real life the process of creating an inspiring space is always changing and evolving. Our home didn't look like this right away, and I'm sure it won't look exactly like this a year from now. Creating a beautiful space on a budget takes time. You never know when and where you will find pieces that inspire you.
In the beginning the kitchen and breakfast nook looked like this…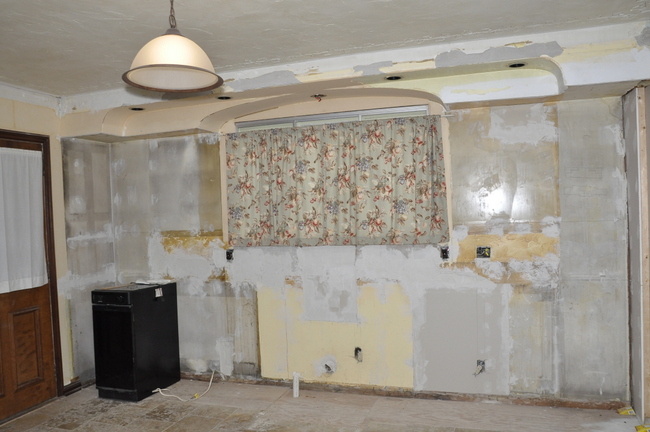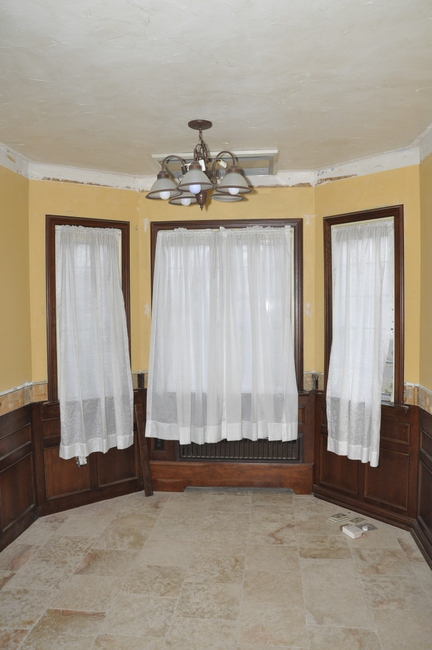 But let's not focus too long on that stage of the renovation process or I'll have to start stress eating M&Ms. (Never, ever attempt a renovation without an adequate supply of chocolate!) After we made the kitchen safe for people to actually cook in, it looked like this…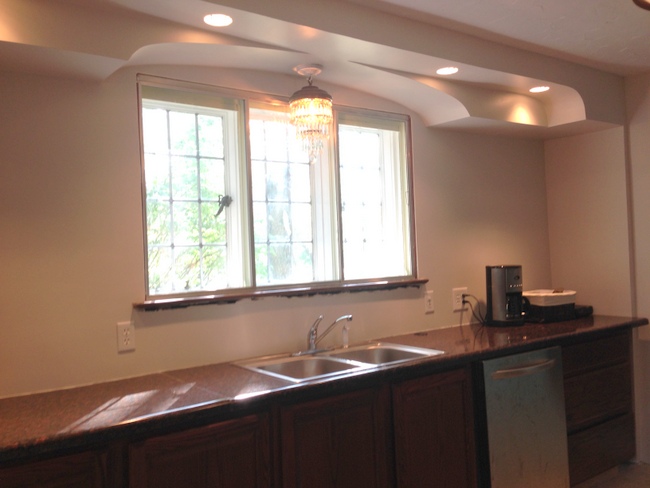 Better, but still missing something. One of my dear friends looked at this picture of the kitchen and said, "It's nice… but it's not really you." Not to worry! The whimsy and blue come next!
I saw a picture of cement tiles on Pinterest and loved the look of the design (this was before cement tiles became all the rage. I'm tickled they are so popular right now because they are truly gorgeous!) This was very early in our renovation process when our list of projects was long, the amount of work needed to improve the house was still unknown, and we had to be very careful with our budget. It occurred to me one day that I had a stencil left over from a previous craft project that reminded me of the design on the cement tiles. I grabbed the stencil and a little sample jar of paint we had left over in the basement and I created this feature wall during the kiddos' nap time. Not bad for two afternoons of work and literally no extra money spent! It's one of my favorite aspects of the kitchen. I'm so glad I didn't let a small budget stop me from creating something beautiful!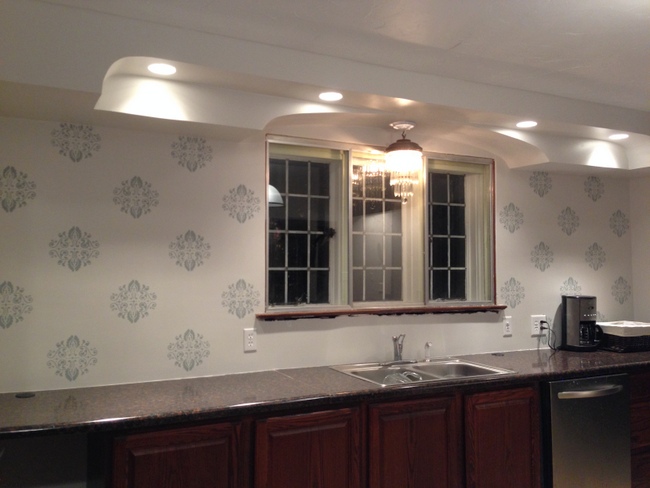 Next we added these open shelves from IKEA. I wanted more storage and shelves were much more affordable than cabinets. We love them so much we plan to keep them even when we redo the kitchen! My husband and I are both very good about putting the dishes back in the same spot so it always looks organized. We use these dishes every day so they don't get dusty. And I love how open and airy the shelves make the kitchen feel since they don't block the sunlight. Plus I can see my pretty dishes and mugs!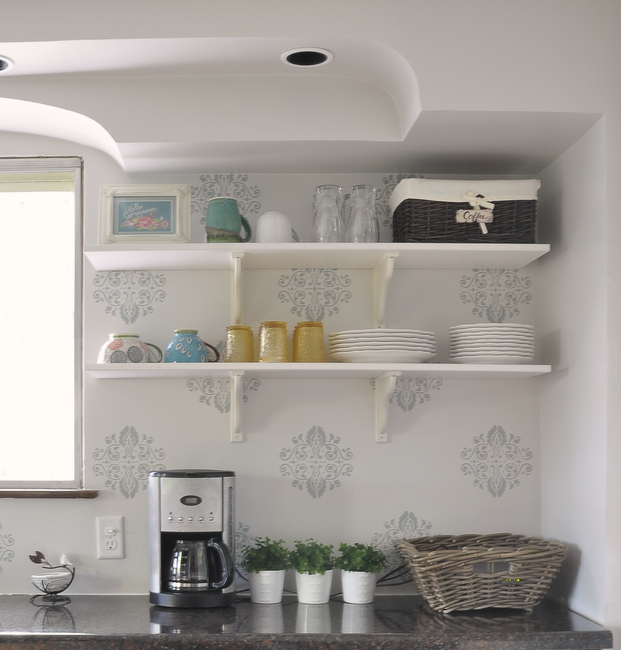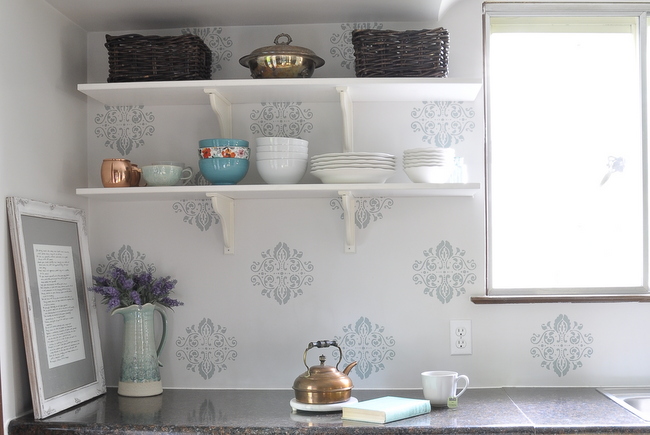 Over time we've switched out the modern builder grade lights for vintage chandeliers and antique inspired lighting. Each light has a story. We purchased the crystal chandeliers over the sink and table at a flea market as a "welcome to our new home" present to each other shortly after we moved in. I found the little vintage crystal light at one of my favorite antique stores and my husband bought it for me as an anniversary present. The flush mount light actually came from Lowes and was a Christmas present. The stories behind each light make them even more beautiful and they add so much elegance and whimsy to the space. Pretty lighting is my love language!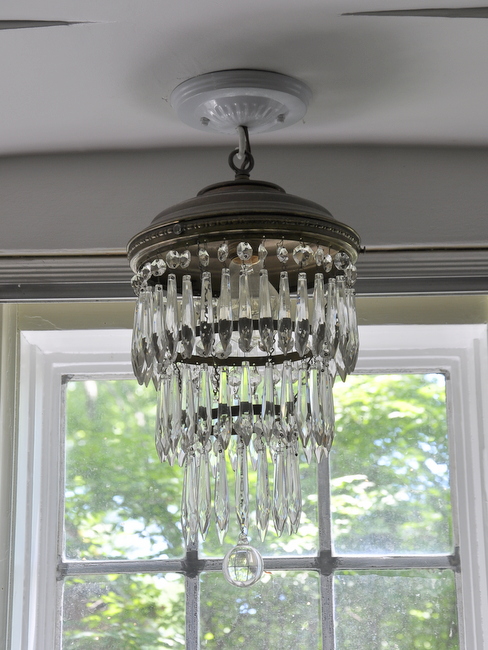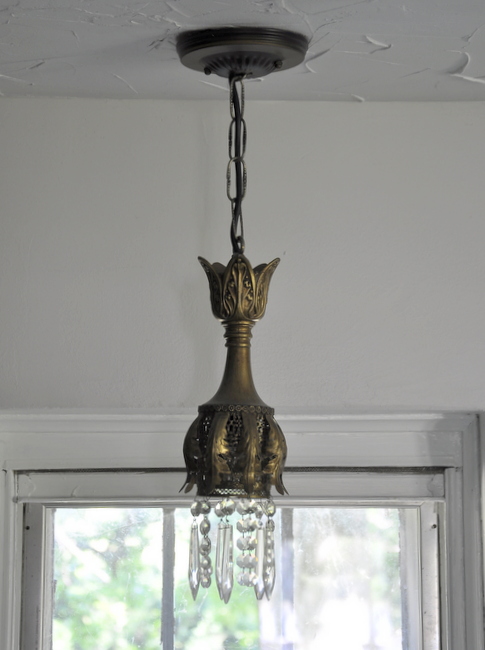 The shelves hold sentimental items as well. The yellow cups belonged to my Grandma K and I think of her every time I use them. That connection to the past helps my soul feel anchored. She raised six boys (yes, six!) and on days when I'm exhausted and dealing with fussy children I remind myself that she did this and I can too. The popular phrase "The days are long but the years are short" perfectly sums up this season in life.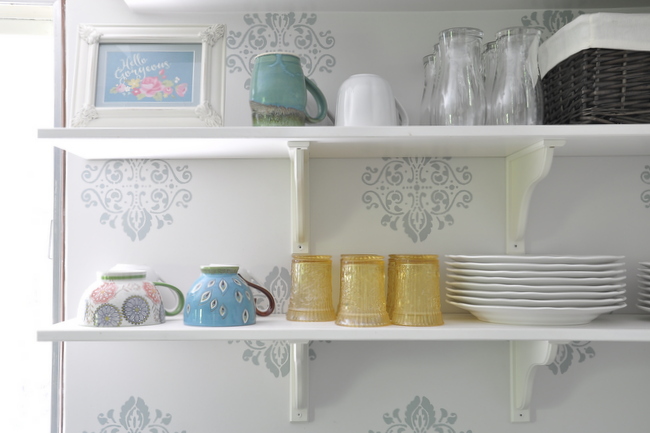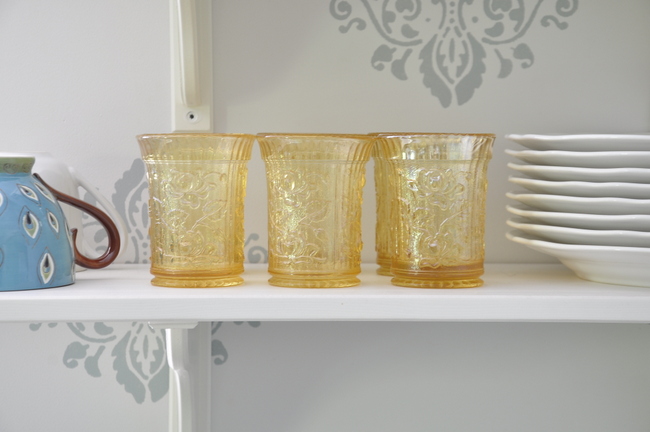 Several months ago when life as a stay at home mom was especially challenging my husband surprised me with pretty blue floral bowls. He told me he knew that I had been dealing with a lot of poopy stuff (literally- my daughter was potty training and the baby kept leaking poop out of his diaper and all over both of us. So gross.) When my husband was picking up bread and milk at the store he saw these bowls and he knew I'd like them. He told me I was working so hard to take care of our kids and he thought I should have pretty things to look at to take my mind off of all the poop! Isn't that the sweetest thing! It's funny how romance changes over time. Every time I use these bowls I am reminded that I am truly loved. It's so nice to have these treasures stored on open shelves instead of tucked away in a cabinet. Having these special items displayed right at eye level serves as a reminder to cherish these days spent with the people I love.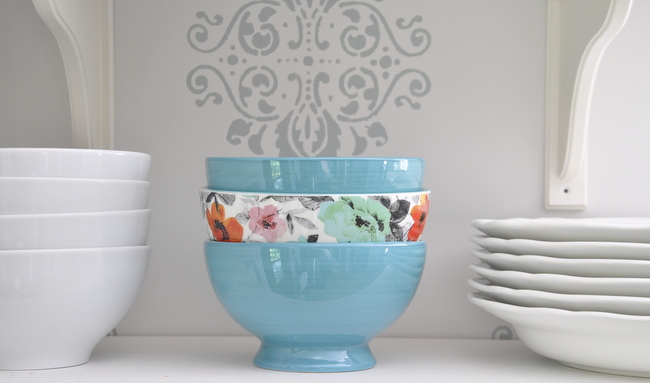 The breakfast nook is such a cheerful spot! The view of the river outside of the windows is breathtaking and the kiddos love to watch the boats float by. Sunshine streams through the windows and makes everything feel bright and happy.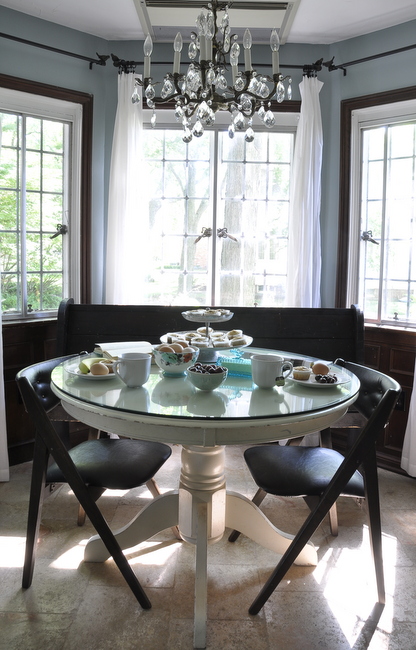 I was thrilled to be able to use one of my favorite paint colors, Dutch Tile Blue by Sherwin Williams, on the walls since the room gets so much natural light. The dark wood trim throughout the house is beautiful, but it has made picking paint colors challenging. This room makes my heart so happy! It feels like home. This room encompasses my decorating philosophy perfectly. In order for a room to have depth and interest it needs an antique item (the bench), amazing deals (the table and chairs), and a sentimental piece (a picture that used to hang in my grandma's house). And of course a vintage chandelier to add some sparkle and whimsy and the color blue to inspire the soul!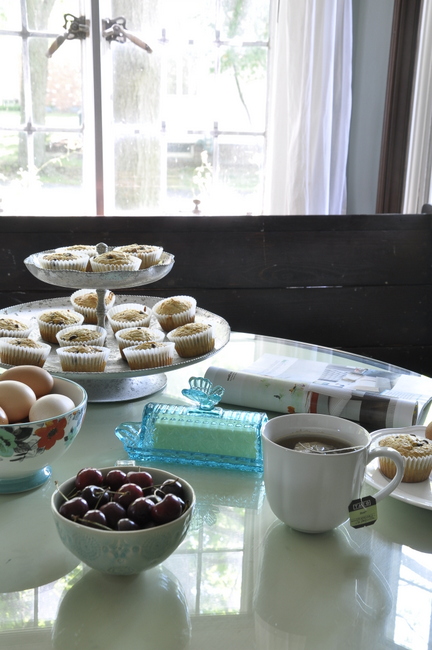 What about you, friends? Do you have any areas of your home that need some whimsical blue added to them? I'd love to hear about them in the comments below!
Have a beautiful day!
Sandy