Typically when people are looking to purchase a house they have a wish list of important things they want to find in their new home. At least, they always do on HGTV. A cute couple drives around in their clean, quiet car wearing very stylish coordinated outfits and discussing their wish list for their dream house. The wish list always seems to include a big renovated kitchen with an open concept floor plan for entertaining. They look at only three houses, instantly make a bid on their favorite, and just a few weeks later are happily moved in and unpacked and are hosting a delightful cookout for their new neighbors. Obviously our house hunt would be just as easy.
Forget looking at three houses. We didn't even find our house in the first three months. We searched through hundreds of options online. Every week we'd load our kids up in the car and drive around meeting our realtor and looking at houses. I'd spend the whole drive tossing crackers and toys back to our two year old son so he didn't fuss and wake up our daughter, who was only a few months old at the time. My husband and I discussed our wish list while we wiped baby spit up off our non coordinating lounging pants. Not exactly the stuff of HGTV. Our wish list included things like finding "an old house with lots of original character", "a basement big enough for my hoarding of antiques and sentimental items", and a house that was "preferably mouse free". (Two out of the three turned out to be true. But the mouse story is for another day). Life was so busy, one of the things I was adamant about keeping on our wish list was finding a kitchen that did not need to be renovated. In our first house we had done a cosmetic kitchen renovation, painting all the cabinets and walls and buying new appliances. This time around we had kids and I didn't want to add more work to our already crazy life. I didn't mind the thought of a little makeover on parts of the house. We could paint a bedroom and hang new living room curtains without any problem. But I wanted a kitchen that was move-in ready.
So when we realized the previous owners of our dream castle had completely removed the kitchen prior to the house going to auction, we were hesitant. Their kitchen had been gorgeous. They had designed it with a Tuscan flair including a copper sink, travertine tile, custom cabinetry, and a fancy arched nook for the huge stove. They removed everything from the kitchen and when the house went to auction it looked like this.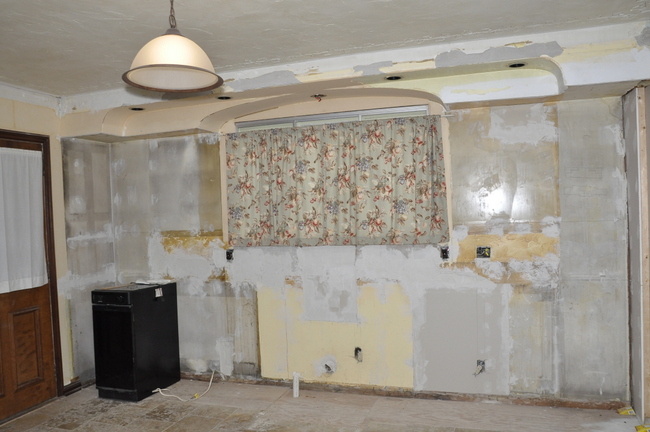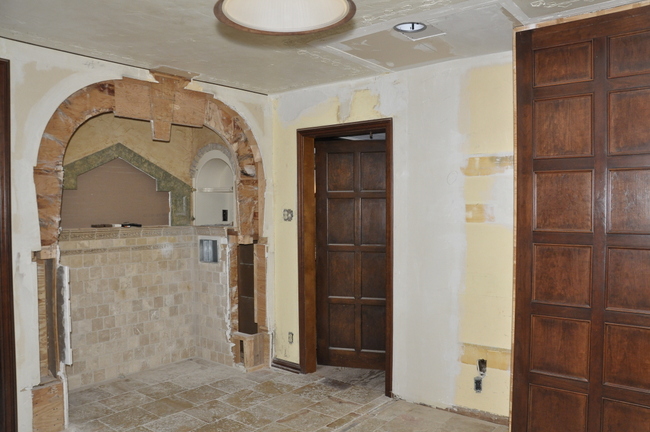 We joked that it was like a nightmare version of the Olive Garden. We could tell the kitchen had once been beautiful, but what was left was a mess. And we weren't sure where to start. Kitchens are expensive to install and take time to construct. They are also very necessary for day to day life. Add an infant and toddler into the mix along with an entire house full of projects and you have a recipe for disaster. (See my funny kitchen joke there! Hilarious!) But the house was so beautiful and we knew the chance to purchase it at such an affordable price was a once in a lifetime opportunity. We didn't want to spend a lot of money designing a kitchen for a space we had never lived in or used, so we agreed that we would create a super affordable temporary kitchen that would work for the first 6 months and then plan to install our "real kitchen" after that.
We bought brand new lower cabinets and counter tops for an amazing price at another auction. The plan was to eventually relocate the cabinets and counter to the basement for extra storage when we remodeled the kitchen. The cabinets didn't quite fill the space from wall to wall, but I just hung a curtain over the gap between the cabinet and wall and slid our trash can in the empty space. Problem solved! We bought a simple sink and faucet at a big box hardware store. We decided to purchase appliances that we liked during a sale since we would continue to use them in our remodeled kitchen. The day we moved into our house the kitchen looked like this…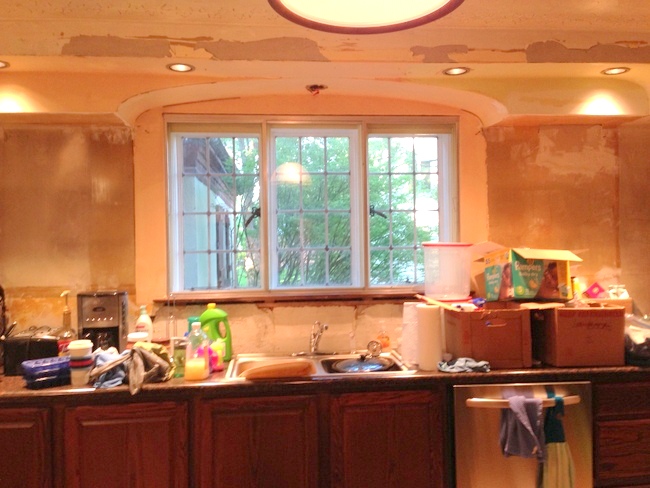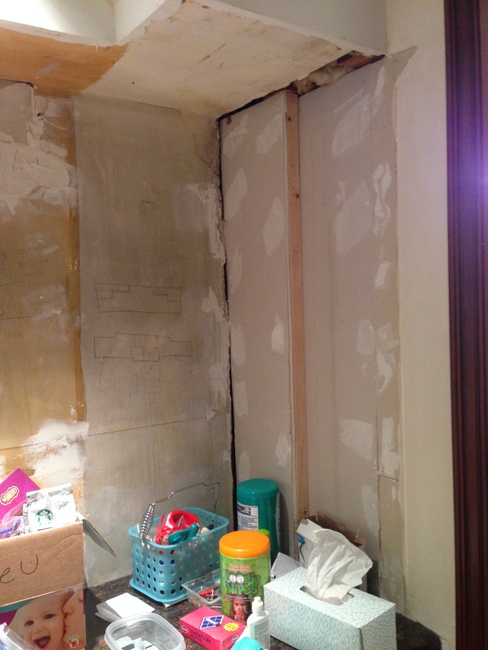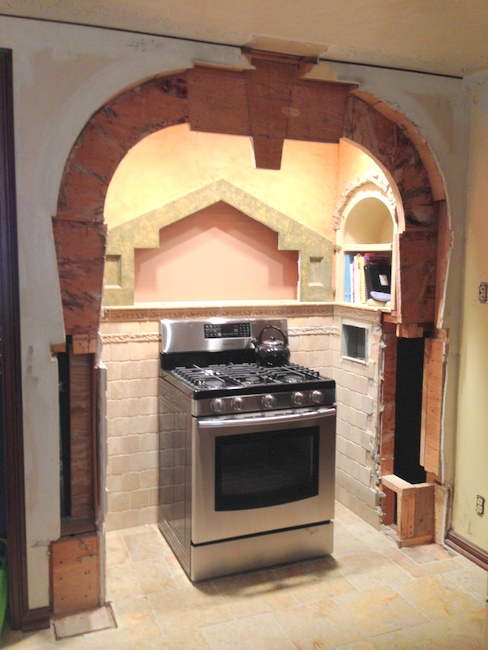 I assured my husband that it was fine. I don't really cook much anyway. We survive on frozen pizza and crock pot meals at our house, so this kitchen seemed adequate at first. But with holes in the wall big enough for my kids to climb in and crumbling plaster that left a layer of dust all over the counters, we quickly agreed that improvements had to be made, and fast!
We consulted with several contractors and they all told us the same thing. It would be much more expensive, if not impossible, to work with the materials that were left in the space, especially considering that the store where the previous owners had purchased the tile had since closed. As backwards as it seemed, we'd be better off removing what was left behind by the previous owners and starting over with a clean slate.
On the first day of construction I felt like I was in some sort of high school hazing prank. Our contractor and his team wrapped our fridge, cabinets and kitchen sink with the construction equivalent of saran wrap. My husband and I might have been able to survive on take-out food and suffer through the inconvenience of not being able to access the fridge, but with young kids and a two week timeline for our project, I knew it was time for me to pack up the kiddos and take a little road trip. Off we went to visit family and friends while my husband worked hard to fix our kitchen.
My husband and our contractor and his team did an amazing job! They added a wall off the breakfast nook to create a pantry and widened the doorway between the kitchen and breakfast nook. Our contractor repaired the damaged plaster walls and ceiling. Dust no longer fell down on me when I cooked and I didn't have to worry about my kids falling into giant holes in the walls. How luxurious! This was the first area of the house that we worked on, and it was so empowering to create a space that functioned for our family within our budget and in our own style. What started out as the biggest problem area has turned into one of my favorite rooms. It is bright and cheerful and I love all the touches of blue!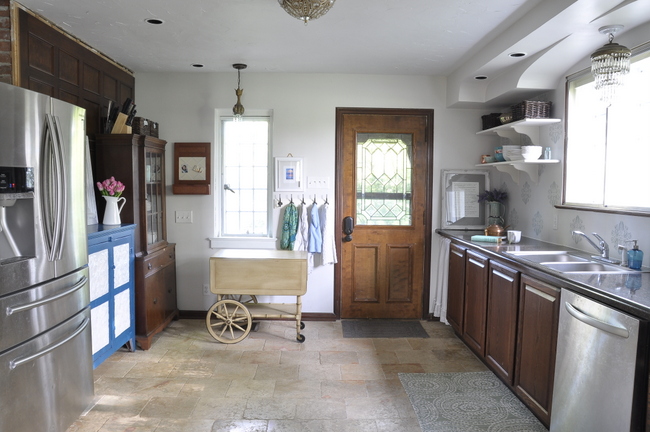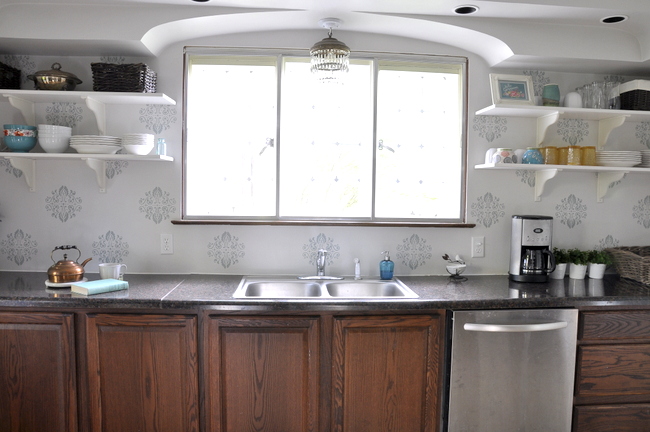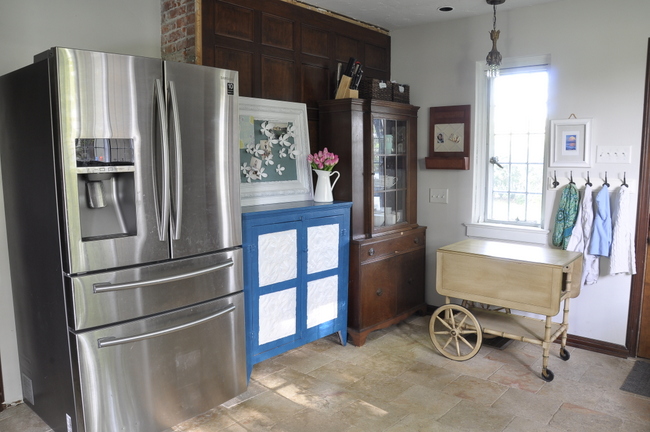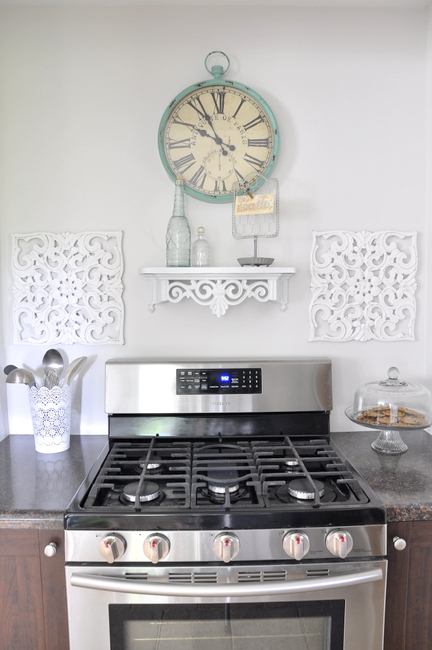 Over time we've painted, stenciled a feature wall, added open shelving, and swapped out the modern lights for vintage chandeliers. We've been using this "temporary" kitchen for over two years now and we love it! While we still have some small details to finish, it works so well for our family. Because we saved so much money on the kitchen we were able to make changes to other areas of the house. And while we do still plan to redo the kitchen in the future using vintage inspired materials, this kitchen works perfectly for us in this stage of life. And it gives me plenty of time to hunt for an antique 1920's kitchen sink! Happiness!
What about you, friends? Do you have any areas of your home that you'd like to change? Would you have been willing to buy this house with that empty kitchen? I'd love to hear your stories in the comments below!