If you follow Whimsical Blue Living on Instagram or Facebook you may have seen a sneak peek of our newest crystal chandelier. It's so beautiful! I have a thing for vintage crystal chandeliers. I've loved them my whole life and am on a mission to put a chandelier in every room in my house! I found this gorgeous one for sale on the website www.Craigslist.org and it's one of my favorite light fixtures in our home. I've never seen another antique chandelier quite like it. It is made of brass with real crystals and it has an orb shape that is actually very trendy right now with modern light fixtures. I LOVE it!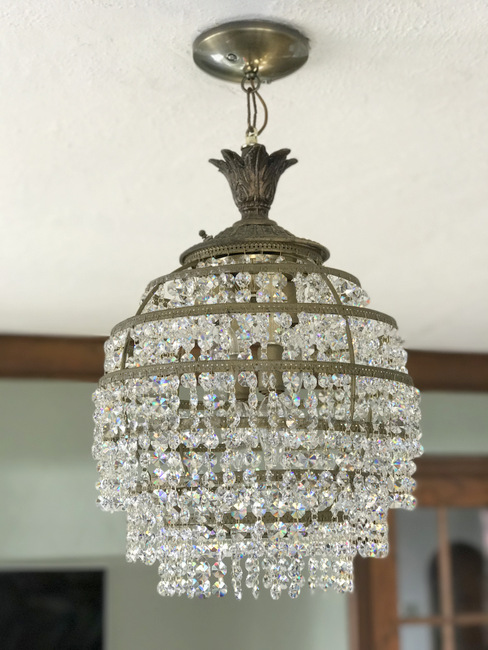 Originally we had purchased a vintage inspired flush mount light at a big box hardware store and installed it in our playroom. Sadly, there was a design flaw within the light and the bulbs would stop working after a little while. The first time it happened we thought it was just a fluke so we exchanged it for the same light. After the bulbs stopped working the second time we got a refund and I started looking for a high quality vintage light.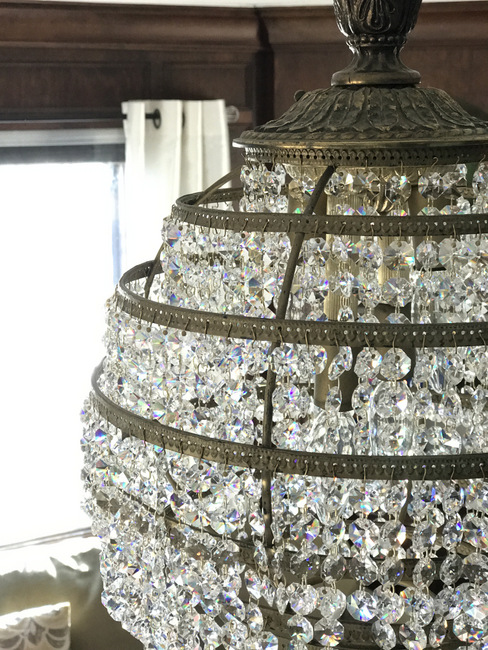 I was planning a trip to visit my grandparents who live a few hours away from me so I searched the Craigslist site in their area for a chandelier. I always check out Craigslist when I'm traveling. I've found so many amazing deals in different cities! When I saw this chandelier I gasped! It was perfect for our playroom!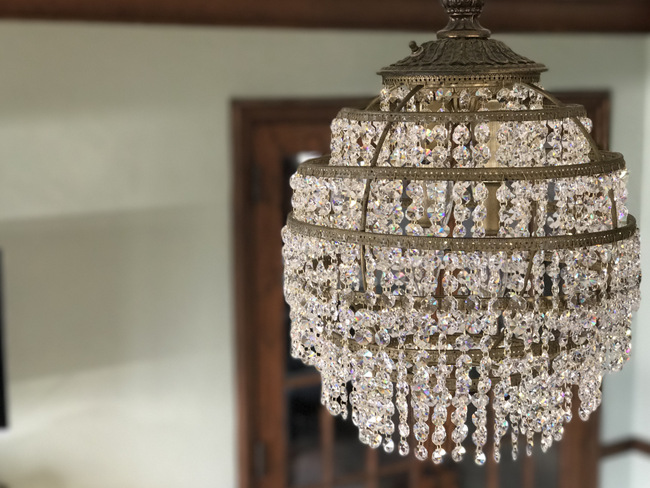 It has four lights and a switch so we can turn on two bulbs or all four depending on how bright we need the room to be. The size is just right for the room and I love the glamorous look it brings to our home. As with most vintage lights that I buy, it was dusty and needed some repair to the links between some of the crystals. The seller had a bunch of crystals in a container and explained how to put it back together to complete the pattern. I used to make jewelry as a hobby before I had kids, so the other night I got out my old tools and began repairing the links. My husband and I worked on it together after the kids were in bed. We turned on a movie and cleaned the crystals while we talked and laughed. It takes a long time to put a chandelier like this back together, and my husband helped until about 2:00 AM (we're night owls). I was determined to finish it before going to bed because the thought of putting together a chandelier with tons of small crystals while three young kiddos played underneath my ladder sounded like a nightmare. At 4:30 AM I realized that there weren't enough beads to complete the pattern, which can sometimes happen when working with vintage items. I gave up and went to bed.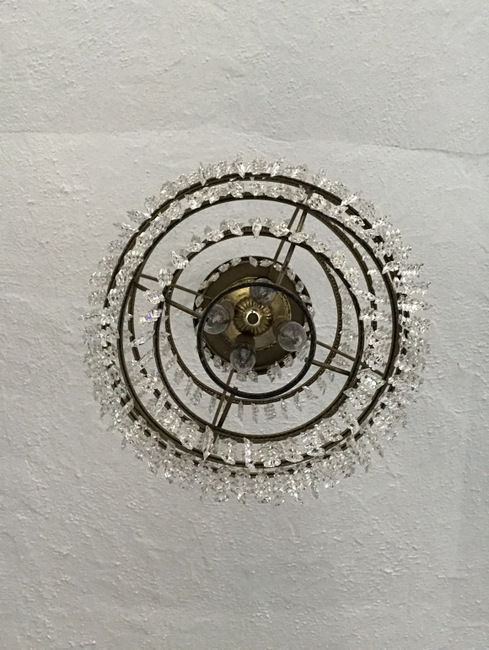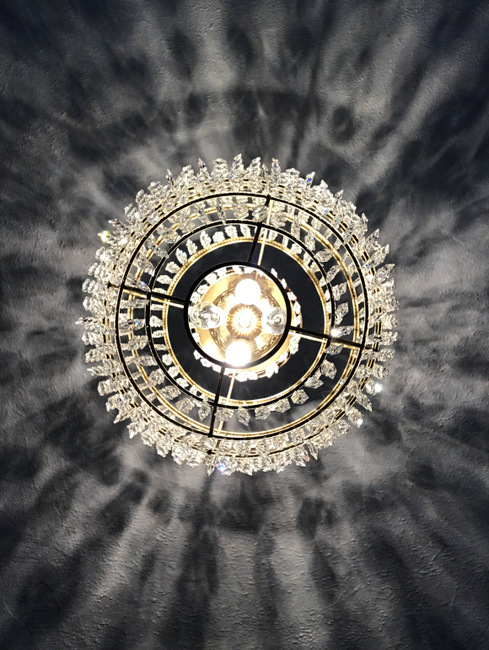 A few days later I sent the kids to the babysitter's house, cranked up some Christmas music, and spent a delightful morning rearranging the pattern to allow a little more space between the strands of beads. I actually like it better this way because the metal tiers are more visible! This chandelier strikes such a neat balance between a modern circle design and vintage brass and crystal materials. It is stunning! I'm so happy with it even though I had to change the pattern. It's a beautiful chandelier!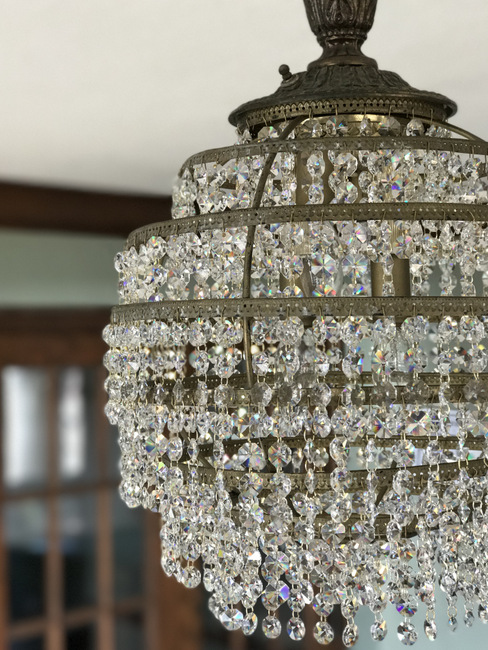 A few thoughts when buying a vintage light on Craigslist. When you are planning an upcoming trip, start checking the Craigslist site for the area you will be visiting several days before you leave. This gives you more time to contact the seller and set up a meeting. Always take a buddy. My dad came with me to look at the light. Keep in mind some potential extra costs that come with vintage chandeliers. Buying extra crystals and the hardware to hang it from the ceiling are common expenses, as well as potentially having the light rewired if the wire is old. Also keep in mind the time it takes to clean and restring the crystals. In our case the wire had been previously updated. I only had to buy the hanging hardware. If I had wanted to continue the original pattern of two spaces between the crystals I would have had to buy enough beads to cover the entire bottom tier and some of the second tier, but luckily I could rearrange the strands three spaces apart and still achieve the desired effect. I paid a little more than I usually do for a vintage chandelier that needs work, but it was worth it to me because of the unique design. I'm thrilled overall with how it turned out and I love the sparkle and glamour that it adds to our home!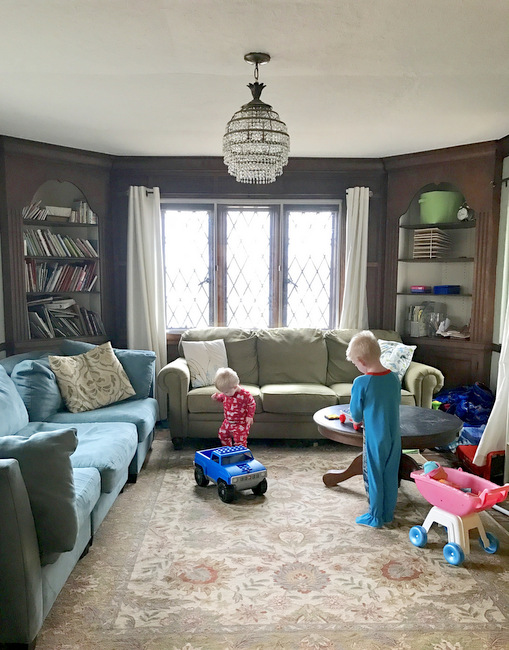 What about you, friends? Do you like buying items on Craigslist? Have you had any fantastic finds recently? I'd love to hear all about it! Chat with me in the comments below and on Facebook, Instagram, and Pinterest. And be sure to sign up for our newsletter to receive an email every Sunday with the direct links to the blog posts from the week.