Recently I was perusing Craigslist before an upcoming trip, as I often do when I'm looking for good deals. A few days before I'm scheduled to travel I pull up the city I'll be visiting on Craigslist and search for my three favorite things: rugs, chandeliers, and sinks. It's a great way to widen the selection beyond just my specific area, and it's fun to see what kinds of things different areas offer. My husband finds my little pre-travel ritual amusing, but I've found some really great deals and saved us a ton of money!
I'd been searching all over for a vintage sink for our kitchen ever since we bought our 1927 Tudor home at an auction three years ago. I was hoping that someone would remodel a 1920's home and remove what they considered to be an outdated kitchen sink, selling it for next to nothing, because who would want such an old thing? Then I could swoop in and buy it for a fantastic price and make it look amazing in my little castle! All I had to do was watch and wait, and I just knew my patience would pay off.
So, there I was, scrolling through Craigslist looking for a vintage kitchen sink. I always type "sink" into the search option because I find that the more general the search, the better chance I have of finding the perfect item. My eyes were beginning to glaze over from viewing all of the ugly 1980's bathroom sinks for sale, when all of a sudden I saw these pictures….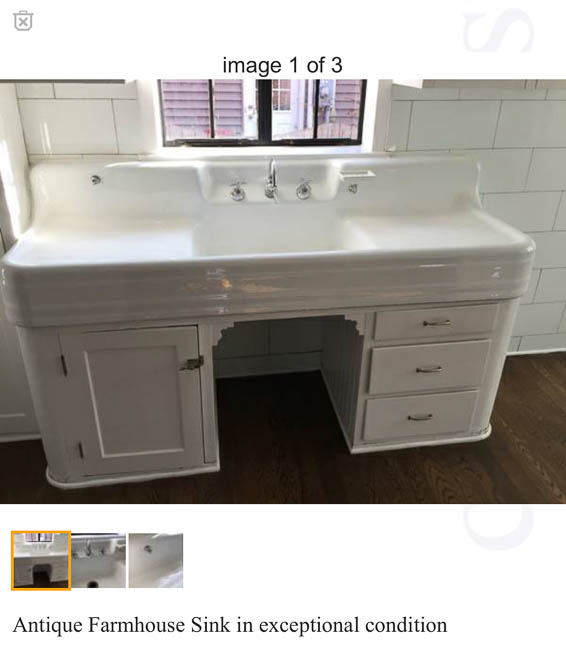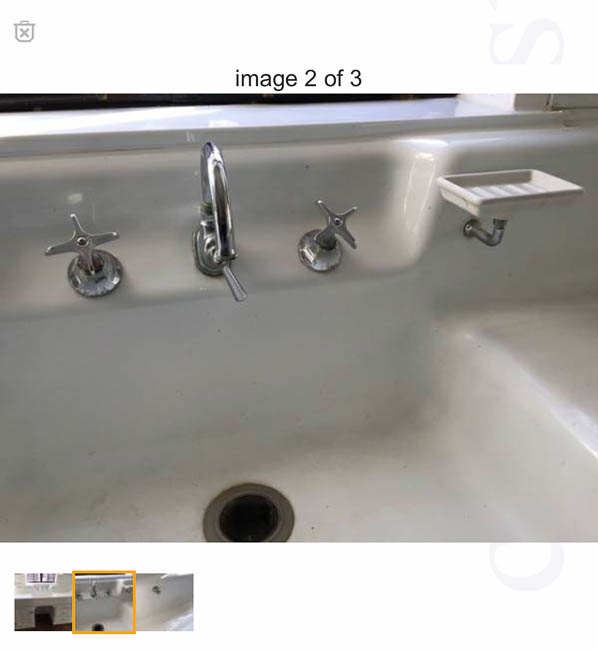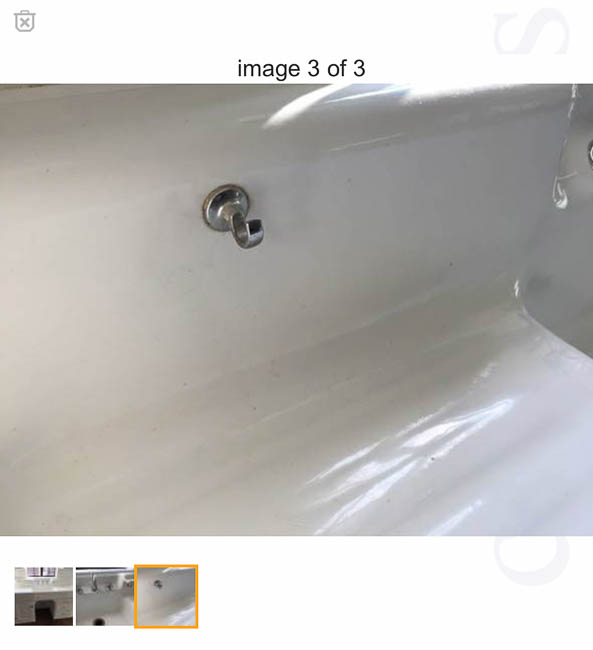 The sink was so beautiful it literally took my breath away! The curved edges, the sweet little cabinet, the adorable soap dish, and the double drainboards on either side were all part of the farmhouse style. It had all the signs of a true vintage treasure! But oh, the price! It wasn't a steal of a deal. But it was absolutely beautiful!
I immediately texted the link to my husband with the words "just dreaming." He's used to this sort of thing. I send him Craigslist texts constantly with vintage items that I find beautiful but have no actual intention of buying.
Then I stood in the middle of my kitchen staring at the picture of that gorgeous vintage sink and looking at my inexpensive metal sink that we installed for our "temporary kitchen." The vintage sink was so beautiful that it literally hurt my heart! Why, oh why was the universe torturing me? I couldn't justify spending that much money on a sink right now. Our contractor and plaster guy had just finished work on our living room and our daughter's bedroom, and the home renovation portion of our budget had taken quite a hit. Besides, we weren't planning on remodeling our kitchen for several more years. It would be silly to buy a fancy vintage sink just to store it in the garage.
All afternoon I kept finding reasons to wander back into the kitchen and stare at the picture of the farmhouse sink, imagining it in our home. I googled vintage sinks to see what options were available and compared prices. I looked at reproduction sinks made to look like vintage styles. I searched Pinterest for inspiration. Nothing quite compared to the Craigslist sink, and it actually was a decent price compared to the other vintage sinks for sale online. But I love good deals. It's kind of my thing that I'm known for. But oh my goodness, the sink was so inspiring!
I finally texted the seller to find out the age of the sink. I was secretly hoping that he would say the sink was from the 1950's so I could cross it off my list for being from the wrong time period. When he responded that it was a cast iron sink from 1929 I knew I was in trouble! Our house was built in 1927, and 1929 was close enough for me! I had fallen into deep, serious love. Now what?
I tried to will myself to stop thinking about the sink, but I could not get it out of my mind. Every few days I would check Craigslist to see if it was still listed. I wished someone would buy it and put me out of my misery. Just knowing it was out there and so perfect for our little castle was torturing me! I tried to be discreet about my obsession with the sink. I didn't want to make my husband feel bad. We're a one income family since I currently stay home with our three kiddos, and he works very hard to provide for our family while fixing up our little castle. My whole motivation for searching for a sink on Craigslist was to find a vintage one listed for a great price, and instead I'd accidentally stumbled upon the most beautiful and expensive 1920's farmhouse sink I'd ever seen!
Finally, I decided to call my favorite architectural salvage shop, Architectural Artifacts in Toledo for reassurance that I could buy a sink I loved just as much in the future. Bob and Jane , the owners of the shop, are incredibly knowledgeable about older homes and have an impressive collection of antique items for sale. When I talked to Bob on the phone, he assured me that they had lots of vintage kitchen sinks, including several that cost less than what I was describing. I immediately felt like a weight had been lifted from my shoulders. I could finally stop obsessing and make plans to buy a vintage sink closer to our actual kitchen renovation. I asked if I could send him the link to the Craigslist sink just to get an idea of what they would sell it for so I would know how much to budget in my future kitchen renovation. This was his reply:
'Hi Sandy,
This is a very very difficult sink to find…the price is reasonable for the original condition & especially the size. So, if this is the sink of your dreams frankly I would buy it. It is in great condition & has a very unique design. I would ask him though if the faucet leaks…it isn't an easy one to find although it can be rebuilt. In 22 yrs, we've never had this sink…so it is decision time for you. Good luck."
Oh, friends! I couldn't believe it! A once in a lifetime opportunity for our restoration project was facing me, and my sweet husband had the perfect solution. Our tenth anniversary is this year, and he suggested that we get the sink as his anniversary present to me! Isn't that the most romantic thing! I'm so lucky that my husband knows what makes my heart happy! He totally gets me. The sink was a splurge, but something that I will use and love forever!
The house that the sink came from was so cute. It was a 1929 brick Tudor house, and when we walked in the front door I gasped! The house had the exact same tile in the foyer as ours! I decided it was a sign that the sink was meant to come live in our little castle.
Along with the sink, the home owner also gave us the doors and drawers for the cabinets that they removed when they remodeled the kitchen. We'll have to custom build a cabinet under the sink when we install it in our house, as they weren't able to salvage the original one, but we can use the hardware from the original cabinets!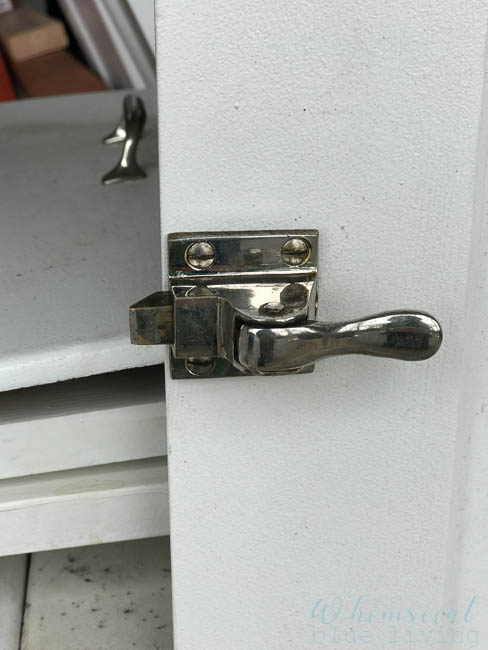 Although we aren't planning to renovate our kitchen for several years, I'm having so much fun dreaming up ideas for the space! I can't wait to share some of my ideas with you soon. I learned some really neat information about the original kitchen from the family who grew up in the house in the 1960's and I can't wait to incorporate some of those details into our restoration project! Finding such beautiful treasures from the 1920's to put back into our house is part of my dream for this home. I love preserving and restoring it with authentic materials that will last another hundred years!
The detail on this sink is incredible! It has the date it was made stamped on the bottom. January 29, 1929!
The sink is made of cast iron and is over six feet long. I absolutely love the double drainboards on the sides! The detail around the edge is beautiful.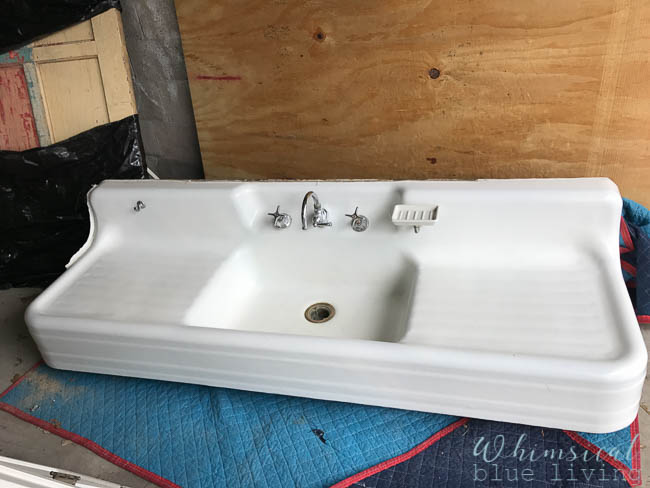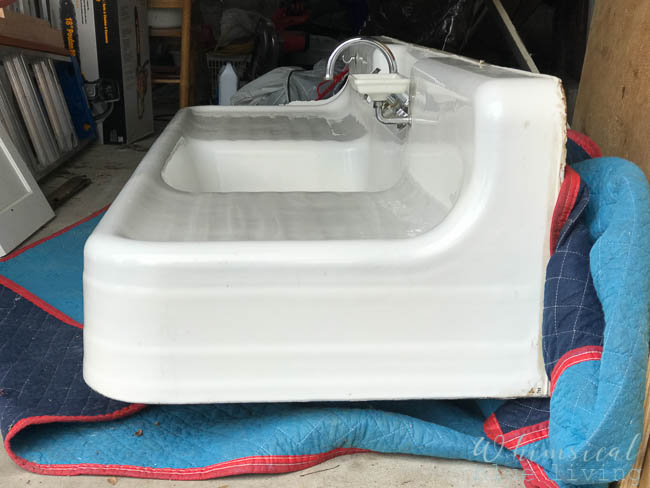 The little soap dish is one of my favorite details!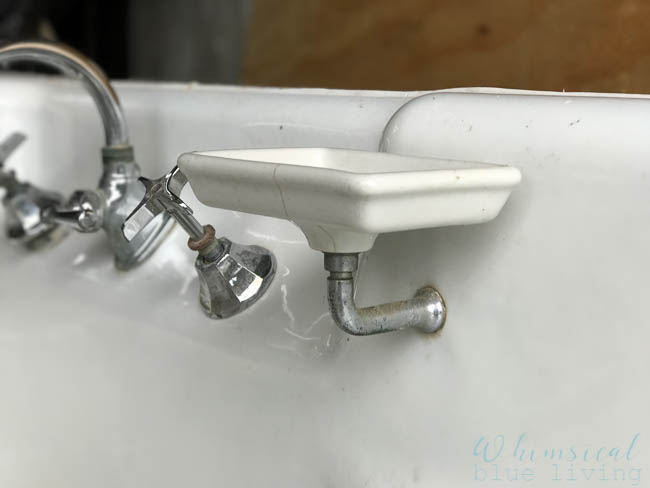 The faucet is beautiful and the design on the knobs is very similar to the original fixtures in our bathrooms! The knob to the right is labeled "hot" and the left is "cold", which is opposite of what we typically see today.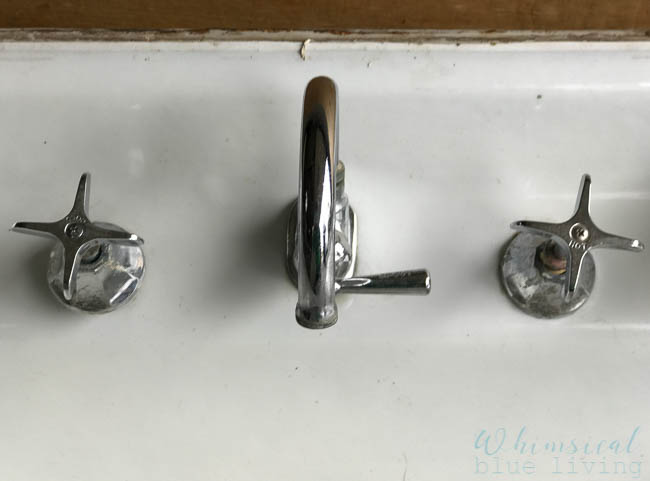 I suspect that the curved part of the gooseneck shaped faucet might not be original to our sink. I found a picture of a 1920's advertisement for a Crane sink that looks almost identical to ours, and the faucet was a different shape with a hose that attached to the hook on the left side. I'm going to do more research on the faucet and I'll update you as I find out more!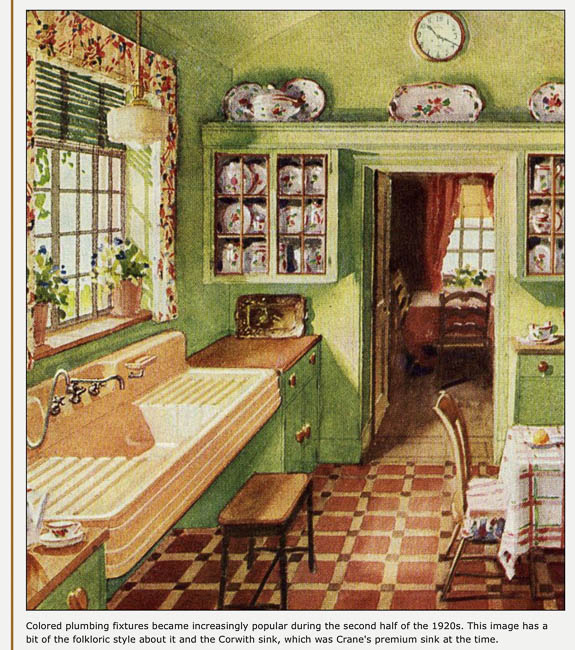 This website has some amazing pictures of kitchens from the 1920's (as well as tons of information about many historic home styles), and I'm learning so much from studying the pictures. I love the simplicity of the kitchens from the 1920's and the use of color. I'm so excited to design our kitchen to incorporate vintage style with modern conveniences (because you know I need a dishwasher)!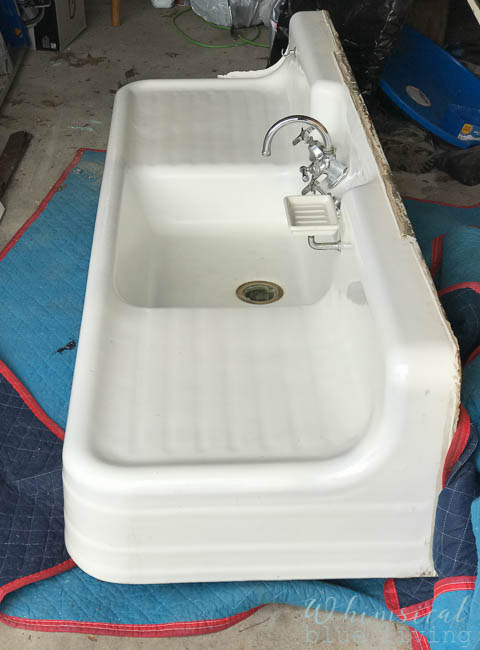 This sink is so unique and has such a presence. It's going to look amazing in our kitchen someday! For now, I keep sneaking out to the garage to gaze lovingly at it. I still can't believe it's ours! It is by far my favorite Craigslist find ever! I love that it fits so perfectly into the time period and style of our home. It's the best anniversary gift ever!
To follow along on our kitchen renovation plans and all of our exciting Craigslist finds, be sure to check out Whimsical Blue Living on Facebook, Instagram, and Pinterest! And sign up for our newsletter to receive an email every Sunday morning with the posts from the week.
Have a beautiful day!
Sandy