So often in life we feel stuck by very real and important issues. Finances, time, and uncertainty are all factors that we have to deal with. And when it comes to our home, the place where we come to rest, be inspired, and spend time with our loved ones, those factors often keep us from making changes. Friends, in the wise words of one of my favorite bloggers, "It doesn't have to be perfect to be beautiful."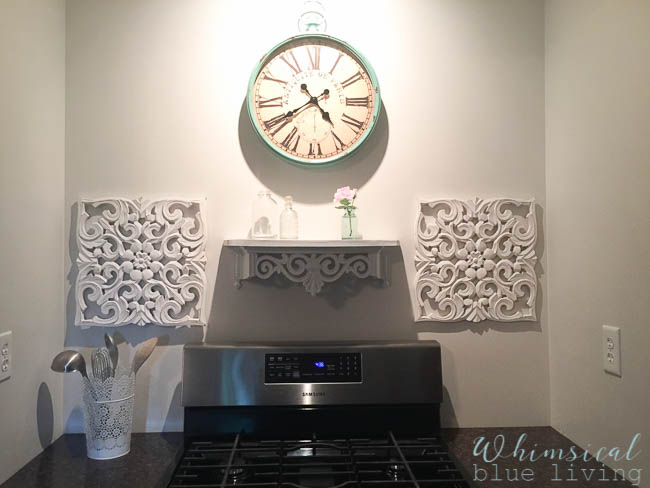 Forget for just a moment about being perfect, about trends and resale value and the fancy homes that make you feel just a little bit intimidated. Instead, think about you. Think about what makes you happy, what brings you joy, and what you would like to see added or changed in your environment. Don't worry about money, or time, or the thought of how to do it. Just dream, and dream big. Do you have a feeling in your heart? Maybe an idea in your mind? Good!
Now, this is the part where we get creative. Sometimes in life we have circumstances out of our control that have a very real influence on our homes. Maybe you are renting, or you just bought your first home. Maybe you are paying off debt or downsizing. Maybe you've lived in your house for so long that you don't even know what to change or where to start. Maybe you plan your renovation budget so that most of your money goes towards expensive home improvement projects instead of décor (I'm raising my hand here). Maybe you just crave a change. This is the fun part, creatively making dreams come true. This is my specialty!
Friends, there is a trend right now to simplify, to live within our means, and to rid ourselves of excess. And to that I say hooray! There is freedom in selectively surrounding yourself with things that you love and inspire you. Too often people fill their homes and lives with things to impress others or things that they used to like but no longer really enjoy. When you determine what it is in life that is truly important to you it is much easier to invest your time, energy, and resources wisely.
For me, I am a home body. I love creating an environment that energizes and inspires me. I decorate my home with items that make my heart happy so that as I look around my house I feel content. Recently we had a large group of people visiting our house, and one of our guests said, "I just love your house. It gives me a feeling of…." and her voice trailed off as she smiled and gave a contented sigh. Everyone around her nodded. And I knew exactly what she meant. It's a feeling people get, and it's not because of a fancy style or a specific design. And friends, what I want to give you, what I try to convey as I type words and share pictures, is that your home can have that feeling no matter your stage of life or the amount in your bank account. It just takes patience and a little creativity!
If you are the kind of person that is deeply influenced by your surroundings and if you are inspired by a certain look and design because it makes you happy, I say figure out a way to make it happen. It might not happen all at once, and it might not end up being the exact look you had in mind, but your dream design is the starting point for creating an inspiring home. When we bought our little castle I loved the look of cement tiles but our home needed a tremendous amount of work before I could justify buying fancy tile. So I used a leftover can of sample paint and a stencil that I've had for years to create a feature wall inspired by cement tile patterns. The project was literally free since I already had the supplies and it only took me two afternoons to complete. The result is a feature wall that I love!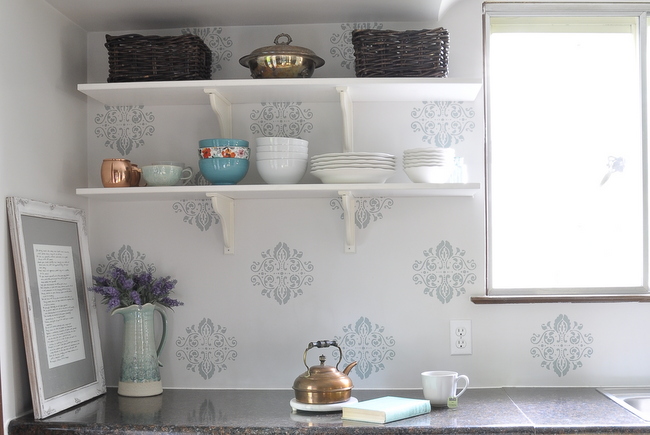 There is a concept that I call "patient purchasing." I have no idea if this is a real term in the design world. I've never even googled it. This is what I call the process of determining what it is that you love and creatively figuring out how to incorporate those aspects into your environment in a way that you can afford and enjoy. It takes creativity to figure out how to create your favorite look within your budget and it can take time to collect the items that fit into your dream design. But it is worth it to save money and have a home that you love.
My style is hard to put into terms. It's whimsical and blue. Because that's not exactly a design term, I often refer to it as French-Farmhouse-Boho-Vintage-Glam. I love crystal chandeliers, blue medallions, the patina of worn antiques, the colorful bohemian patterns, and the soulful stories that go along with each item. The thrill of the hunt and finding fantastic deals are all part of the fun for me. Therefore I take my time when designing my home. I always imagine my dream design and then I figure out a way to make it happen that fits in my budget. Lots of the items in my home were free, some pieces were made a little more whimsical and blue with the help of paint, and many of my favorite things have been purchased over the years on Craigslist, thrift stores, and antique stores.  Because we plan on this being our forever home, I can take my time decorating and save my money for big renovation projects while still adding beauty to my life.
When we first bought our house at an auction our kitchen was a mess. You can read more about it here and here, but basically the previous owners had removed almost everything before the house went up for sale. So when we moved in there were holes in the wall that were big enough for my children to fit into on either side of the stove area.
I covered the holes with cardboard until our drywall guy could fix our kitchen. After he made our walls safe for our kiddos we purchased cabinets to fill the space on either side of the stove. Then I was left with this beautiful blank slate. Oh, the potential!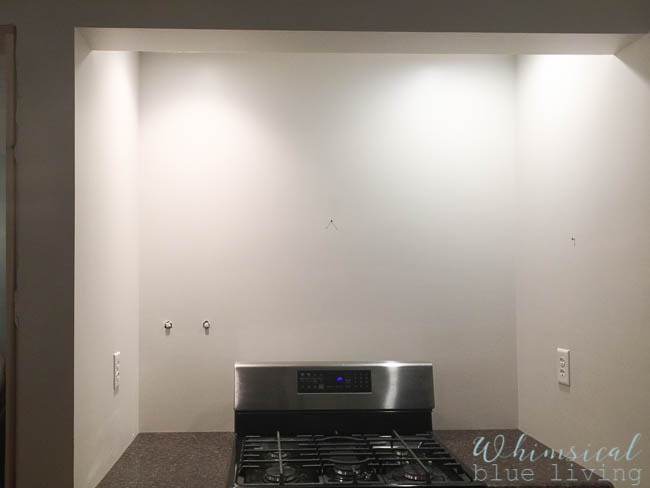 I knew that someday I would move the stove to a different location when we remodeled, so I didn't want to spend a lot of money or time adding a tile backsplash. The previous owners had installed a pot filler and the plumbing was visible on the wall to the left of the stove above the utensils. I didn't love it sticking out like that, but we had so many other more important things to fix first. I hung up a clock that we had received years ago as a wedding gift and called that area good enough.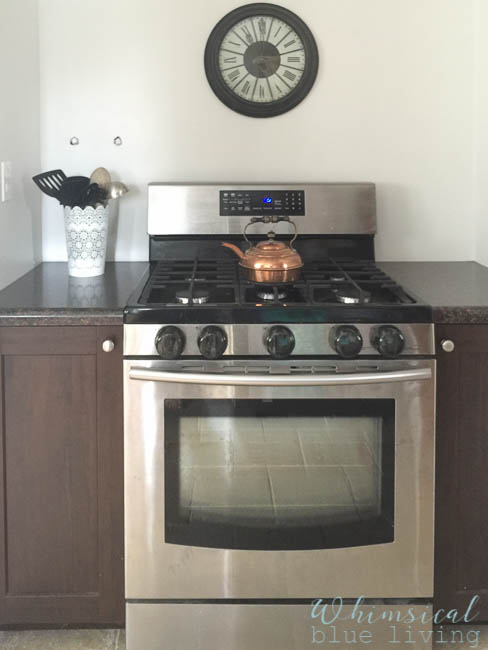 Over time I collected items that I loved and occasionally tried out a few changes above our stove. Nothing really thrilled me, so I just kept waiting for inspiration to strike. Then, late one night, I collected several items that I thought might work above the stove and tried a few options out. I don't always get it right on the first attempt, but I love the creative process of trying new things. I find joy in the experimenting, the dreaming, and the planning.
After some trial and error I chose this design. I love the simplicity of it, the beautiful carved details, and the whimsy and blue.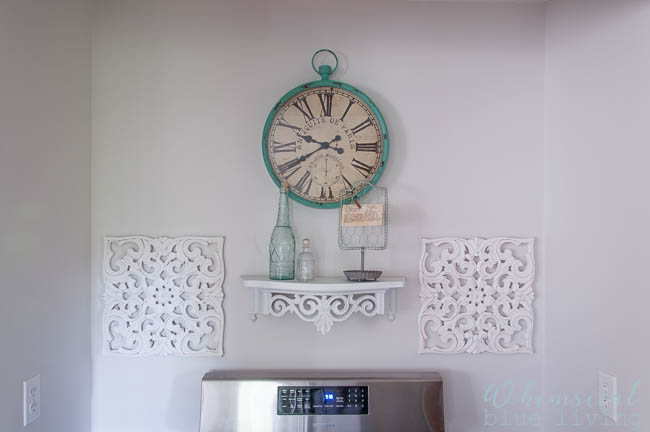 The clock is from Michaels, the carved wooden squares are from TJMaxx, and my friend found the little shelf for me at a thrift store and I spray painted it. The pretty white container that holds my cooking utensils is from IKEA and the glass cake stand was a thrift store find. I love to change out the items on the shelf. The glass bottles are from the ReStore and a yard sale and the recipe stand is from Michaels. This little nook for our stove inspires me! I love the French-Farmhouse-Boho-Vintage-Glam look to it! And did you notice that the pot filler plumbing that was sticking out of the wall is covered? Hooray!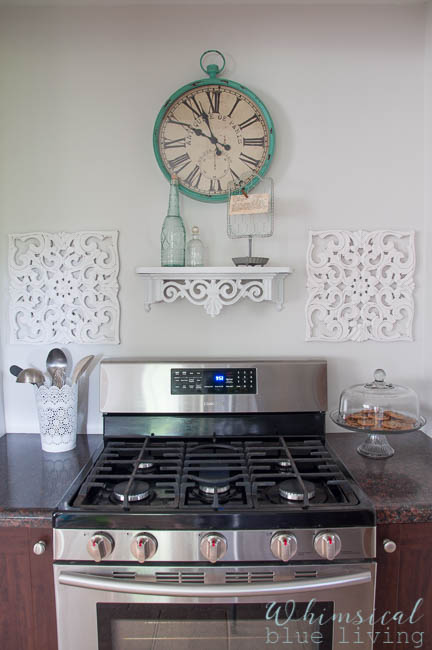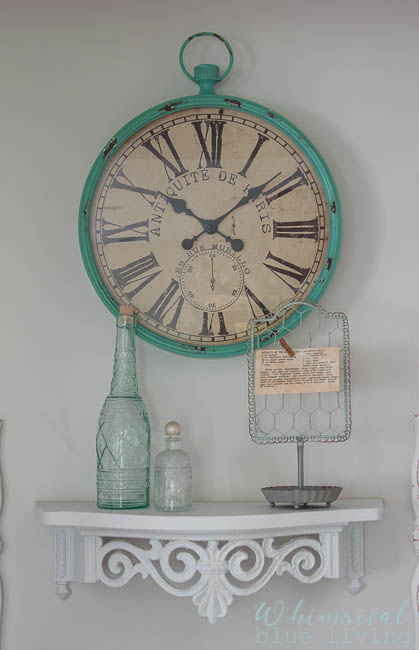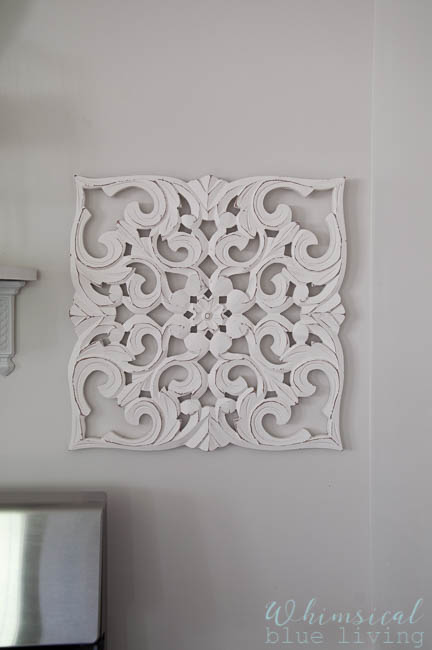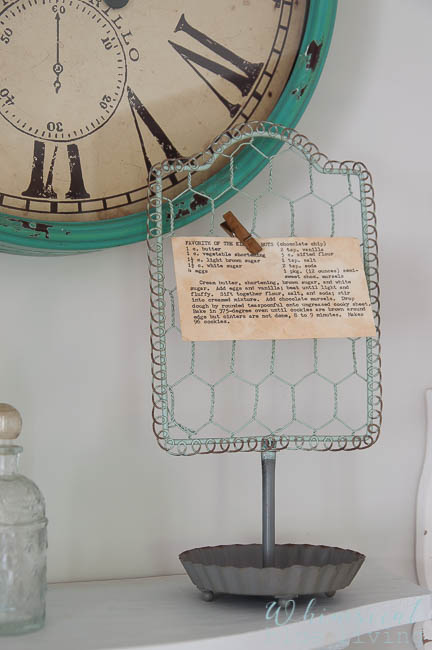 The beautiful thing about this design is that it makes my heart happy. I smile every time I look at it, whereas before I didn't pay much attention to that corner. Do you know how many extra smiles that adds up to in a day? Quite a lot! Surrounding yourself with things that make you smile, even if they are only decorating that spot temporarily, is worth the time and investment. Someday when we renovate our kitchen I can use these pieces elsewhere in our home. For now, even though our kitchen is in the "in-between" stage of remodeling, it is still full of beauty.
When you are patient, when you collect things slowly and purchase things carefully, and when you take the time to enjoy the process of making your home a reflection of you, you will create a space that brings you joy. It doesn't have to be perfect or even your ultimate dream design. It just needs to make your heart happy. Enjoy every step of the process!
For more inspiration be sure to follow us on Facebook, Instagram, and Pinterest, and sign up for our newsletter to receive an email every Sunday morning with the posts from the week!
Have a beautiful day!
Sandy