Hello friends, and welcome to Christmas at The Castle! If you are visiting from Mallory's blog, I'm so glad you are here! Jess from Domicile37 organized this fabulous eclectic holiday tour, and I'm thrilled to be a part of such a fun group of homes. The tours continue all week, so be sure to follow along!
There are so many beautiful original details in our 1927 home, and we are on a mission to preserve and restore as many pieces as we can. We bought the house at an auction almost four years ago, and we've been working hard ever since!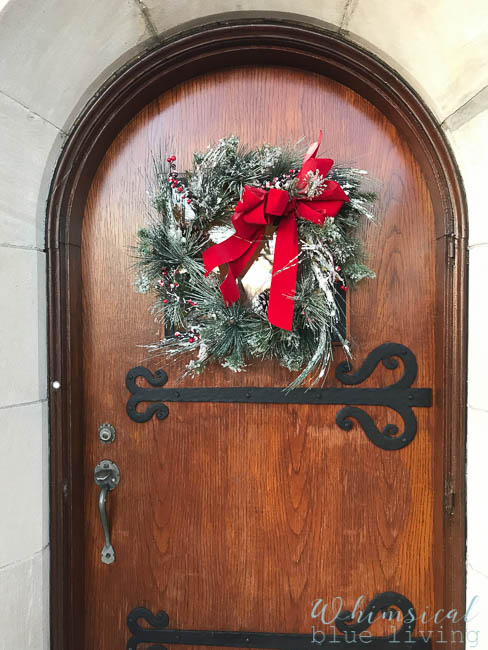 This year is especially fun at our house. It's the first year that we haven't had a huge construction project going on during the holidays, and we're having so much fun decking the halls! Our 1927 tudor style home was made for Christmas celebrations! So grab a cookie and some hot chocolate and enjoy this vintage styled Christmas!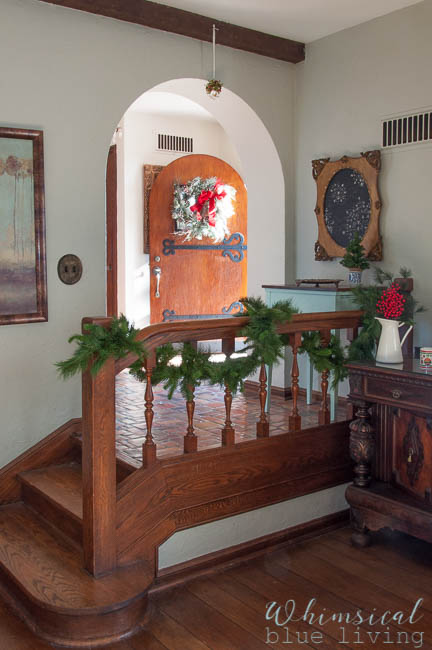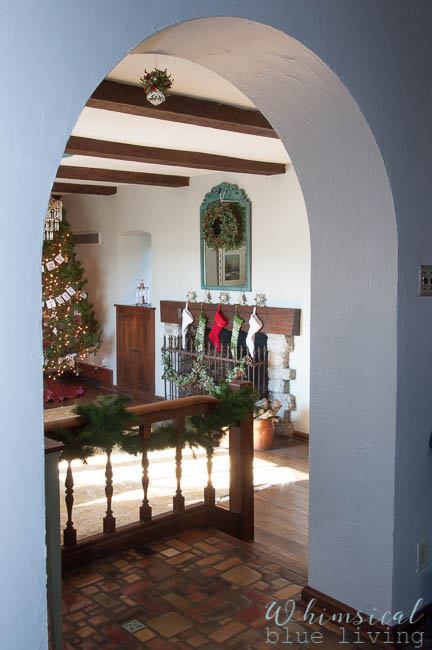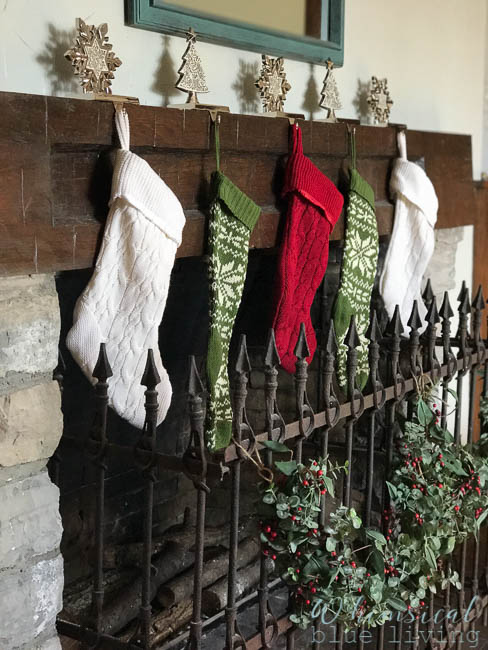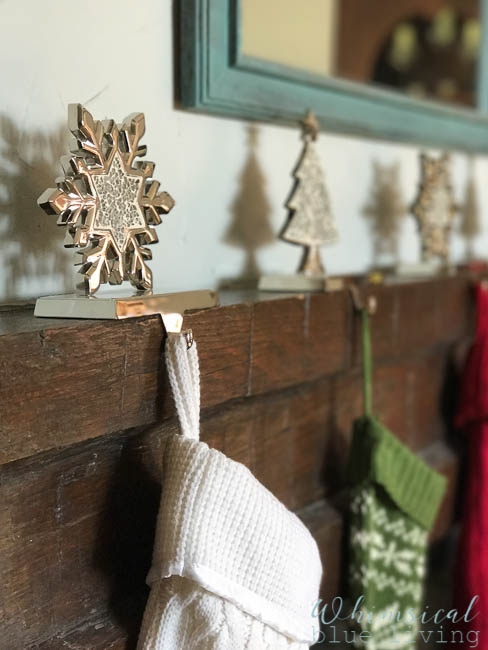 I love using family pieces in my designs, especially around the holidays. It reminds us of the people we love! Every item in our home has a story, like the copper boiler that belonged to my Grandma. We now use it to hold firewood, and I love the warmth and glow that the copper adds to the room.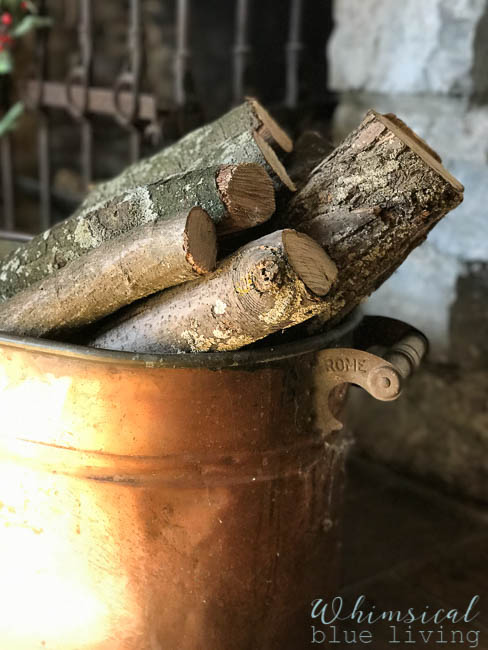 With three young kiddos and an old house to restore, I have to decorate on a serious budget. I enjoy the challenge and creativity that goes into repurposing and reimagining how items can be used. I see potential everywhere! This tall mirror was originally part of a dresser, but it was all alone at the Habitat For Humanity ReStore. I was able to snag it for $10, and with a little left over paint from my stash I added my whimsical blue style!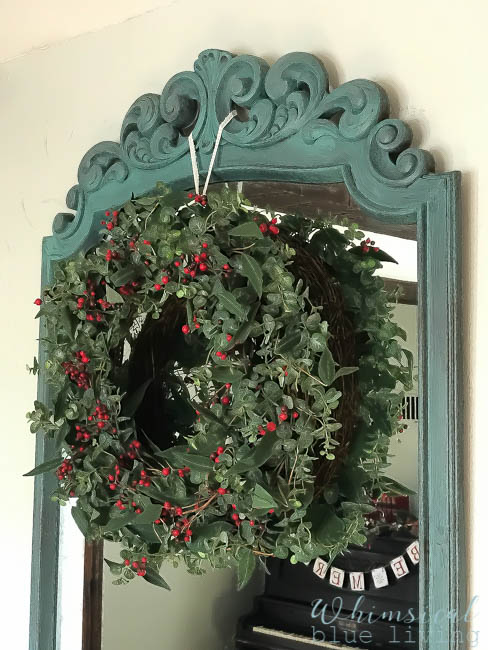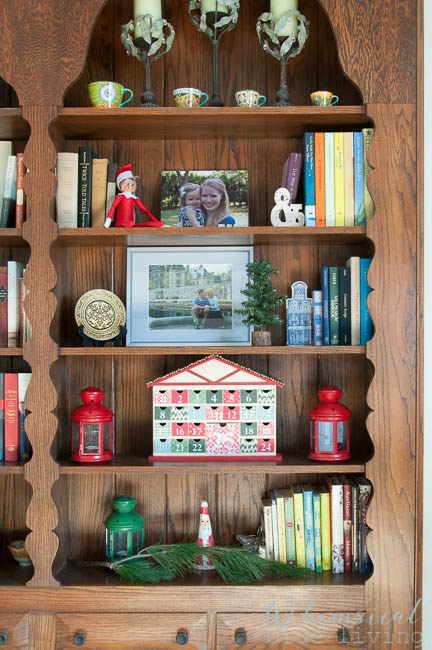 There are deep windows on either side of the fireplace with built-in cupboards for holding firewood. The diamond pattern on the original leaded glass windows is gorgeous, as well as the unique raised designs in the plaster walls.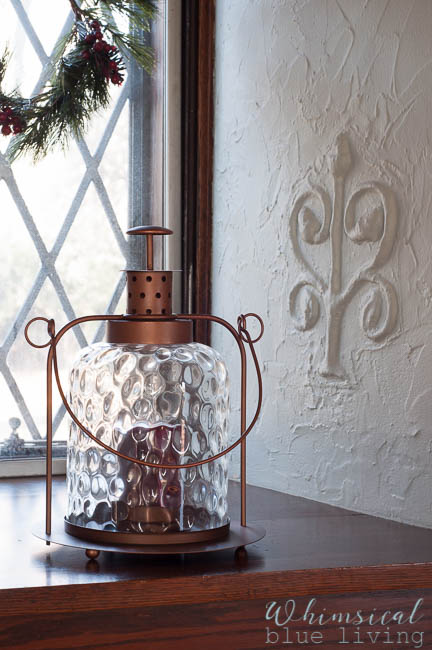 The piano belonged to my great-grandparents and it has such pretty detail on it!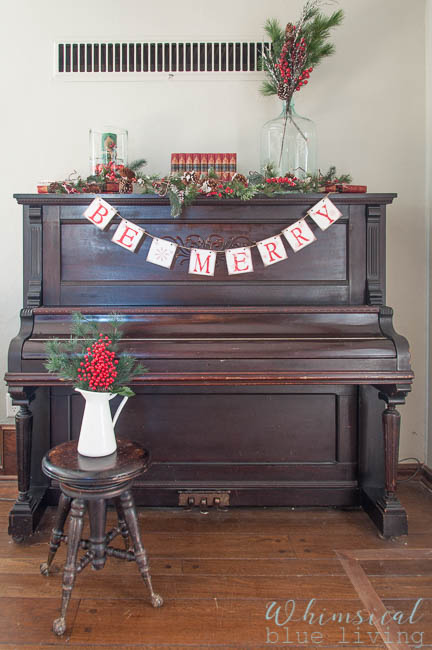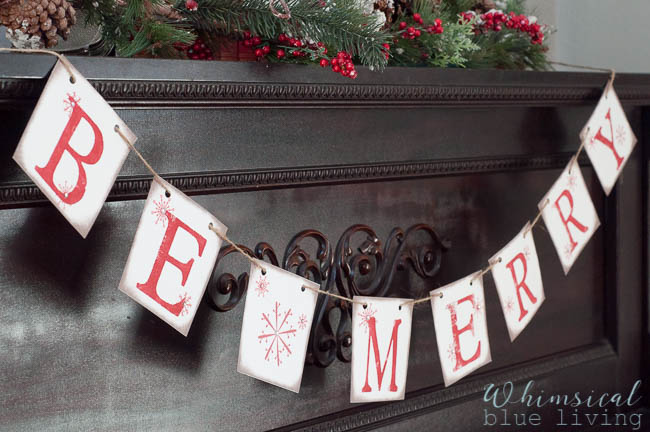 Christmas just isn't Christmas without hot chocolate and cookies! We had an identical set of these Christmas mugs growing up, and my sister surprised me with these that she found on eBay a few years ago.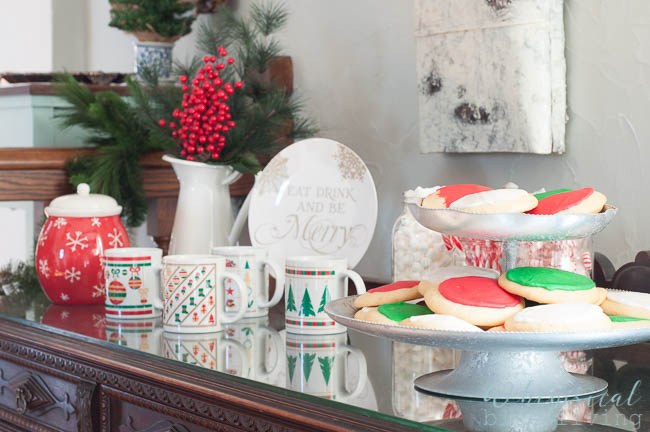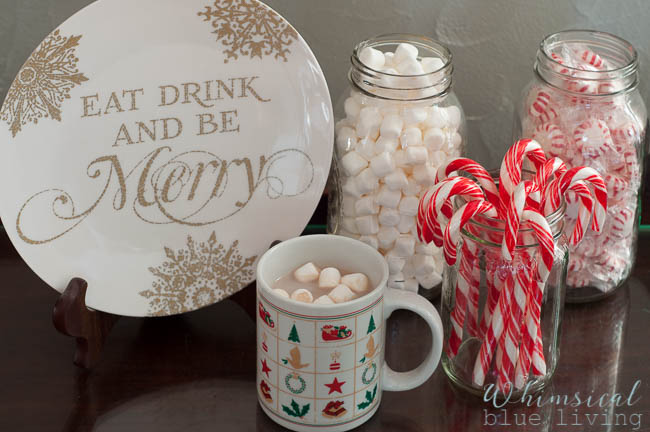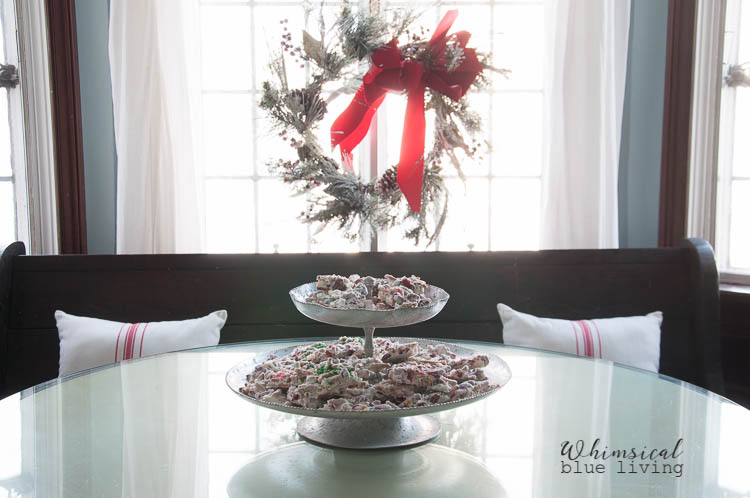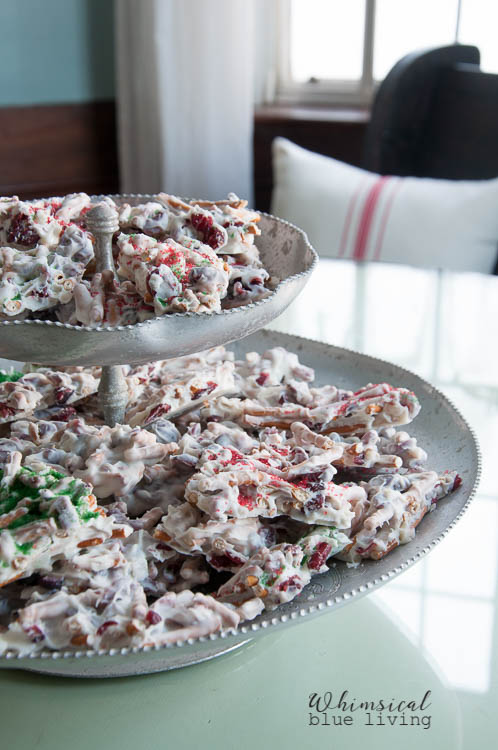 Every year we walk to the very back of the field and pick out the biggest tree at the Christmas tree farm, and this year it was so tall that it was smushed up against the top of the ceiling! We had to trim the base of the trunk quite a bit to get the tree to fit. The kids thought this was absolutely hilarious! We had so much fun decorating it! I just love all the handmade ornaments. It makes my heart so happy!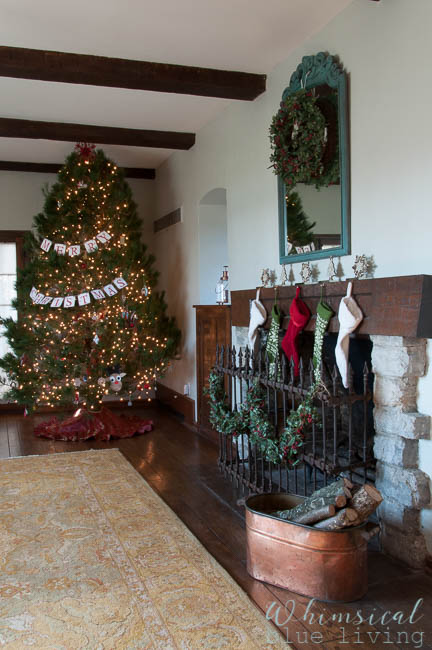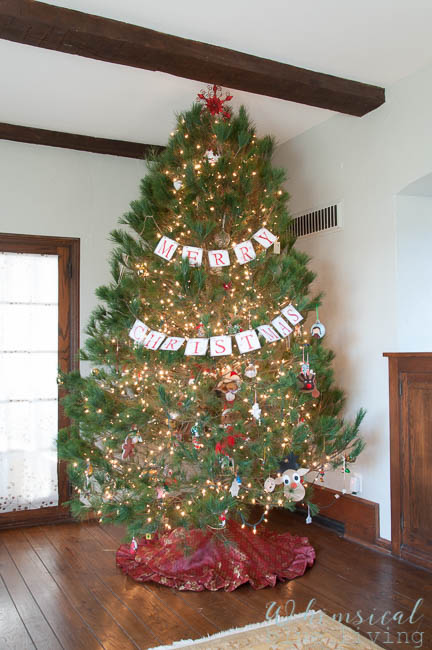 Thanks for joining us for Christmas at The Castle! Be sure to hop on over to Brynne's blog tomorrow to see her amazing home! And check out all the tours going on this week for more inspiring eclectic holiday decor!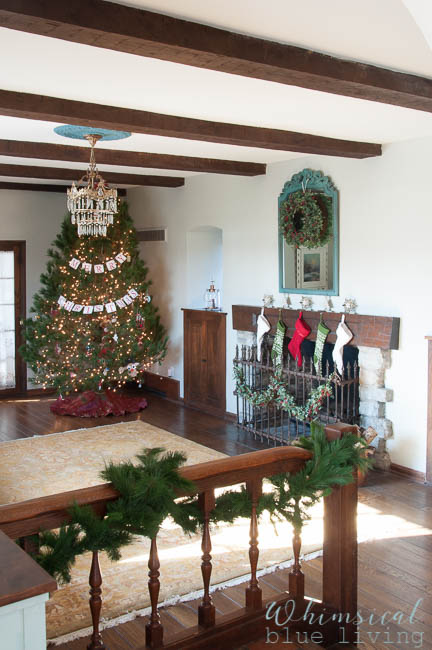 For more inspiration and updates on our home restoration projects be sure to follow Whimsical Blue Living on Facebook, Instagram, and Pinterest. And sign up for our newsletter to receive an email every Sunday morning with the posts from the week. That way you never miss a post!
Have a beautiful day and a wonderful holiday season!
Sandy
Check out all the fabulous designs! Tours will go live on the day listed below. Enjoy!
Monday
Tuesday
Wednesday
Thursday
Friday