One of my favorite ways to add character and charm to our home is to incorporate vintage pieces in unique ways other than their original purpose. I'm always on the lookout for interesting pieces, and when I find something that catches my eye I like to dream about all the different ways I could use it. Often I'll take a picture and save it on my phone to refer back to later as I gather inspiration and ideas.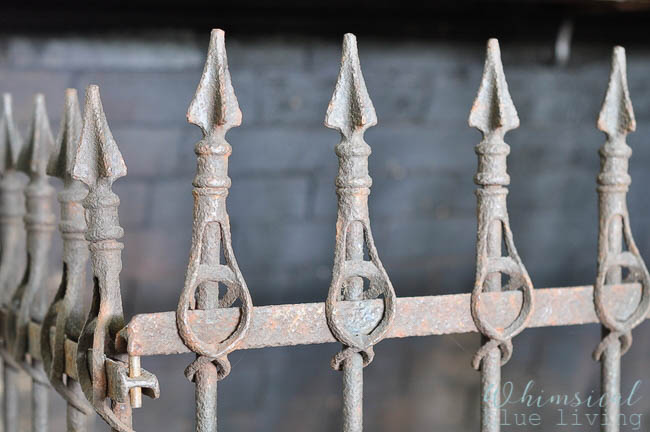 Our fire place screen is one of my favorite things we've added to our little castle. The opening of the fireplace is five feet wide, and there was a limited selection of screens that would cover the space. The designs that we found for sale online were very generic looking and ridiculously expensive. But with young kiddos, we knew we needed a screen to keep them a safe distance from the fire.
Sometimes my best ideas occur when I'm forced to work creatively within my small budget. I imagined the final look that I was going for, something old and heavy with interesting details that looked like it belonged in a castle. The gorgeous wrought iron gates from old southern homes came to mind. I remembered seeing sections of an old gate in an antique store recently, so I sent a message to the antique dealer, inquiring about the size and price. She replied with the amazing news that each piece of gate was exactly five feet long! It's like it was meant to be! Next I called my father-in-law and described my idea for the design, and he said he could help cut and weld the two pieces of gate into the fireplace screen. So I hopped in my van, drove over to the antique shop, and bought two sections of old iron gate!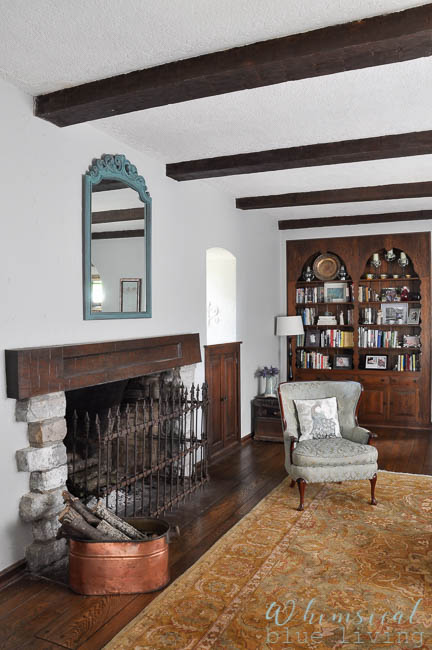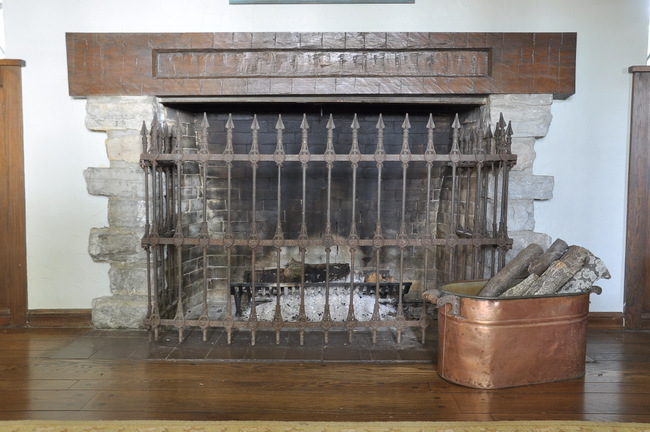 It turned out beautifully! The screen is the perfect size for the space, the design fits the style of our house, and the patina of the old metal gives it authenticity. I absolutely love when people assume that the fireplace screen we created is original to the house. Reusing the vintage gate pieces in a different way is not only a wonderful way to recycle them, but it was also significantly cheaper than buying a new screen, plus the quality is amazing! The metal is far enough away from the flames that the screen does not get hot to the touch, and our kiddos love roasting marshmallows through the slats in the fireplace screen.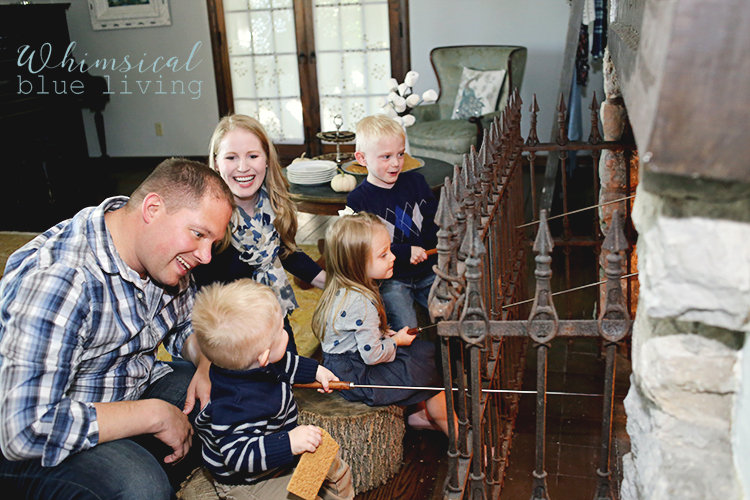 Friends, if you are looking to add character and charm to your home, I highly suggest using vintage pieces in creative and repurposed ways. Not only are you adding beauty to your home, but you are recycling and supporting local small business owners when you buy pieces from antique stores and salvage shops. It's a win-win!
For more inspiration be sure to follow Whimsical Blue Living on Facebook, Instagram, and Pinterest. And sign up for our newsletter to receive an email every Sunday morning with the posts from the week. That way you never miss a post!
Have a beautiful day!
Sandy