It was the night before Valentine's Day and my husband and I were busy making cute little homemade cards for our kiddos and decorating for a surprise celebration planned for breakfast the next morning. We placed chocolates at each of their seats and set out the ingredients to make M&M pancakes that we would cut into the shape of hearts using a cookie cutter. Our kids are at that wonderful age where all holidays are magical, and we love creating special surprises for them! As my husband helped me tape up some pink streamers, he causally mentioned that he had an idea of something he wanted to give me for Valentine's Day, but he hadn't had a chance to get it yet. I assured him it was fine. He's always very thoughtful with cards and gifts for holidays and special occasions. I'm so lucky!
We had a delightful little party at breakfast the next morning. The kiddos were so surprised! They loved the simple decorations, chocolates, and their individualized cards. And the heart shaped M&M pancakes were a huge hit! I gave my husband a cute card that I had made and heart shaped Reese's that the kiddos had helped me picked out for him. He gave me an incredibly sweet handmade card full of cute little rhymes that he had made up about life with our kiddos. Have I mentioned how much I love him? It was a wonderful Valentine's Day!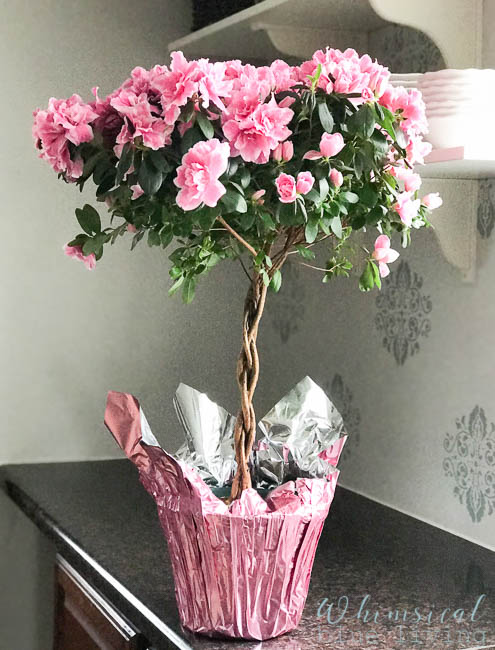 My husband had to work late that night, and when he got home I was already in bed. He told me he had a surprise for me, so we tiptoed quietly downstairs. There on the table was a gorgeous little tree with bright pink blooms! It was so beautiful that I actually gasped! He smiled with pride for picking out such a wonderful present, explaining that it was an azalea tree. Azaleas have always been special to us. The chapel where we were married had a stunning garden full of gorgeous azaleas, and when we bought our first home we planted azalea bushes in front of our house. I had never seen an azalea tree before, and the braided trunk and bright pink blooms were incredible! I was absolutely thrilled!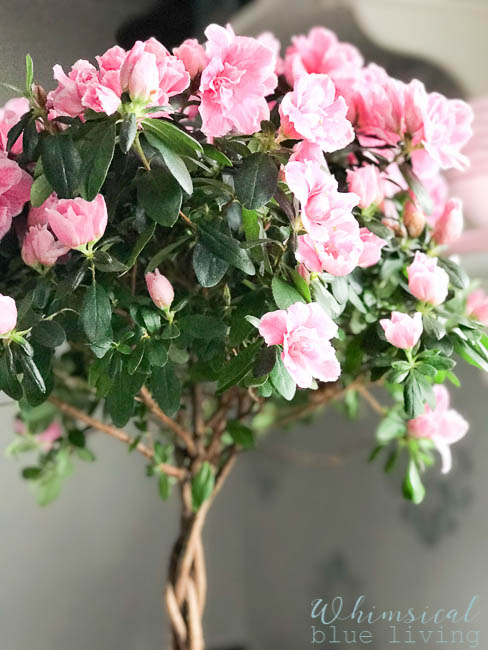 I leaned closer to examine the braided trunk and brilliant blooms. It was such a sweet, sentimental gift! I turned to my husband and excitedly asked, "What do I do with it?"
"What do you mean?" He replied, slightly confused.
"Do I plant it outside in the ground, or can it stay in a pot? How often do I need to water it? How much sunlight does it need?"
"Oh," he said with a pause, choosing his words carefully. "I'm not really sure…. I didn't expect it to live that long."
I laughed at his honesty. Everyone knows I don't have a green thumb. Once I accidently killed a cactus because I didn't water it enough. A cactus! My house is where plants come to die. I feel a little sorry for plants when I buy them because I know that, despite my best intentions, their days are most likely numbered. But if a plant could survive on good intentions, my azalea tree was going to thrive!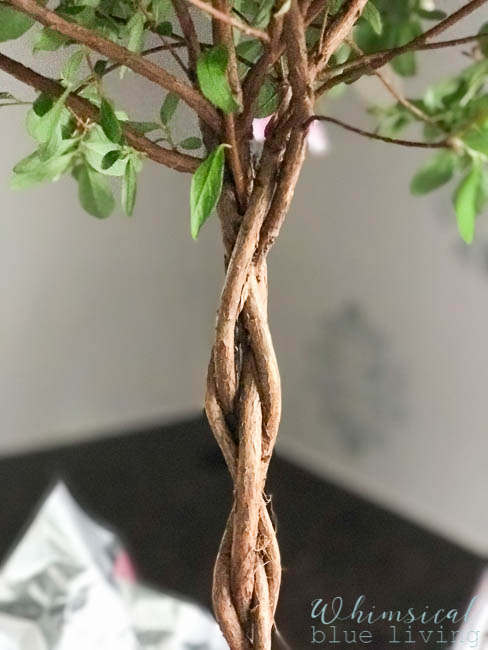 Sensing my eagerness to help my little tree continue to grow, my husband reached out, squeezed my hand, and said with a supportive smile, "I know you'll do your best!" I nodded earnestly and smiled at my beautiful new tree, thinking about how romantic it was for him to get me such a meaningful gift. Then he pulled me close and said in a reassuring voice, "Let's just enjoy our tree while it lasts…."
I was equally amused and relieved. I suppose I should have been annoyed, but who are we kidding? Thank goodness he wasn't judging my love for him and his gift based on my ability to keep the azalea tree alive! I snuggled into his hug. "At least I keep the kids alive!" I reminded him. He laughed and agreed that was the most important thing.
Friends, I love that I'm married to a man who knows me so well! He knows how much I adore azaleas, he knows that I will probably kill his gift despite my good intentions, and he still loves me enough to buy it anyway!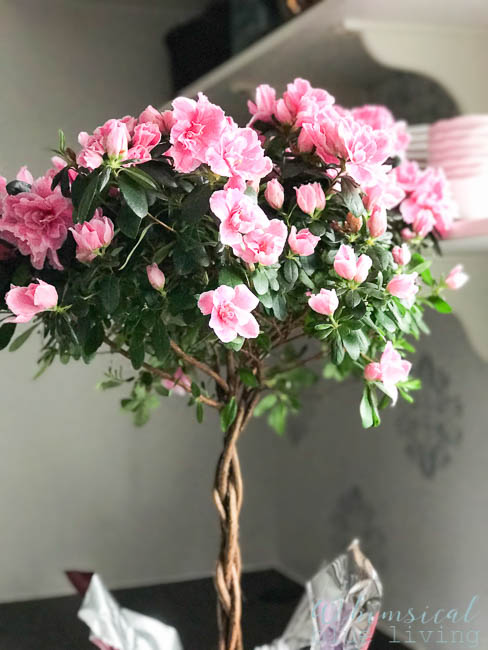 Any tips on keeping my gorgeous tree alive? I'm going to shower my little tree with love and good intentions. And hopefully I remember to water it more than I did the cactus! Wish me luck!
Be sure to follow Whimsical Blue Living on Facebook, Instagram, and Pinterest for even more inspiration! And sign up to receive our newsletter every Sunday morning with the posts from the week.
Have a beautiful day!
Sandy