It was our first Valentine's Day since we had moved back home to Ohio to be closer to our families. My husband excitedly announced that we had a babysitter (his parents, hooray!) and we were going out on a date! After living in the south for so long without family around to help, we were thrilled for our kids to grow up near their cousins and grandparents. And the free babysitting was awesome!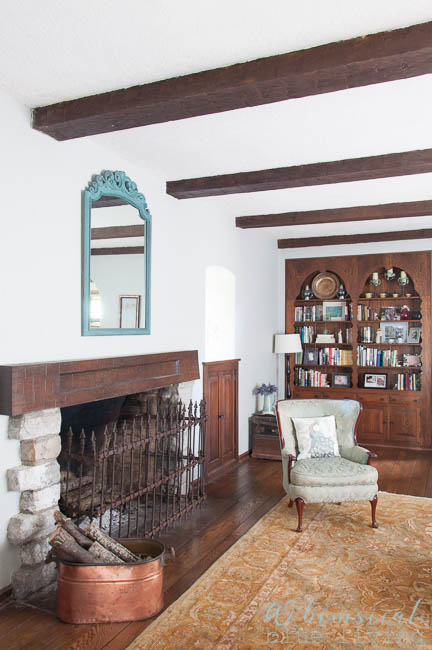 My husband knows me well. He planned a romantic evening out to a local antique store and dessert at the ice cream shop next door. That's my kind of date night! We dropped the kiddos off at my in-laws and drove in our super cool minivan over to the antique store. My husband and I held hands as we walked through the booths, taking our time looking at treasures and laughing at the random things we found. You never know what you might stumble upon while antiquing. We weren't really looking for anything specific, just enjoying spending time together. Antique stores have such a sense of history to them. There is something very romantic about wandering the aisles with the person you love. Surrounded by treasures from times gone by, I feel connected to all the love stories of the people who loved and lived before us.
We rounded a corner and my husband tugged on my hand. He tilted his head in the direction of a booth and exclaimed, "Wow! That's a really great chair!"
I followed his gaze and saw the ugliest chair in the world! It was from the 1970's with a massive wooden frame and an unfortunate orange and brown plaid fabric on the worn out seat. My first instinct was to insist that there was no way we were loading that horrible chair into our super cool minivan and taking it home with us. No way! But we were on a date night. For Valentine's Day. I reminded myself that I should at least try to be nice before crushing his hopes and dreams. We'd been married long enough for me to know that insulting his new favorite chair would make him want it even more. There was only one way out of this awkward situation. I had to come up with a compliment first and then find some reason that the ugly chair couldn't come home with us. Perhaps the price was too high, or a leg was broken, or it smelled like cats. I'd find some excuse to convince him that he didn't really want it. I desperately tried to think of something nice to say as he walked towards the offensive chair. "Oh, that wooden one?" I stammered. "It looks very…. sturdy."
"What?" he asked, pausing mid stride and turning around to look at me. I pointed to the hideous wooden chair. "That one?" he asked with confusion. I nodded, trying to muster up the smile of someone who couldn't live another second without the ugliest chair in the world. "No," he said decisively, "That chair is ugly." He marched past the awful chair and I smiled with relief. He had better taste than I gave him credit for!
He stepped around the offensive 70's chair and gestured to something behind it. "I meant this chair!" he said excitedly.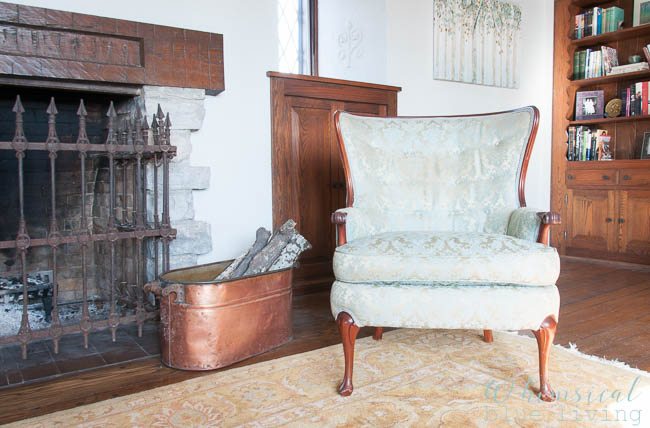 I took a few steps forward and my heart skipped a beat! There, hiding behind the ugliest chair in the history of date night, was a darling vintage armchair covered in blue damask fabric. It had dark wooden legs and a gorgeous curved back. The patterned fabric was one of my all time favorite shades of blue and the damask design on it was absolutely beautiful. I could just imagine curling up in that gorgeous chair by the fire with a good book and a cup of coffee. It was perfection! And then he spoke the words that made me fall in love with him all over again. "It looks like you," he said with a smile, gesturing to the whimsical blue fabric. And he was right. It was totally my style, and he saw it first! I'm telling you friends, I married a great guy!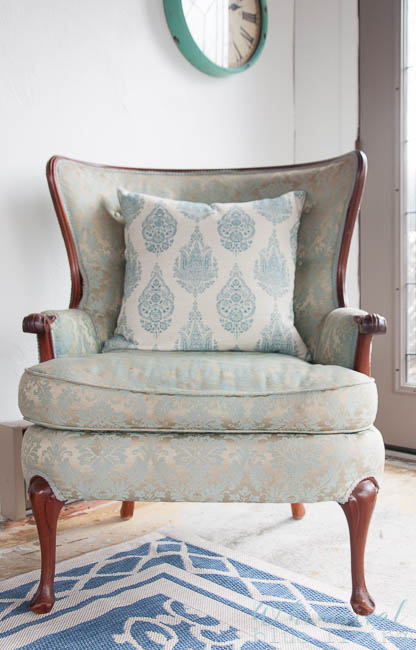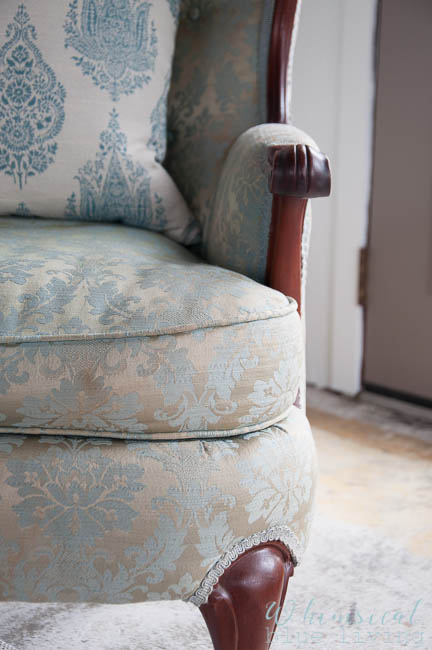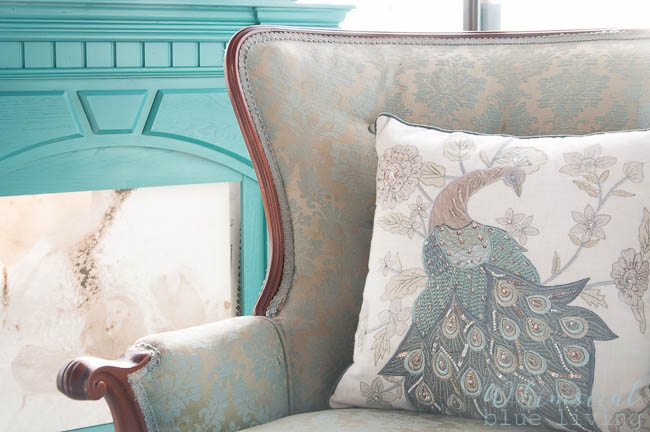 The chair was in fantastic shape and the price was right, so we loaded my new whimsical blue vintage chair up in our super cool minivan and happily drove home while eating ice cream. I couldn't stop smiling! My husband had found the perfect gift for Valentine's Day that year. He planned a wonderful date night and picked out something that he knew I would love. Whimsical blue damask armchairs aren't really his style, but he likes to make me happy, and he knows how much I adore vintage items. I think of that date night often and it's such a sweet memory. Curling up in my beautiful chair while reading and writing brings a smile to my face because it reminds me that I am loved! Who says Valentine's Day is all about red and pink? Sometimes it's also about whimsy and blue!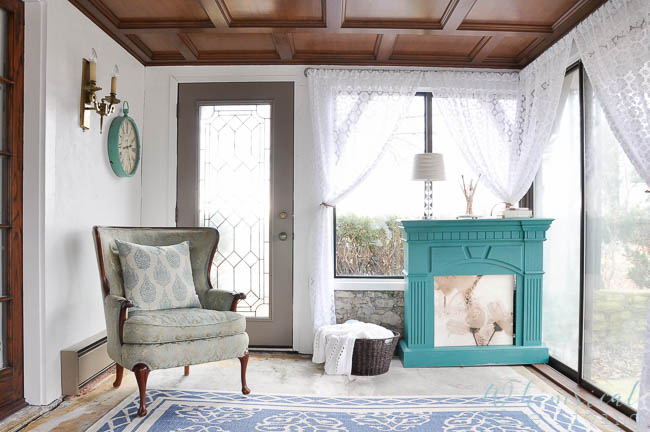 Friends, however you celebrate Valentine's Day, I hope you know that you are loved!
Be sure to sign up for our newsletter to receive an email every Sunday morning with the posts from the week, and follow us on Facebook, Instagram, and Pinterest for even more inspiration!
Have a beautiful day!
Sandy