Hello sweet friends! When we bought our house at an auction we bought it "as is". We had a vague idea of what we were getting in to, but without an official inspection it was impossible to know what kind of repairs and updates were needed. Anytime a house sits empty for a long period of time, as ours did, minor issues can cause more serious damage when left unnoticed. So we knew we had to be very, very careful with our money and plans for renovations since we truly were not sure how much work needed to be done.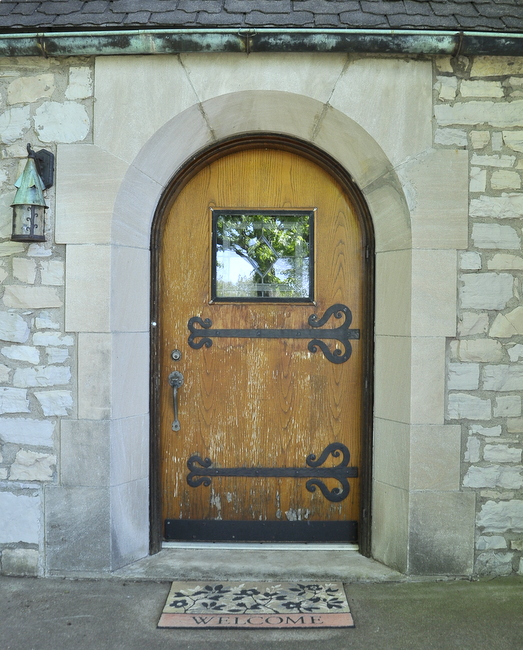 The challenging thing for me about our house when we bought it was that there wasn't a single room that felt right to me. The outside of the house was gorgeous, very old world European and inspiring. But the inside didn't match. There were changes that had occurred over the years that were not in line with the exterior style of the home. Even some of the original details of the house had been very modern and trendy in 1927, which seemed confusing given the traditional style of the house. The materials used to build the house were of high quality and it had been well maintained over the years, so that was a definite plus. But cosmetically, the inside just didn't seem to fit the outside. And as someone who is deeply influenced by my environment, I just couldn't stand being surrounded by all that dark, heavy, dated décor. I didn't know how I would change it, and I wasn't sure what we could afford, but I was determined to make it beautiful. And I wasn't willing to wait until we had a huge budget to decorate it.
People's reactions to our house in the beginning always amused me. So many people, after touring the house, would say, "It's not what I expected from the outside….." And I knew exactly what they meant. The inside of the house was dark, masculine, and dated. It was very old world European on the outside and very 1980's on the inside. My husband had warned me before I saw the inside of the house for the first time that it probably wasn't what I was expecting. "Don't worry," I assured him, "I can make anything beautiful." But standing in our brand new house, looking at our bank account, I wondered how on earth I was going to make this place feel like our home. I begrudgingly named the house Cornelius because it was old, stuffy, and far too masculine. But underneath all the heavy architecture and dated décor I sensed the possibility of something inherently feminine. There was a glimmer of possibility, and if I could just figure out how to work my magic I sensed that I could make our little castle into something that felt right, true to the time period, and fitting of the exterior. My goal became to restore our house of dreams to her original feminine glory and name her Cordelia.
When we first toured the house there were towels and trash bags hung over the windows, so it felt incredibly dark. It was impossible to see the amazing detail on the original leaded glass windows and gaze outside at the river and gardens. Once we removed all the window coverings the house immediately felt brighter and more beautiful! We're slowly replacing all the modern builder grade light fixtures that were here when we bought the house with vintage chandeliers and vintage inspired light fixtures. New paint has freshened up the whole house. It's amazing how the original details really shine now!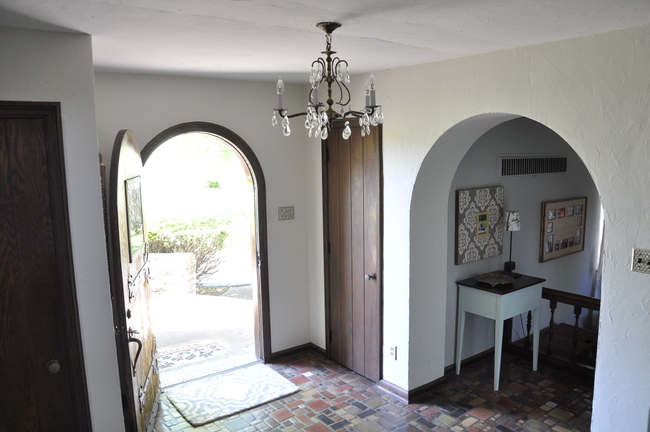 The living room is perfect for hosting large parties. We both come from large families and we love to entertain, so we were thrilled to have a room big enough for everyone to gather. According to the locals in town, this house has hosted many glorious parties over the years, and we are more than happy to carry on the tradition of hospitality.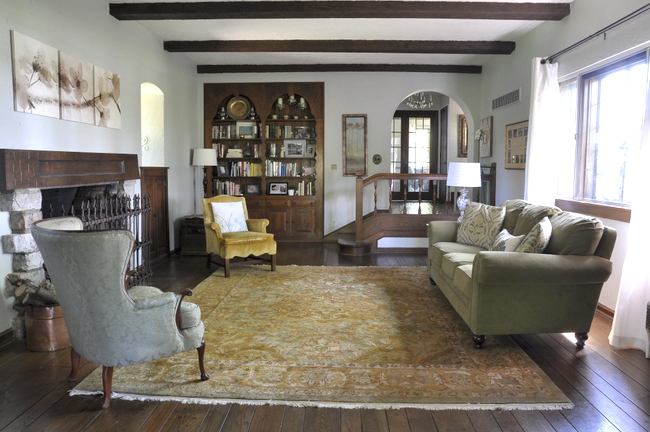 The fireplace is so cozy on cold winter nights.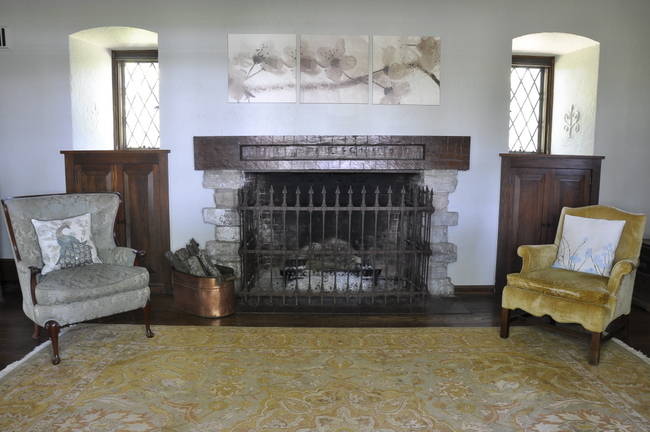 The fireplace screen is made from pieces of a gate that is over 100 years old. I bought them at an antique store and my amazing father-in-law welded them into a screen for my husband's Christmas present. The kids love to roast marshmallows through the slats in the screen!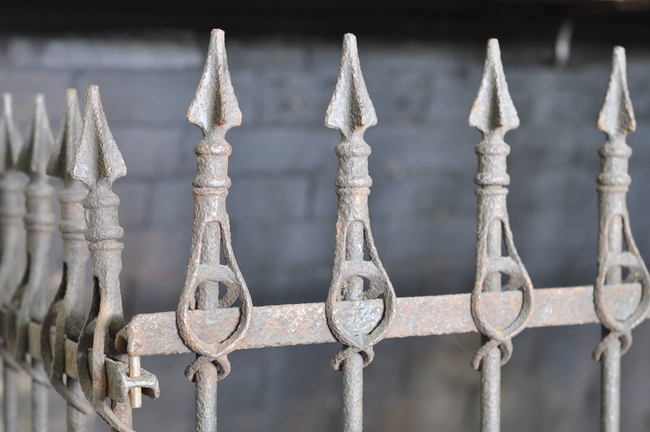 The original windows are gorgeous! There are interior storm windows we install during the winter time that help keep the house warm. I'm so glad the pervious families who owned the house worked so hard to preserve the architecture!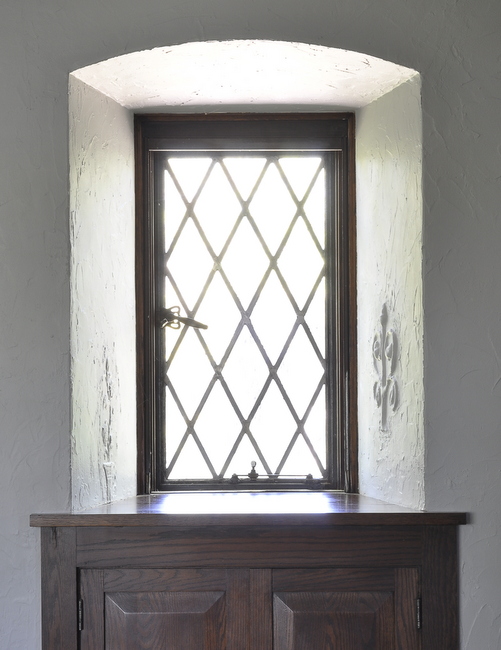 Aren't these plaster designs beautiful! There are four different designs on the walls. The original textured plaster walls throughout the house are incredible.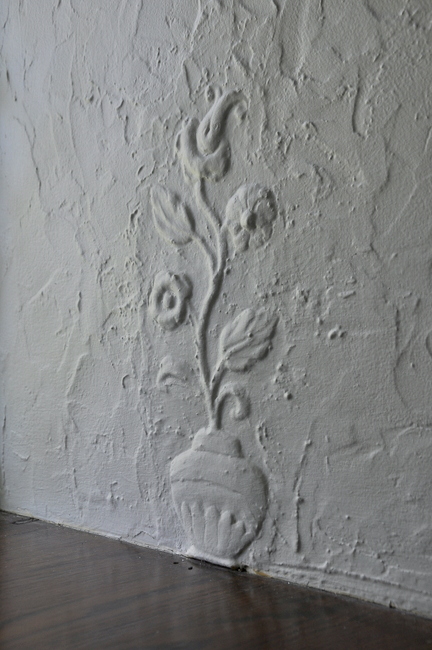 An arched hallway and door upstairs add to the castle feel of the house.
Need to make a phone call? There are two telephone cubbies in the house where the old phones were located. Now the cubbies make great spaces to store things that we need to take with us when we leave the house.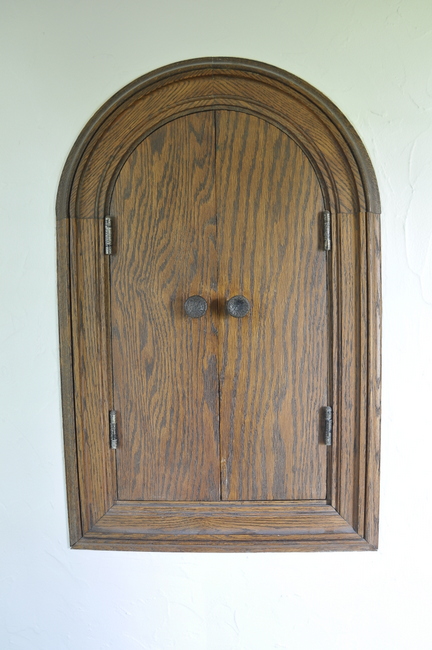 Isn't this art deco sunburst light switch so pretty!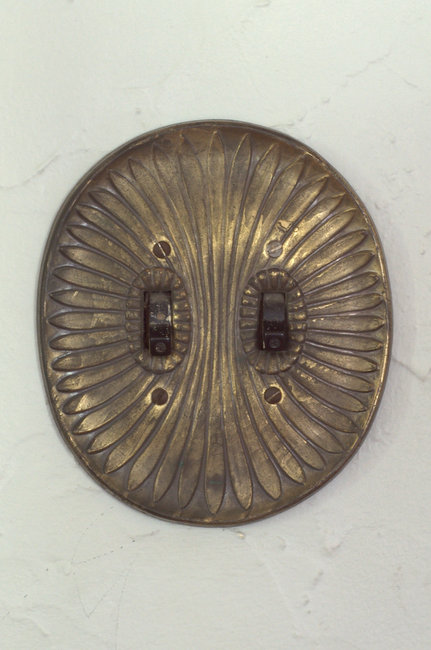 All of the doors are original with gorgeous hardware and knobs. We even found an extra solid wood eight paneled door up in the attic that we plan to use on the pantry we added!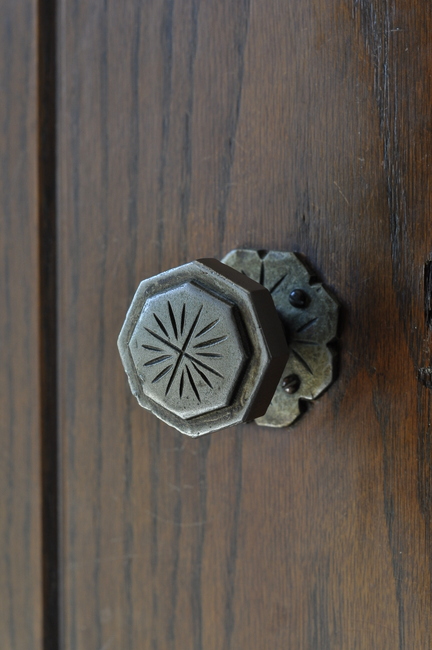 Oh, and did I mention there was no kitchen when we bought the house at the auction? The previous owners had completed a gorgeous kitchen remodel including custom cabinetry, a copper sink, travertine tile, and top of the line appliances, all of which they took with them when they left the house. And honestly, I don't blame them. We knew we'd have to do some serious work to the empty kitchen when we bought the house. The challenge was, how did we install a kitchen from scratch with the most ridiculously tiny budget? Luckily I love saving money and getting good deals. I live for the thrill of the hunt. And I might be a slight hoarder of furniture and antiques. Challenge accepted.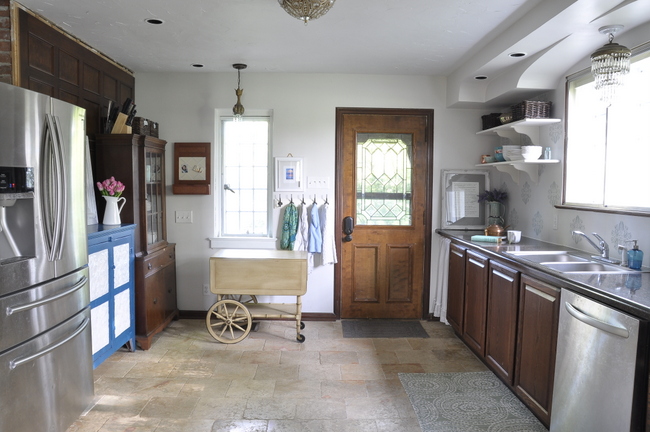 With a lot of hard work, late nights, and creativity we turned our empty, crumbling kitchen into the sweetest, sunniest, happiest kitchen. It's now one of my favorite rooms in the whole house. And the wonderful thing about our future kitchen renovation is that we can take our time planning it, save our money, and hunt for the perfect antique pieces. Our current kitchen will work well for us for as long as we need it, and that allows us to focus our time and money on other projects throughout the house.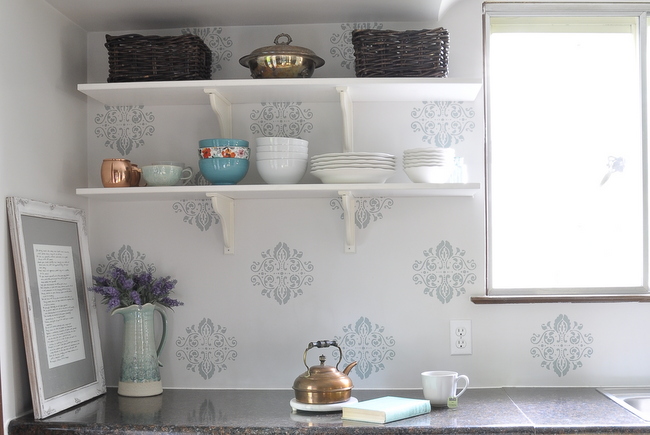 We turned the formal dining room into a play room for our three kiddos. I'm a firm believer in using spaces in a manner that works best for your family. And since we have a sweet little breakfast nook right off the kitchen, we needed a play room much more that we needed another eating space.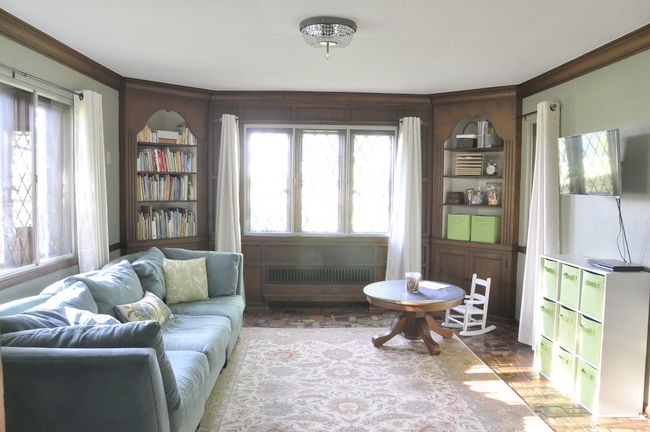 I'll be sure to share more details about these rooms, including before and after pictures, soon. Be sure to sign up for our email newsletter if you haven't already, and follow us on Facebook and Instagram. We've got some great renovation tips and funny stories coming up that we'd love to share with you!
Have a Beautiful Day!
Sandy