Friends, if you've been following along for awhile you may remember our daughter's ongoing bedroom renovation. You know, the project that we started about a year and a half ago? Yes, that one. It's actually been almost finished for a few months now, but I still had some pretty things I wanted to add and a little more paint to touch up. Plus, it was never quite clean enough for me to take pictures for the blog. Because, kids……
Well, I finally came to the conclusion that if I was waiting for it to be finished with the perfect art and accessories (and clean), I would most likely be writing a blog post titled "My daughter left for college, so here's this room I started working on 15 years ago."
So, in real life the room looks like this. My daughter was helping our two year old get dressed that morning, and obviously she needed to see every possible clothing option before making her final choice. But hey, I'm not complaining, she was helping me out!
Two minutes later I had stuffed all the clothes back in the dresser (no point in folding them since this mess is a daily ritual), shoved all the toys and stuff to the other corner of the room, and quickly snapped a few pictures to share!
I love how this room turned out! There are so many sweet little details that make my heart happy. The curve between the walls and ceiling is gorgeous, the slanted walls and original leaded glass windows are a dream, and the room has the most wonderful feeling to it now.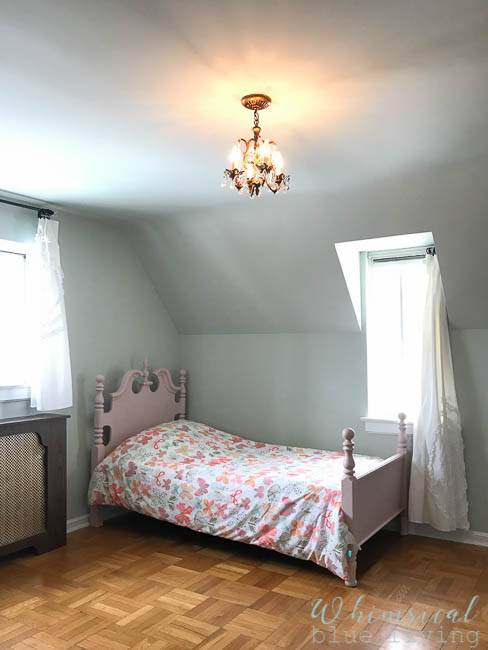 When we first bought our house this room was missing some pieces of wallpaper, so it always felt unfinished. The plaster underneath the layers and layers of old wallpaper was damaged in certain areas, and a drop ceiling had been added. We removed the wallpaper and ceiling tiles and had our amazing plaster guy repair the plaster and preserve the original curved design.
My husband and I added a vintage crystal chandelier that we found at an antique store, and we painted the walls and ceiling Sherwin Williams Filmy Green (an unfortunate name for such a pretty color). My friend Amanda and I found the bed frame at the Habitat for Humanity ReStore and painted it pink. The butterfly bedding is from Target and the sweet ruffled curtains are actually white cotton shower curtains, also from Target.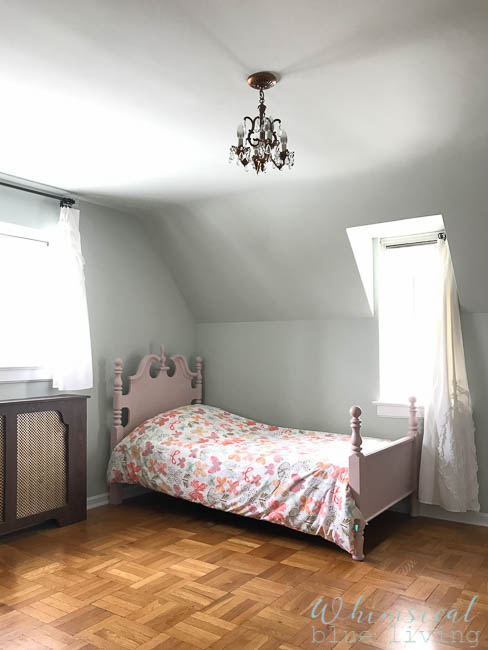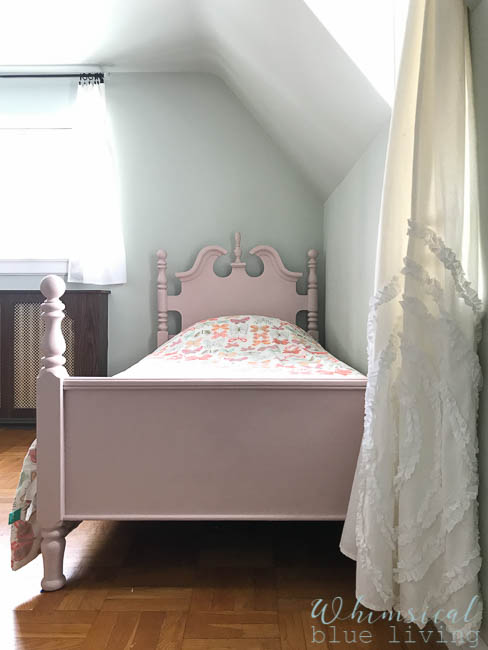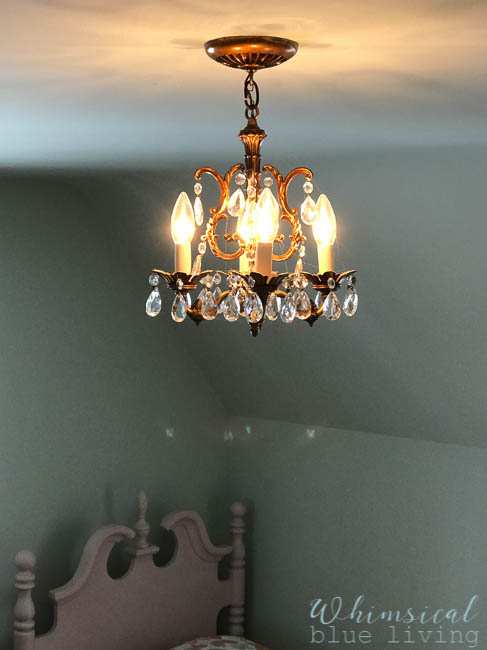 The end result is truly beautiful! But don't get too used to it, the room is already changing. You see, our youngest is two and a half, and he is adventurous! Once he learned how to climb out of his crib we had to move him into this bedroom because it is the most toddler-proofed. Unfortunately, our kiddos really can't share a room because they like to party late into the night when they are together at bedtime, and then they are super grumpy the next day. So now we are hard at work transforming the Clown Room into a bedroom for our daughter. At this point I'm hoping it's temporary, as I'd really like the boys to share a room in the future, but we'll see how it goes as they get older. I'll share details about the progress on the Clown Room soon, it's quite the transformation!
Thanks for following along on our old house adventures and cheering us on as we keep working on all these projects! Your encouragement helps to keep me going. Thank you!
Have a beautiful day!
Sandy
For inspiration and updates on our house projects, be sure to follow Whimsical Blue Living on Facebook, Instagram, and Pinterest. And if you sign up for our newsletter you'll get an email on Sunday mornings with the posts from the week. That way you never miss a post!