Oh Friends, have you ever had one of those magical times in life when a dream that you've carried in your heart for years actually comes true? This blog is part of my dream. It means the world to me that you spend time visiting my little corner of the internet. When people tell me they read the blog or follow my pictures on Instagram I have to resist the urge to hug them. For real. You guys are awesome!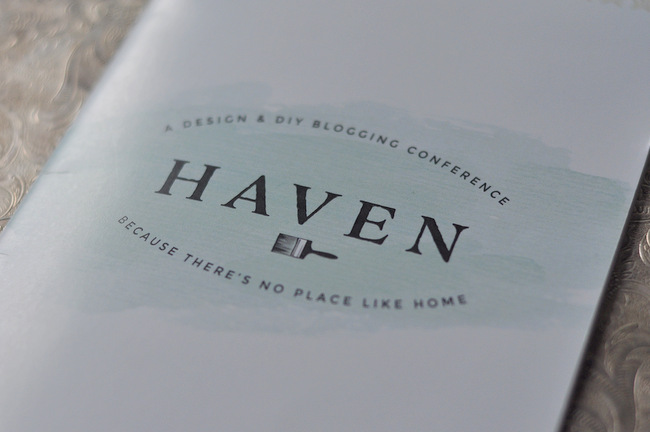 I started really reading blogs after the birth of our daughter. My twin sister told me about her friend Amanda who wrote a lifestyle and home décor blog. "You two are so similar, you are both so creative!" my sister told me. "Amanda does all these crafts and home renovations and then writes about them on her blog. She's even been featured on HGTV's website!" I gasped in amazement, not because of the HGTV thing (although that is really cool), but because what my sister was describing sounded like my dream job. I started reading Amanda's blog and other blogs she recommended. It was amazing to discover that there were so many other women out there like me, women who were creative and passionate about adding beauty to life. It was through reading all these blogs that I first heard about Haven. Bloggers were writing about this amazing conference where women (and a few men) gathered together to share creative ideas, learn more about the technical side of blogging, and connect with companies who collaborated with bloggers. It sounded amazing! I started dreaming of someday combining my love of creating, writing, and photography into my own little blog and going to the Haven Conference. But life was so chaotic with young kids and moving back to Ohio that I really wasn't able to research how to start a blog. So I just tucked that dream away in my heart and told myself that someday I'd do it. I wasn't sure when or how, but I was determined.
When we bought our dream house at an auction it seemed like the right time to start blogging. I took lots of "before pictures" and got a cute little pink notebook to write down all my ideas. Amanda, who was now a good friend of mine, was constantly encouraging me to start blogging. She shared so much good advice on how to get started. I was excited! I was motivated! I was ready!
Then, surprise, baby number three was going to be joining our family! I went from happily working on fixing up our dream house to being sidelined on the couch battling nausea and exhaustion all day. I was so sick I could barely function. My pregnancy brain was so confused that I was doing things like putting the peanut butter in the fridge and struggling to remember my phone number. It was not the right time to try and learn the computer side of blogging. So I kept jotting down ideas in my little pink notebook and reading blogs while I rested on the couch. And while at the time it seemed like my dreams were being put on hold, I now realize I was still preparing. After the birth of our baby I spent time researching the technical side of creating a blog (The ebook "Standing Out" by Jenna LaFevor was incredibly helpful). Once our baby turned a year old I was ready!
I hit the ground running. My dear friend Amanda had two big photo shoots that she was preparing for, and she graciously let me visit and help her stage her home. I learned so much about the behind the scenes aspect of creating inspiring content. Friends, there is so much work that goes into preparing a home for a photo shoot, especially when there are kids involved. And I absolutely loved every moment of it! You know you are passionate about something when the "work" doesn't feel like work at all. The professional photographer who came to the house to do the shoot for Houzz.com was incredible. I expected her to come in with tons of fancy gear, but she showed up with the exact same camera as me! She patiently explained the settings she used on her camera and shared lots of tips and tricks. I called my husband after the shoot was finished and excitedly told him that I felt like I could really do this blogging thing!
Amanda strongly encouraged me to attend the Haven Conference. The thought was absolutely thrilling! Me? Go to the conference that I'd been reading about for years? With incredibly talented and wildly successful bloggers who were like rock stars in my eyes? The fact that I hadn't actually launched my blog yet didn't seem to worry her. She had faith in me that I could turn my dreams into reality, and with her cheering me on I bought my ticket to the conference. While filing out my information for the conference I came across the question "How long have you been blogging?" and I confidently typed "My blog will be launched next week!". I was absolutely determined to make my dream a reality.
The only problem was that I was still struggling to figure out the computer side to blogging. I love the creative aspect, but understanding technology is trickier for me. I knew from my research what I needed to include in my blog, but when I sat down at my computer to put everything together it was like a foreign language to me. I mentioned this problem at a play group I host and one of my best friends casually said, "Oh, my husband can help you with that part. He knows all about it!" I was so happy I almost cried! After years of dreaming, planning and jotting ideas in my notebook my blog was finally happening! My friend and her husband and I had so much fun working together to make my vision come to life, and I'm so grateful to them for all of their help (and the awesome business cards they designed)!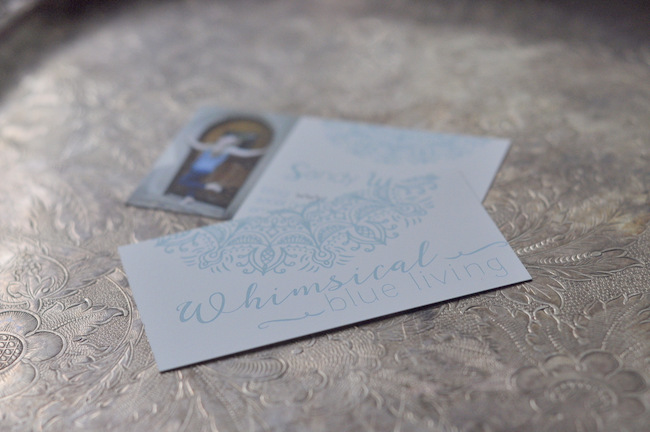 After a month and a half of blogging I packed my suitcase and headed to Atlanta for the 2016 Haven Conference. I brought the journal full of my ideas from the last two years and my brand new business cards. Amanda and I drove down together and made quite an adventure out of the trip! I met amazing bloggers who are incredibly talented and inspiring with both their creativity and success. I networked with businesses interested in partnering with me on future house projects, and I attended so many classes about the various aspects of blogging and social media. And I loved meeting new friends and keeping in touch with them after the conference ended. It was even more wonderful than I had dreamed it would be! And I came home feeling energized, inspired, and ready to take on the world!
One of the many things I realized on that amazing trip was that until recently, I felt like I wasn't making progress on my goal, but in reality the timing worked out perfectly. When it seemed like I was only jotting down ideas in a little notebook I was actually planning the blog design, writing and editing posts in my head before I ever sat down to type them at the computer, and figuring out my ultimate purpose for this endeavor. The right people came into my life at the perfect time and helped to make my dream a reality. And I learned so much at this conference that I can put into practice right from the beginning. If you had told me six months ago that I would be here in this moment creating content for my blog I wouldn't have believed it, because at that time there were so many unanswered questions and so many details about the computer side of blogging that I didn't understand. But through hard work, tons of research, and help from incredibly talented friends, I'm here, sharing my dream with you. And my heart is so happy!
So if you take anything away from this post, remember that working towards a goal, no matter how small your steps or how slow your progress, is never a waste of time. Things might not happen when you'd like and you might end up going down a different path than you had planned, but the journey is never wasted. Keep working, continue dreaming, and tell people about your goal. You never know when they might connect you to the people who will help you succeed. Keep working hard! Happy dreaming!
With Love,
Sandy