Hello sweet friends! I'm so excited to share our fall decorations with you today! This is the first year we've decorated the exterior of our castle for fall. The past few years we were either living amongst the chaos of a construction zone or snuggling our sweet itty bitty baby, so I was especially excited this year to finally celebrate the changing of the seasons! This year is extra special because our oldest started kindergarten, and the start of school really put me in the mood for fall. As my son and I were shopping for school supplies I was reminded of that adorable quote from You've Got Mail where Tom Hanks tells Meg Ryan, "Don't you love New York in the fall? It makes me want to buy school supplies. I would send you a bouquet of newly sharpened pencils!"
I'm so excited for brilliant colors, crunchy leaves, soft sweaters, and warm drinks. The kiddos and I went to a local pumpkin patch and had the best time picking out pumpkins. I didn't realize that pumpkins came in such beautiful colors and varieties! I bought so many pumpkins, mums, and bales of straw that I had to make a second trip to fit everything in my van. I love supporting local businesses, especially farmers. It was such a fun experience for the whole family. And my kiddos were really excited to help me style our front porch. They kept rearranging their little tiny pumpkins, and they actually did a good job! I might have to hire them to be my stylists on future photo shoots! I also took a trip to my grandparents' old farmhouse to search for treasures in the barn. Friends, I found the most amazing antiques that are perfect for fall! So grab a warm drink, snuggle up under a cozy blanket, and get ready for some inspiring fall pictures!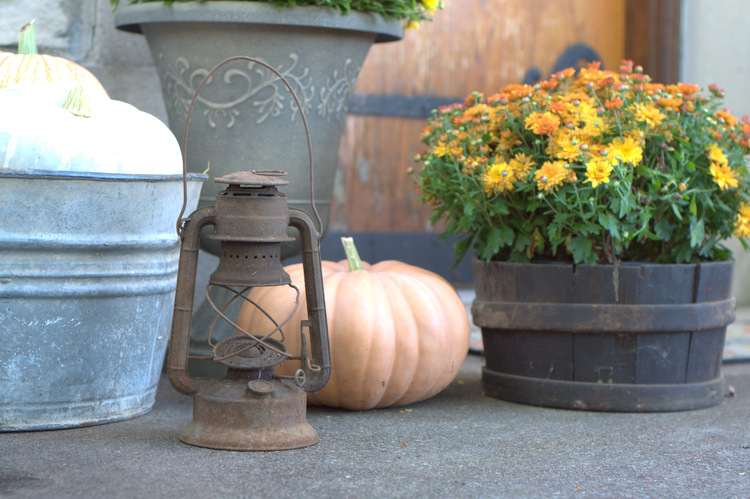 The pergola on the side of our house also got a little fall makeover. This spot is perfect for reading, sipping tea, and watching the boats float by on the river. It is so peaceful and it's the perfect spot to enjoy this glorious season!
Thanks for stopping by to see our castle decorated for fall! Be sure to sign up for our newsletter to get emails with new blog posts updates. A fall tour of the inside of our home is coming soon! How do you like to celebrate fall, friends? Chat with me in the comments and find me on social media using the gray icons below.
Happy Fall!