Friends, I'm debating between two different options for our kitchen renovation, and I need your opinion! We're still a long way from actually starting the project, but I want to figure out the sink area because that significantly influences the rest of the design. The thing that I absolutely love about designing a kitchen using vintage pieces is that I never quite know which direction my project will go. It's not like I can walk into a big box hardware store and pick out my dream kitchen from a catalog. I have to wait until I find the antique pieces, or as is often the case, until the pieces find me.
I always start a project with a million ideas floating around in my head, and I'm constantly on the lookout for pieces that would work for our renovation. Over time I narrow down my ideas as I collect the antique items for a project. It reminds me of those "Choose Your Own Adventure" stories I used to read as a kid, where at the end of a chapter I would pick what I thought would happen next, and then follow the directions to the new page number. The stories changed direction and evolved with each new decision, just like my design plans take shape with each new discovery! My renovation process requires a combination of patience, perseverance, and luck as I search for the perfect items. I let myself dream big and imagine all sort of possibilities, then I keep an eye out for the pieces I need. It is a slow process when renovating this way, but it allows me time to dream, be incredibly creative, and find amazing and unique pieces full of stories and soul! Plus, it's amazing how far I can stretch my budget!
So, I'm at a crossroads in my kitchen plans, so to speak. I have two fantastic options for our sink area, and I have to pick which one I like the best, because all my other ideas kind of hinge on this one. Isn't this a wonderful problem to have? I love restoring our old house!
So, if you remember, we recently bought a gorgeous vintage double drainboard sink that we found on Craigslist. It is from 1929 and came out of a beautiful old tudor style house. You can read the story as to how we found it here!
So, this is an important detail to remember in the design process. The adorable white cabinet that the sink sat on in the pictures that were posted on Craigslist was not able to be salvaged in the removal process. The homeowner was completely renovating the kitchen and had already removed all the original cabinets. The sink had been removed from the house and stored in the garage before the seller listed it on Craigslist, so by the time I contacted him the cute curved base cabinet was already gone. They did, however, still have all the kitchen cabinet doors and drawers, including the hinges and hardware, and they gave those to me when I bought the sink. And you know I totally sorted through the giant pile of construction debris in their driveway (with their permission, of course) in search of pieces to salvage. I pulled out some more drawers, hinges, and hardware to take home with me. I have no shame when it comes to dumpster diving for vintage treasures! I was not about to let authentic 1929 hardware go to waste!
Now, whenever possible and within reason, I try to save and reuse original details. But sometimes when a situation like this happens and the original details are gone, I will incorporate something different into the design. While I love the story and sentimentality behind the cabinet doors and hardware, they are very simple in design, which was actually common in 1920's kitchens. Cabinet doors and hardware were usually not very ornate. When I looked at the doors and hardware without the adorable curved base cabinet, I realized that they were not the details that I was immediately drawn to the first time I saw the picture of the cabinet. So, I decided to consider other cabinet options as well for my design plans. Of course, I told myself, if I stumbled across an amazing base cabinet with the cutest curved edges and adorable little corbel details around the opening, I would snatch it up in a heartbeat!
A few months later, my husband showed me an amazing piece of antique furniture for sale on Facebook. It was a gorgeous huge antique buffet from the early 1900's with intricate designs and beautiful details. It was a statement piece for sure! It also happened to be the perfect dimensions to fit underneath our vintage kitchen sink. We went to look at it and discovered that we could make minimal alterations to the back of the buffet to allow space for the plumbing, leaving the top, front, and sides completely original. So, if someone one hundred years from now wanted to turn it back into a buffet piece of furniture, they could easily do that. The buffet wasn't a steal of a deal, but it was a good price and in amazing condition. Since it was the perfect size, we bought it!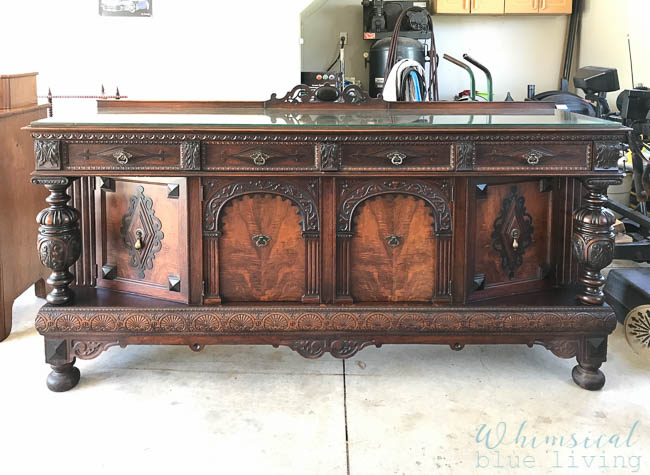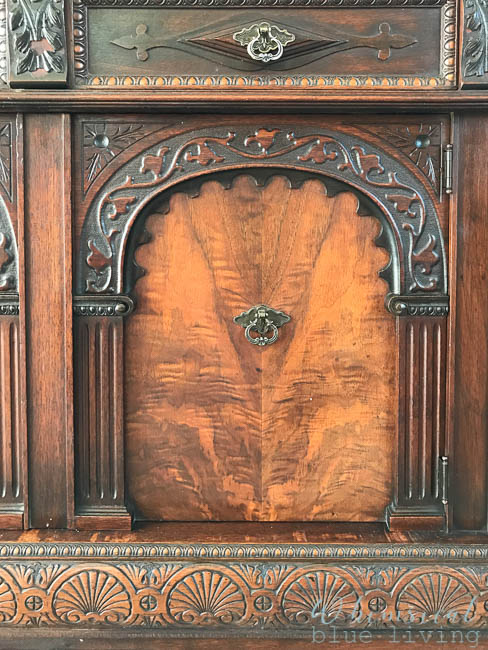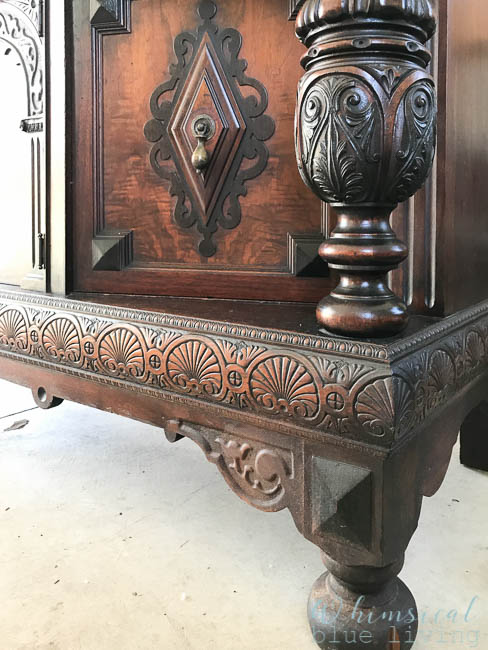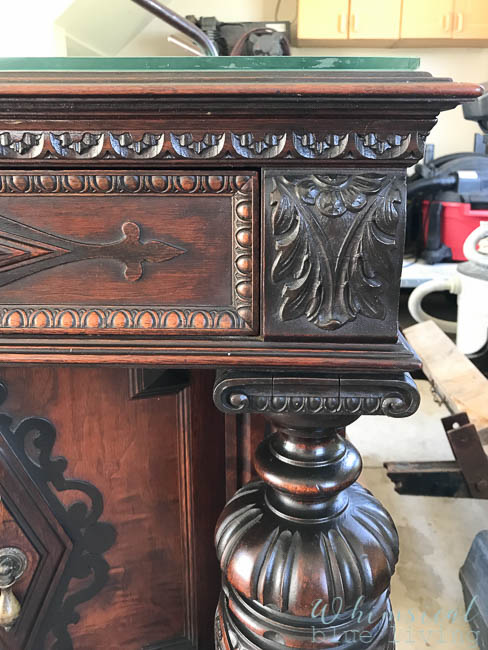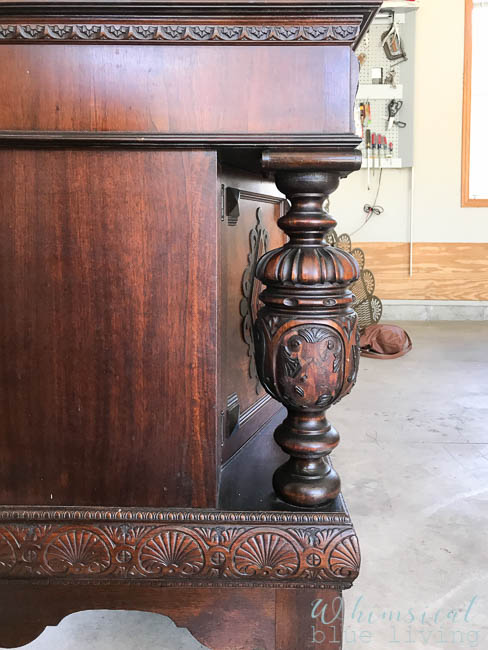 I knew that I would need to find someone to create custom size cabinets to fit next to the buffet, so I started researching local options, asking people for recommendations, and searching for inspiration pictures. One of my favorite Instagram accounts to follow is Jess Wasserman. Her gorgeous kitchen is full of dreamy details like a cast iron vintage sink and crystal chandeliers! She is a girl after my own design loving heart!
I took a gazillion screen shots of her kitchen for inspiration and then checked out the link to her website. I had assumed based on her amazing Instagram pictures that she had a design blog, and was surprised to discover that she actually owns a coffee shop in a little town about forty-five minutes away from my house! When you live in rural Ohio, anyone forty-five minutes away is basically your neighbor. I'm telling you, friends, cool people live in Northern Ohio!
I sent her a message asking if she could recommend anyone who creates custom cabinets in our area, and she graciously replied, recommending Smith Cabinetry. Joe, the owner, came to our house to take measurements and discuss my design ideas, and he was wonderful! He totally understood my vision and had great ideas to add to my design plans. He was confident that he could make our antique buffet work for a sink base with very minimal alterations to the original design. He also discussed how he could create additional cabinets for the kitchen using vintage pieces I had found, like old wavy glass and antique knobs. I was thrilled!
At the end of our meeting I happened to show him the picture of the sink with the original base cabinet from 1929, and he offered that he could recreate that exact cabinet base if we preferred it over the buffet. All of a sudden, I went from being confident in my unique design plans involving the buffet to dreaming about a white cabinet with cute little corbel corners and curved edges!
So friends, what would you do? I like both options for different reasons, and both designs have a distinct look about them. The buffet is very ornate and castle-ish, and it would tie nicely into the rest of the dark wood built-ins in our home. The white cabinet is so cute and full of whimsy, and it is historically accurate. Which one would you pick, and why? Do you have any other ideas I haven't thought of yet? Please share! We have a ton of time before we actually start this project, so I'm not in a hurry to figure this out. But I do love to dream about all the details!
To share your opinion on social media and for more inspiration, follow Whimsical Blue Living on Facebook, Instagram, and Pinterest. And and be sure to sign up for our newsletter to receive an email every Sunday morning with the posts from the week!
Below are some of my other posts full of kitchen details and dreams!
Our Vintage Kitchen Sink
An Arched Kitchen Nook
Our Vintage Stove
Kitchen Design Inspiration
A Before Tour of Our Kitchen
Have a beautiful day!
Sandy