Friends, I'm so excited to share our sunroom makeover today! You are not going to believe the before and after pictures. This room was tricky for me. I wasn't sure what to do with it so we just ignored it for several years. We finally made a few simple changes to it and now it is one of my favorite rooms in the whole house! I can't believe it took me so long to transform it!
When we bought our house at an auction the sunroom felt very dark. It had hunter green carpet, an intricate wood ceiling, and vertical blinds. It didn't have a bright sunny feeling to it and we hardly ever spent time in there. The carpet smelled musty due to the extreme changes in temperature each season. The sunroom had its own heater and air conditioning unit but we only turned them on during the rare occasions when we used the room. The rest of the time the sunroom was closed off from the main part of the house. The seals on several of the aluminum sliding doors and windows (which were obviously not from 1927) had broken causing them to appear cloudy. We knew that eventually we'd have to replace them, but given the number of projects in our house that needed immediate attention we decided to wait to do any work on the sunroom. We removed the vertical blinds and I hung floral panels from IKEA that we had left over from our previous house over the french doors leading into the living room, and we called it good enough. We only used the sunroom for parties and family gatherings when we would open the french doors and set up tables for the food and presents. Other than that, it was used for storage while we tackled the never-ending list of home improvement projects.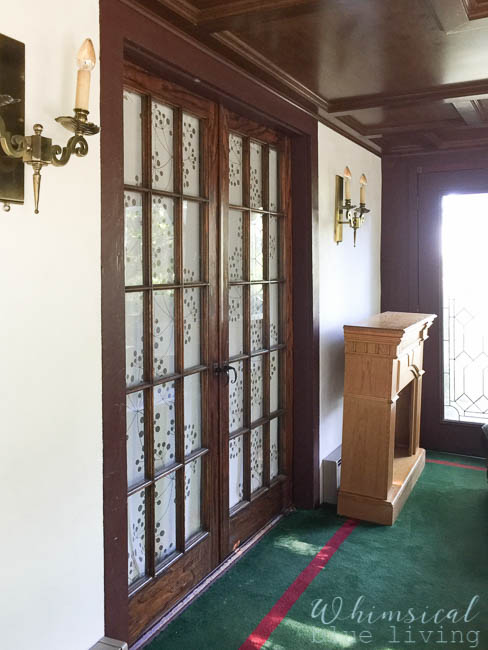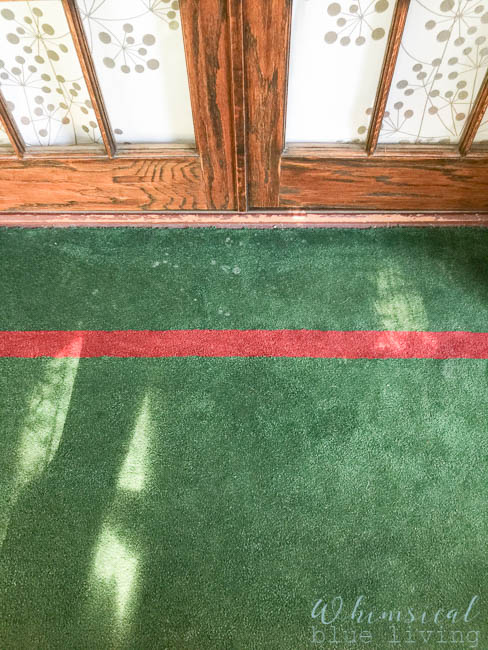 Finally this past fall curiosity got the best of me. I was dying to know what the condition was of the concrete floor underneath the musty carpet. I had visions of installing a brick paver floor inspired by Joanna Gaines' designs on Fixer Upper, and I needed to know how much repair work the cement floor would need in order to plan my budget. I texted my husband late one night while he was at work and asked him if he felt like tearing up the hunter green carpet with me when he got home. Because he is amazing and he loves me, he agreed. I stress ate some M&Ms while texting my sister with the new exciting plan as I waited for him to get home. Friends, I speak from experience when I say that chocolate and a best friend with whom you can text late night renovation pictures are essential to your sanity when working on a fixer upper. Someone out there in the world (preferably someone who also loves design and home improvement projects and strongly dislikes your green musty carpet) needs to know about your crazy ideas so they can cheer you on!
The carpet was even more gross than I had anticipated. But the cement floor underneath the carpet and padding was in much better shape than we had expected! Just having that lighter cement floor changed the feeling of the entire room. I started researching brick pavers and was just about to order some when I got "The Feeling." Call it intuition, premonition, or a gut instinct, but whatever it is I've learned over time not to ignore it. And I had a very strong feeling that we needed to wait. So we did, and as fate would have it my brick paver budget ended up going to the living room fiasco budget instead. Such is life in an old house. Sigh….
I put my beautiful brick paver dreams temporarily on hold and kept working on our living room project. But I couldn't stop thinking about how much brighter that cement floor made the room feel. We weren't planning on replacing the doors and windows for a while, but I had purchased some white lace curtains on sale at Target a few months earlier to help brighten up the sunroom. And we had planned on painting the wood trim inside the sunroom to match the exterior trim. Maybe a mini makeover was just the thing our little sunroom needed! My grandparents had given us some money for our Christmas gift with instructions to spend it on something we would enjoy, and so we bought paint and a beautiful indoor outdoor rug (on clearance plus an extra 30% off! I love sales!) and got to work on our sunroom makeover!
We worked late into the night priming the wood trim. In case you can't tell from the pictures, we only painted wood that already had paint on it. Our little castle is full of beautiful wood trim and I only ever paint over what has previously been painted. I had originally planned to paint the wood trim and stucco inside the sunroom the same colors as we had painted the exterior. But after sending my sister pictures of the room primed white I started to wonder if I should view the sunroom as a separate interior room and not try to match the tudor style of the exterior. A quick search on Pinterest confirmed that I loved white sunrooms! So I switched my plan and decided to paint the sunroom walls and trim Pure White and the doors Spalding Gray both by Sherwin Williams. And I LOVE the transformation!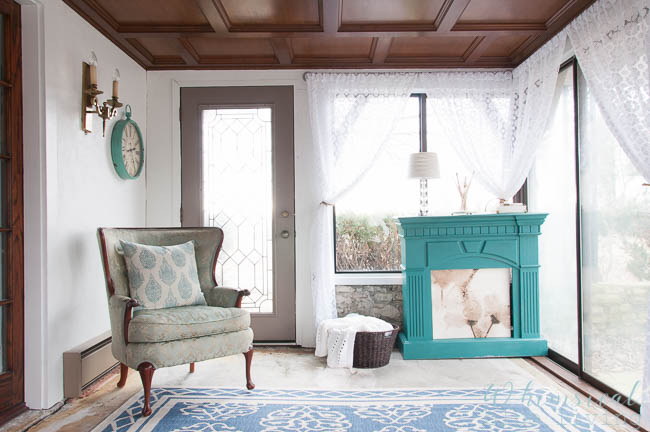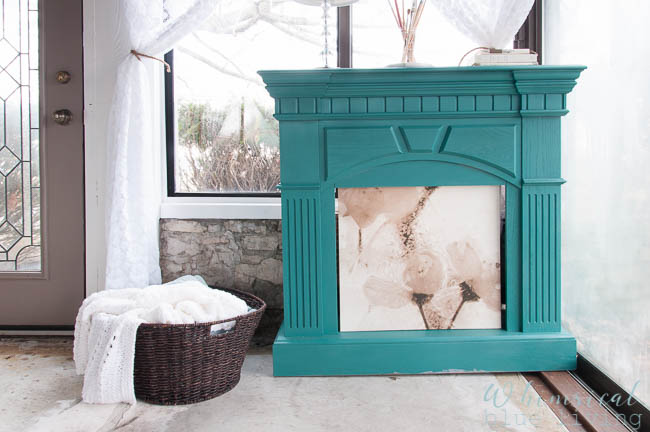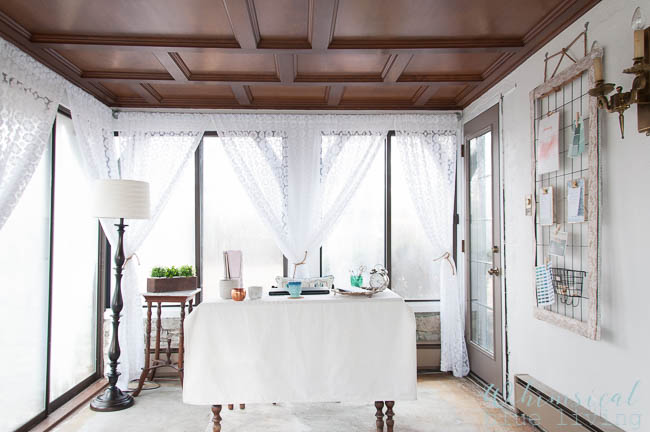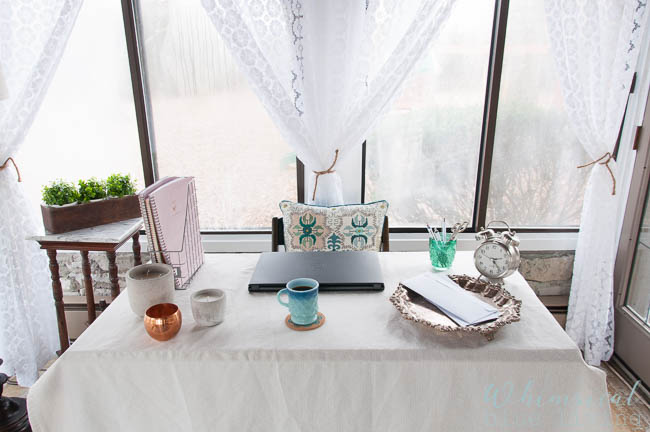 Friends, the sunroom is now one of my favorite rooms in the entire house! It is so bright and cheerful and the wooden ceiling really pops now! Before, it blended in with the dark trim and carpet. After painting the room white I found myself spending more and more time in the sunroom writing and taking photographs with the amazing natural light streaming through the windows and doors. It dawned on me that this would be the perfect little space for my office/studio and I've loved adding whimsy and blue to it!
It's funny, now when I look at the sunroom I wonder why I didn't think to do this mini makeover when we first moved in. It ended up being so simple, just removing the carpet, painting, and adding pretty things. Sometimes it takes me a long time to get a vision for a space. Often I make changes slowly, one at a time, and get my inspiration as I go. Plus we had so many more important projects that we had to focus on when we first moved in and I was stuck on the fact that we needed a bigger budget to replace the floor, windows, and aluminum doors. I'm so happy that I didn't let a small budget keep us from enjoying this room! While I will eventually install brick pavers and replace the sliding doors with beautiful french doors, for now I'm feeling so inspired by our bright and happy sunroom makeover! I'll share more details about my desk area, office organization, and all the pretty little touches soon.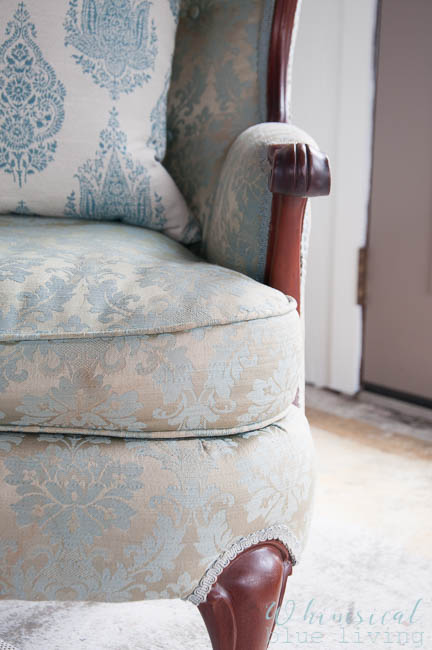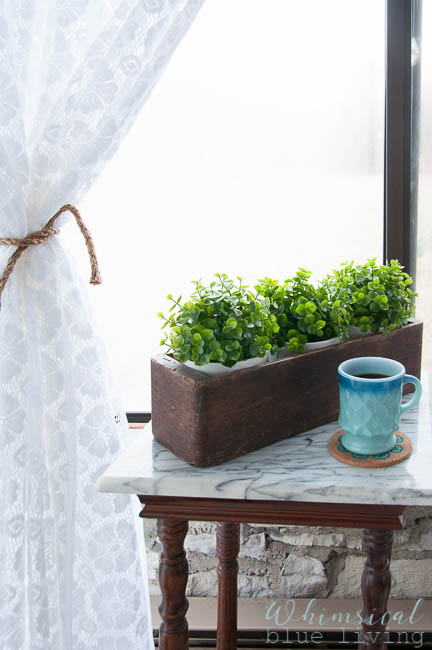 What about you, friends? Have you ever had an area of your home that really stumped you? Have you ever made changes that seem so simple and obvious in hindsight? I'd love to hear about it! Connect with me on Facebook, Instagram, and Pinterest, and be sure to sign up for our newsletter to receive an email every Sunday morning with the posts from the week!
Go forth, be brave, and transform your home with a little paint and creativity! I'm cheering you on!
Have a beautiful day!
Sandy