I was at a party recently when I overheard one of the guests commenting to the host about the gray paint color on the wall. "Our realtor wants us to paint the walls of our rental house a light gray before we list it to sell, but I'm just not sure if it will look good with the wood trim," he said.
Intrigued, I moved closer so I could shamelessly eavesdrop and jump in with my opinion. "Oh, are you getting ready to sell your house?" I asked his wife. She told me that they had a small rental house that her husband had owned when they first started dating, and since the market was currently good, they wanted to sell it. They had tried to sell it previously, but the market hadn't been as good, and it had sat empty until they found renters. This time around they wanted to make sure it sold quickly. Their realtor had suggested adding fresh paint, new carpet in certain areas, and staging it with furniture and décor. I immediately volunteered to stage it for them! Finally, I had a reason to use all the furniture and décor that I'd collected/hoarded over the years! Hooray!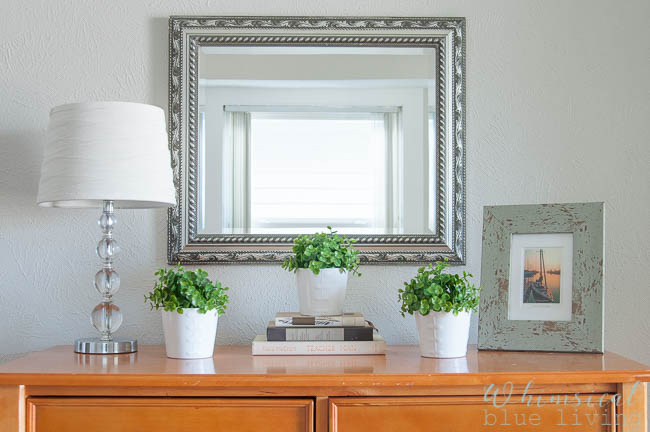 I stopped by their rental house to get an idea of the pieces I would need. Because it was a rental, we were literally starting from scratch. On one hand, that was great because the house was clean, uncluttered, and a blank canvas. On the other hand, we had to bring in every piece of furniture, bedding, curtains, and art. It was like moving. Using only a minivan. For an entire house worth of furniture. With five young children (her two and my three) running around. Easy-peasy, as my kids like to say!
I searched through my garage and basement, pulled art off my walls, took down my living room curtains, and loaded up several pieces of furniture to take over to my friends' house. The trick to staging is to bring more than you need, because you don't always know what is going to look good until you get it in the space. I also spent hours searching for items on Craigslist, and we found some great deals at the Habitat for Humanity ReStore. With creativity and a little bit of hard work, staging a home can be relatively inexpensive (much cheaper than a mortgage payment, as I assured her husband when I descended upon his former bachelor pad with all my floral pillows and prints!)
The lovely thing about staging a home to sell is that you don't have to fill it with as much stuff as you would if you actually lived there. In fact, if you are getting ready to sell the home in which you live, I highly recommend getting a storage unit or packing up most of your stuff and moving it out before you put the house on the market. A decluttered home makes buyers feel like their lives will also be organized and beautiful. When selling a home, you are essentially selling a life style. When buyers walk in the front door you want them to be excited and instantly start to imagine themselves living there!
My friends' rental house was built in the early 1900's with two bedrooms. It had tons of natural light as well as a full basement that we staged as an entertainment area and office. They had redone the kitchen and bathroom and had made many important improvements over the years, so our work was just cosmetic. Their realtor recommended the wall color "Toasty Gray" by Behr. I love how it turned out!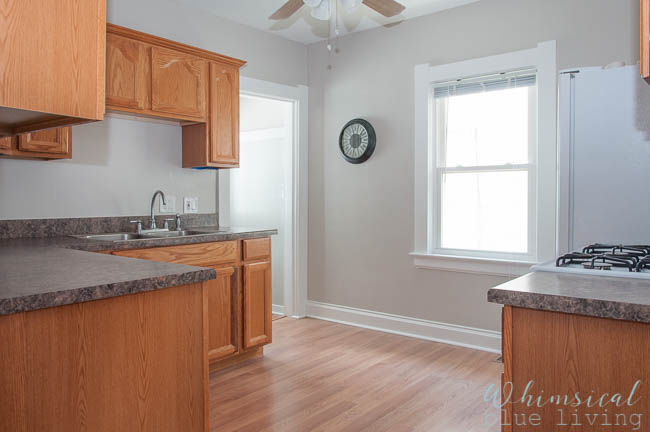 The living room was small, so we used smaller size furniture to stage it. We found a brand new love seat with the tags still attached at the Habitat for Humanity ReStore for a fantastic price! I brought art from my living room, a dresser that a friend was getting rid of, and decorative pieces from around my home. It's always amazing to me how a few pretty pieces can transform a home!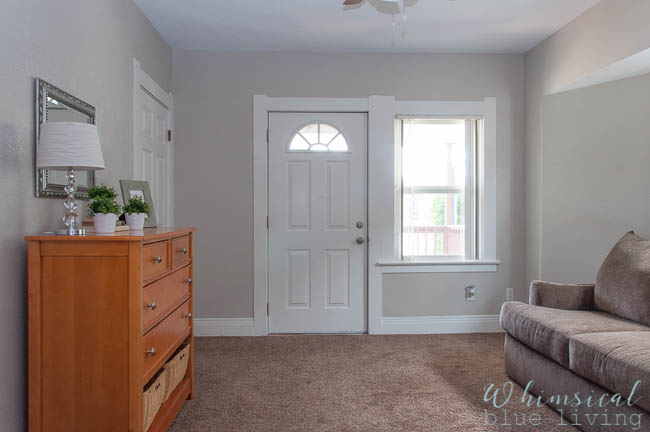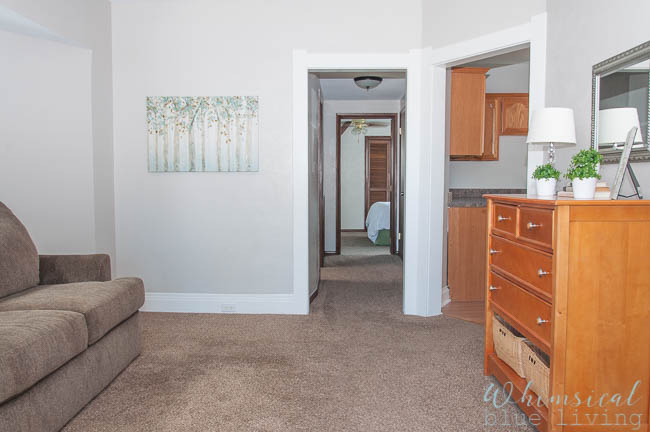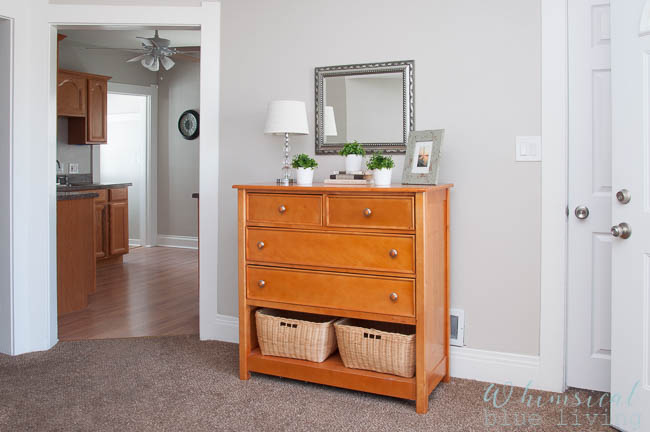 I took my kids' white shower curtain to use in the bathroom, as well as my favorite pitcher with flowers.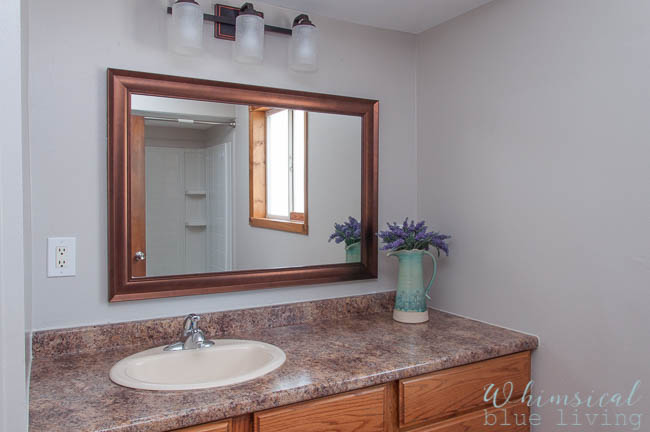 The master bedroom has an addition with a neat loft area that adds architectural interest. We created a bed using two queen size air mattresses, a headboard that I pulled off the curb on trash night, white bedding that my sister was getting rid of, my living room curtains, and some art. I love how light and bright this room turned out! I always recommend using mirrors, like this one my friend found listed for sale on Facebook, to make a room feel larger and brighter. We brought in my outdoor wicker chair, and I love how it adds a touch of whimsy to the space.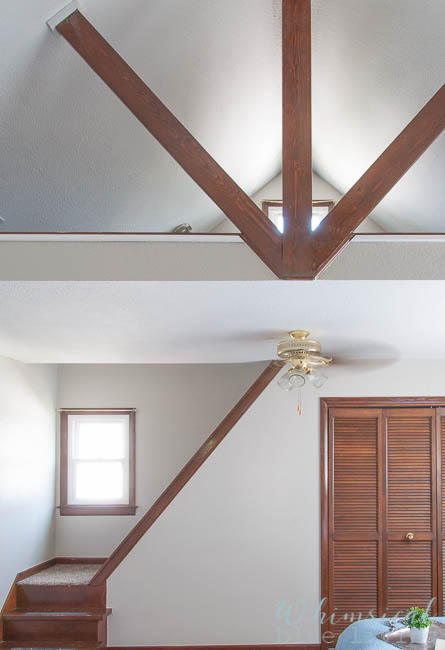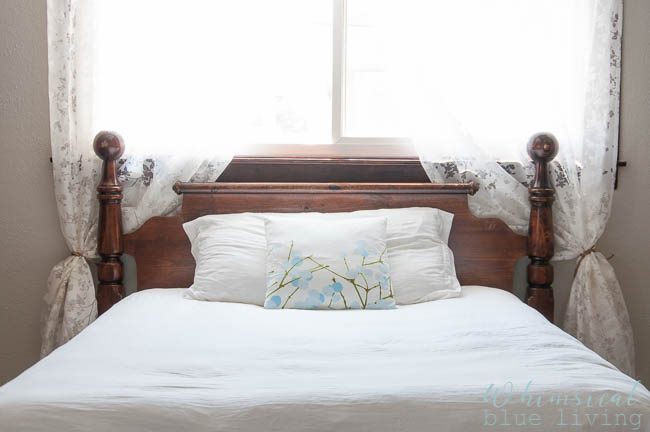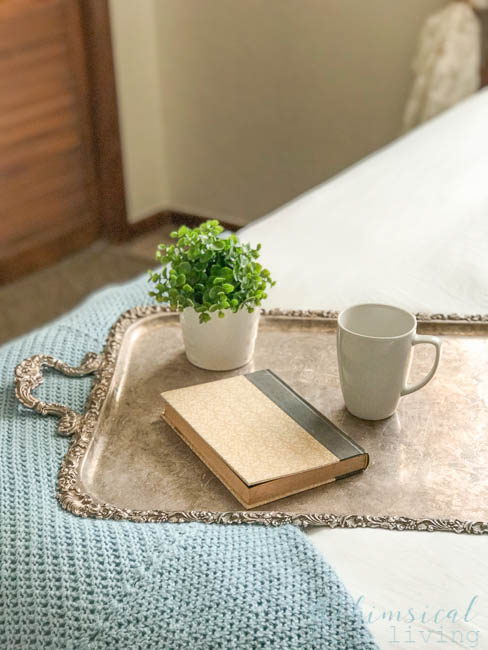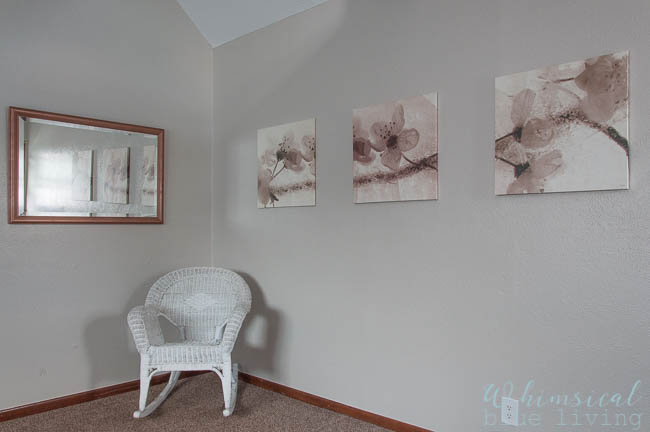 We kept the second bedroom simple, using a bed frame that my friend bought from a neighbor, bedding that a college student was getting rid of at the end of last school year, a vintage wooden chair that I found in my Grandma K's basement, and a cute little Pier 1 pillow that I bought at a yard sale.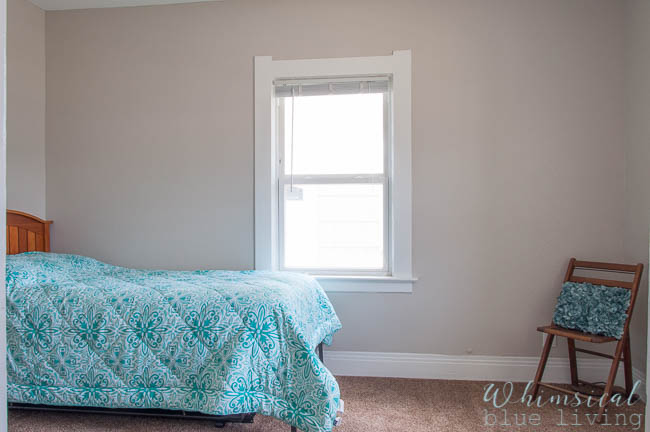 Because the upstairs of the house was smaller, we really wanted to stage the basement as extra space for entertaining and a home office. The stairway was narrow, so we ended up borrowing wicker furniture pieces that we could easily carry down the stairs. We hung my shower curtain as a room divider to cover the utility side of the room, and my little entryway table made a perfect TV stand. I set up my folding table with an extra dining room chair to create a cute little office area, and I added some books and a lamp to make a cozy little corner in which to work.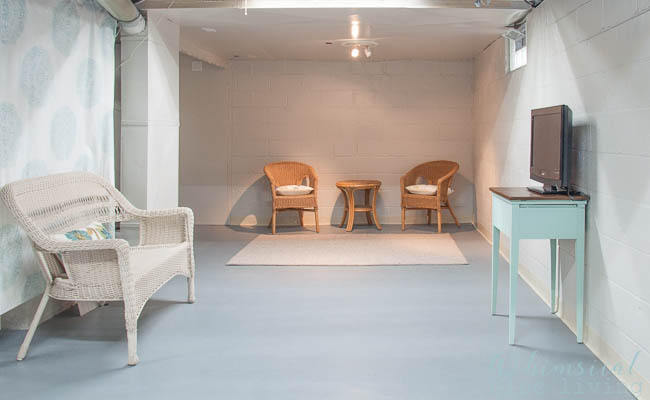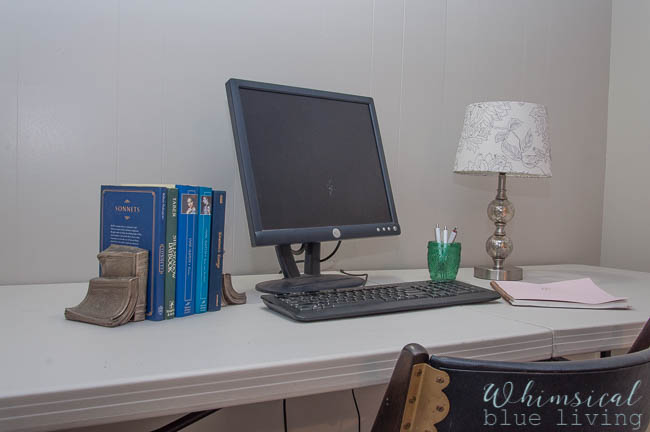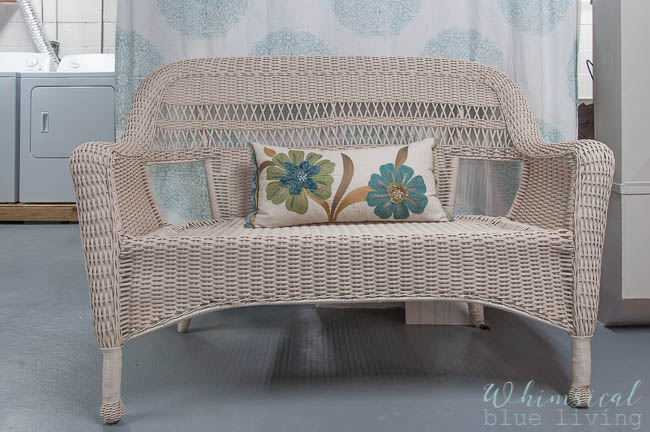 I'm happy to report that within just a few days of listing their rental house, my friends received a cash offer for their full asking price! Such a dream come true for them! I had a wonderful time helping my friends stage their home to sell. I love how beautiful it looks, and I'm thrilled at how quickly it sold!
For more inspiration, be sure to follow Whimsical Blue Living on Facebook, Instagram, and Pinterest. And sign up for our newsletter to receive an email every Sunday morning with the posts from the week. That way you never miss a post!
Have a beautiful day!
Sandy