When it comes to organization, I swear I have multiple personalities. There is a part of me that loves organizing! Give me a label maker and color coded pens and I'm in heaven! My husband even mentioned my organizational skills in our wedding ceremony! True story! Our pastor asked us to write several things that we loved about each other for him to share as part of the ceremony, and one of the things my husband wrote was that he loved how I brought organization to his life. He gave the example of us on moving day, with him just randomly tossing items into boxes while I grouped things by categorizes and labeled the boxes with what was inside and what room it should be placed in our first apartment. Who knew organizing was so romantic? That's true love!
Finding a place for everything and creating a routine for our daily life is something I enjoy. When I was a teacher I always had a very organized classroom with a great routine for how we managed our day. I've helped friends organize their homes, I've helped bosses organize their stores and offices, and heck, my closet used to be organized by seasons and colors.
There is also a part of me that is deeply creative. I love diving into projects, making messes, and taking something apart so that I can put in back together in a way that adds more beauty to everyday life. I can ignore the chaos and find joy in knowing that the end result of a project will be worth all the disruptions.
When we bought our little castle, I was a stay-at-home mom with two young kiddos (and we soon discovered that our third baby was on the way.) It was impossible to separate my work life from my home life. It was all just one big, messy, beautiful, exhausting life! I spent my days chasing toddlers, changing diapers, and making meals while stepping around construction tools. We worked on home improvement projects during the kiddos' nap time and late into the night. I never truly unpacked our belongings and settled into our house because I was constantly shifting objects out of one room and stashing them in another while we worked to make our home beautiful. The creative side of me was so happy! I absolutely loved the transformation process of our home! I just tried to ignore the constant urge to organize everything. Because truly, there was no point. It was better for us to just keep working and get our projects done faster than to try to create a system within the chaos of a construction zone.
Recently we've gotten to a point with our home where we've slowed down the pace of our projects. I'm finally able to put items away in the place where they actually belong, and we're sorting through our possessions and getting rid of things we no longer need. My days now have a wonderful rhythm to them, starting with snuggling my sweet kiddos every morning, playing outside, creating art with the older kids while the baby naps, playing games after dinner, and reading stories together before bed. It is so nice! The organized side of me is loving this phase in life.
One area where we've made some major progress in the last few months has been organizing the kids' closets! Friends, for the first two years that we lived in our house I barely opened their closets. I had no idea what was in there, and once something went in there it never came back out. Their closets were a disaster zone.
The messy closets kind of make sense when you realize that the rest of the house looked like this.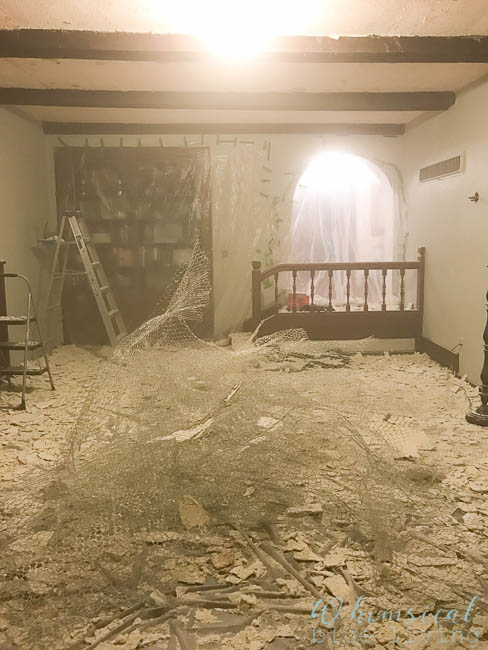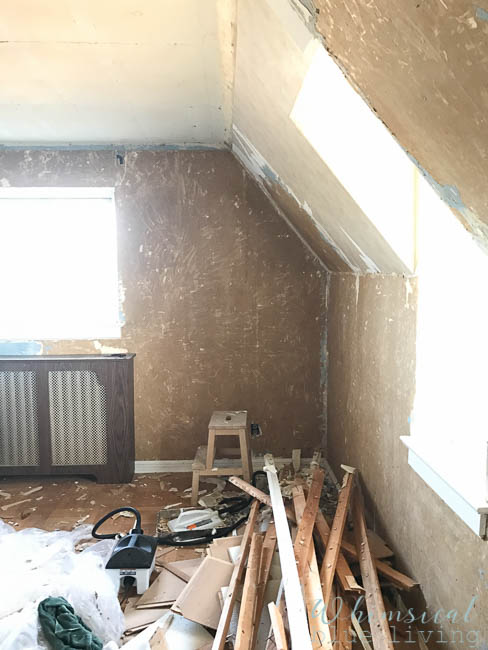 Those house pictures make the closets look almost clean in comparison, don't you think? Hold on, I'm going to go pour a glass of wine and stress eat some M&Ms while you pin those pictures to Pinterest.
Ready to keep going? Good. Don't worry, it gets better. There is a happy ending to this story!
A few months ago I decided that I had to get our house and our lives more organized. I had lived in a construction zone for as long as I could manage, and it was time for a break.
One of the first things I always ask myself when organizing is, "What isn't working currently with this system?" I could tell by the piles of clothes that were overflowing in all of our laundry baskets that I needed a better way to sort clothing. We are so fortunate to be given lots of hand-me-down clothes from family and friends. My sisters and I share all of our kiddos' clothes and shoes, so we're constantly passing bags of hand-me-downs back and forth. But my lack of organization was causing problems. Bags of clothes were getting lost, shoes were almost impossible to locate, and I was forgetting to pass certain sizes along to the next niece and nephew. I knew I needed a better plan.
I searched through images on Pinterest, looking for simple and easy ideas for organizing kids' closets. And what I found was closets full of teeny tiny boxes and cubbies, expensive built in organizational systems, and images of beautifully styled closets with exactly three outfits in them. Not especially helpful. The more I thought about it, the more I realized that I needed something simple, inexpensive, and flexible enough to meet our family's needs as the kiddos grow. This is what I came up with.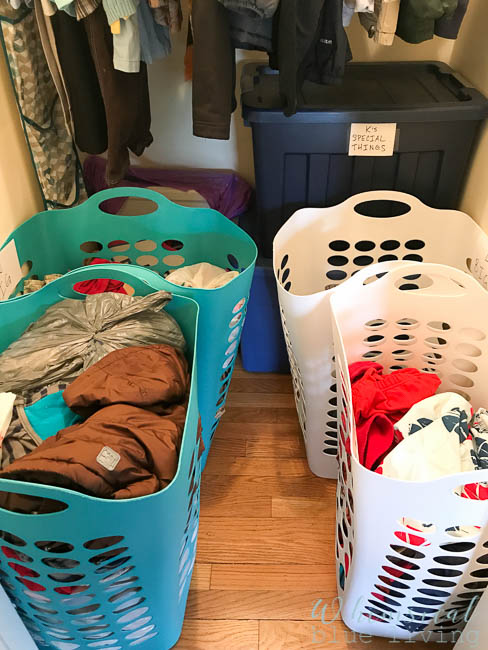 It's not fancy, it's not expensive, and it might not even be Pinterest worthy, but it is totally working for us! Let me break it down for you.
Each child has two large laundry hampers. I chose the flexible plastic style with the square base to fit best in their closets. I used an index card, clear tape, and a marker to label each basket with their initial and the word "big" and "small." I keep clothes the next size up in the "big" basket so when they have a random growth spurt right in the middle of a season I'm ready. When they outgrow an outfit, I place it in the "small" hamper and when my sisters come to visit I empty the entire hamper into a bag, write the size and gender on the outside of the bag (for example, "3T girl"), and hand it to them. It's so convenient! Before I created this system, I had all these random piles of too small clothing lying around that never seemed to make it into the right bag with similar sizes. Now if I find a random piece of clothing that is too small when I'm folding laundry I can just toss it into the "small" hamper and I'm done. So easy!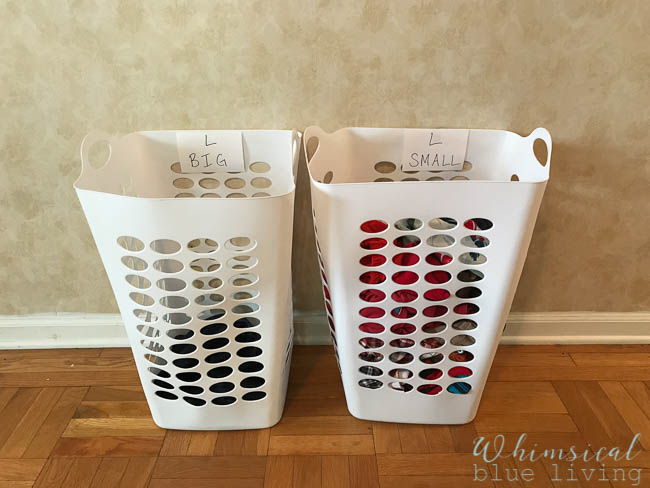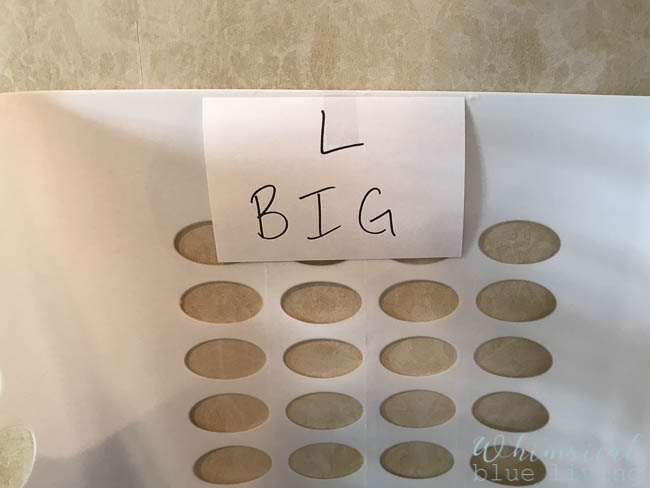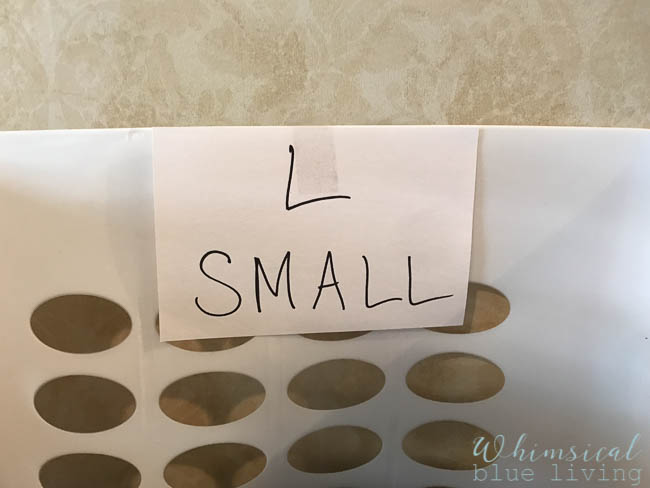 I have a similar system for shoes as well, using extra baskets from our play room (because yes, I cleaned that room out too! More on that in another post.) I labeled the baskets using my very elaborate system of initials and "big" and "small" again. These simple boxes full of shoes, boots, and sandals are such a life saver on those busy mornings when I go to put my baby's shoes on and discover that his feet grew literally overnight!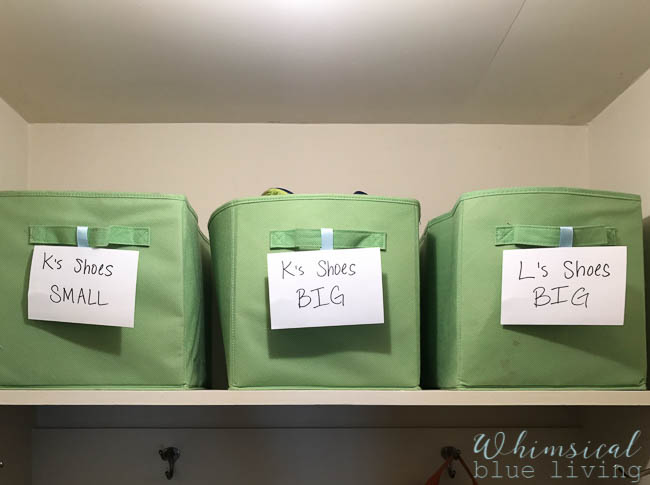 Inside of each closet I also have a "special box" for each child where I keep favorite baby outfits and mementoes that I want to save forever. I use the colorful hanging pocket organizers to keep the items they need for their activities all together in one spot, like my daughter's ballet shoes, tights, and leotards. I also hang up coats, even if they are too big, so I know what sizes I already have and what I still need to buy. Also, I'd like to point out that there is, in fact, a giraffe Halloween costume hanging up with the coats. I'm all set with my baby's costume months in advance!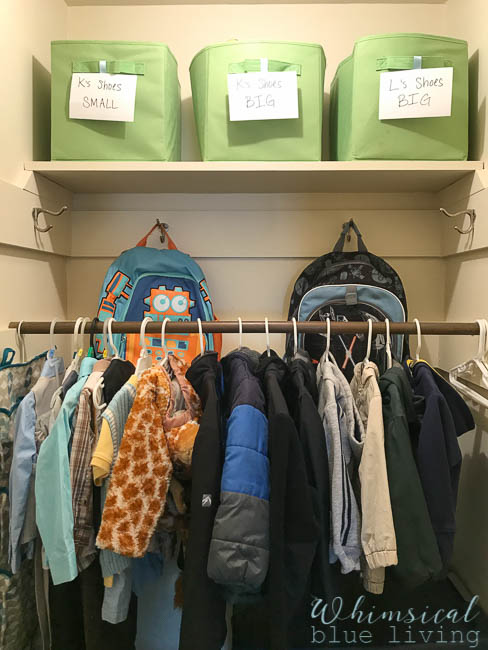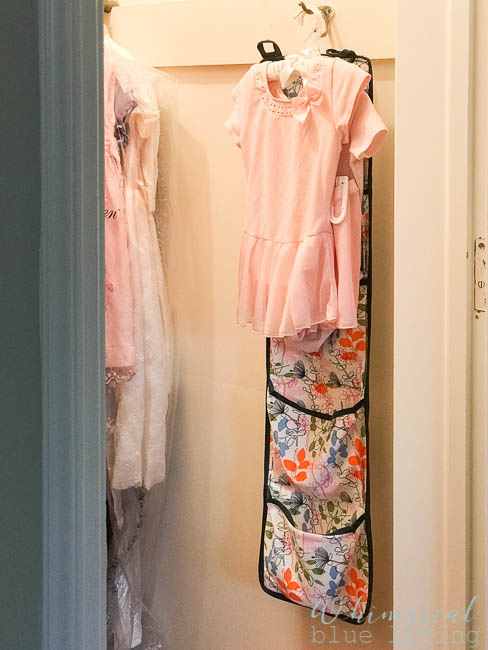 The important thing about any organizational system is that it has to be simple. This system for my kids' closets is easy to create, inexpensive, and is very simple to maintain. It's so easy that even my kids can find what they need, put their things away, and help keep our home organized! I love the flexibility that it allows as they grow and their needs change. I can't even explain how nice it is to finally have organized closets! The creative side of me looks around our house and is thrilled by how pretty it all is, while the organized side of my personality is finally happy! Hooray! Now our house truly feels like home, and it's absolutely wonderful!
What about you, friends? Any organizing tips to add? I'm curious to see how this system changes as the kids get older. Also, please tell me I'm not the only one to have an avalanche of stuff stashed away during certain busy phases of life!
For more tips, inspiration, and unbelievably messy "before" house pictures, be sure to follow Whimsical Blue Living on Facebook, Instagram, and Pinterest! And sign up for our newsletter to receive an email every Sunday morning with the posts from the week. That way you never miss a post!
Have a beautiful (organized) day!
Sandy