When my husband and I moved from South Carolina to Ohio a few years ago to be closer to our families I had a very specific wish list for our house hunt. I wanted an older home full of character and charm, but I wanted it to be remodeled so that we didn't have to do any work to it! We had fixed up our previous house and didn't want to take on so much work again since we had young kids. I recently found a copy of my wish list from that time period and laughed at the line that read, "I do NOT want to do a kitchen remodel." Oh, the irony!
When my dream castle went up for sale at an auction while we were house hunting, we couldn't believe it! The house needed so much work. The previous owners had removed the entire kitchen when they moved out. They had taken the cabinets, counters, appliances, even the tile off the walls. What was left in the kitchen was a disaster zone full of crumbling plaster and holes as big as my children! Still, it was a chance to buy one of my favorite houses at a once in a lifetime price. After lots of research and planning, we decided to go for it!
The initial plan was to install a "temporary kitchen" just to get us by and then complete our dream kitchen remodel shortly after we moved in. I remember walking into Lowes and telling the sales associate that I needed the cheapest kitchen sink and faucet they sold, because I was only going to be using it for six months. He gave me a knowing smile as he pointed out my options. Fast forward almost four years later and we were still using that cheaply made faucet. The handle was broken and it constantly leaked. The sink basin was only 5 ½ inches deep, which made washing lots of dishes challenging.
I didn't want to invest a lot of money in a new sink and faucet because my DREAM vintage sink is sitting in our garage just waiting for our big kitchen remodel, which is still a few years away.
One of the ways that I save money on our house projects is to collect pieces that are good prices and then save them in my stash until we need them. I had a brand-new faucet that I had purchased awhile ago from friends of mine. They had planned to use it in their kitchen remodel but ended up moving to a new house and no longer needed it, so they sold it to me for a good price. After I bought our dreamy vintage sink I didn't think I would need the new faucet anymore, but I kept it in my stash just in case. I figured I could always resell it after we remodeled our kitchen if we didn't end up using it.
The other day I was standing by my metal kitchen sink trying to reattach the broken faucet handle for the millionth time. It occurred to me that if I could find a deep kitchen sink for a good price, I could update my kitchen for these next few years as I continue to save up for my ultimate dream kitchen renovation!
After taking measurements of our old sink and doing a little research online, I decided to head over to the Habitat for Humanity ReStore to search for a kitchen sink. Friends, the ReStore is one of my favorite places to shop! It has lighting, furniture, plumbing, appliances, décor, cabinets, tile, and so much more, all at amazing prices! Some of the items are brand new, and others are gently used items that have been donated. The money from the sales goes to support Habitat for Humanity, which is a wonderful organization. I love shopping there because I find good deals AND I am supporting a great cause! The inventory is constantly changing, and the prices are fantastic.
When I decided to go look for a sink I loaded up a bunch of stuff that we no longer needed at our house (like the 1970s toilet that has been sitting in our garage ever since we redid our half bathroom, and a light that we took down and replaced with a vintage chandelier) and donated it all to the ReStore when I arrived. Then I looked around at the sinks. One in particular caught my eye. It was cast iron with really deep basins. Although it was dirty, it appeared to be in good condition. And the best part was the price! $19.99 was in my budget! Since my ReStore has a 30 day return policy with the receipt, I decided to bring it home and try it out.
My husband and I installed the sink and faucet ourselves with the help of this website. It was actually much easier than I expected. At first, I wasn't sure if I would like how the sink basins are two different sizes, but friends, it is amazing! I can fit my big pots and pans in the wider, deeper left side basin, which is 10 inches deep. I use the other side which is 8 inches deep for washing smaller items like my water bottles and coffee mugs, or when I need to run to just little bit of soapy water to wipe off the table and counters. And the most exciting part is how clean my kitchen looks now! Because the sink basins are so deep, I can hide all my dirty dishes in the sink and load the dish washer at the end of the night. Before, when I was using that shallow metal sink, the dirty dishes were stacked on the counter in plain view all day long. I love the illusion of a cleaner, less cluttered kitchen! And the new sink is so pretty!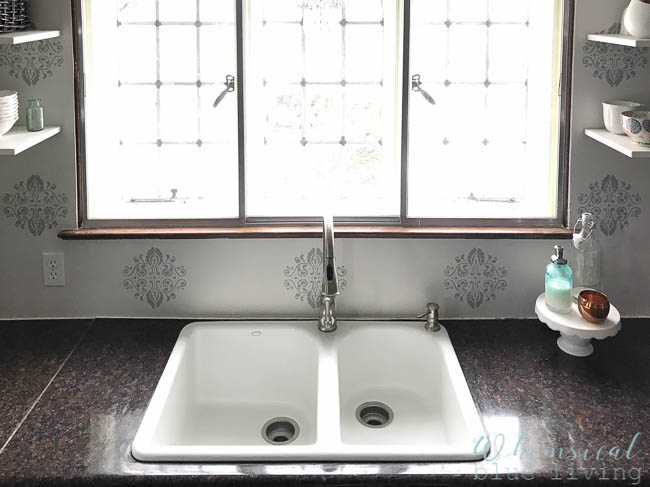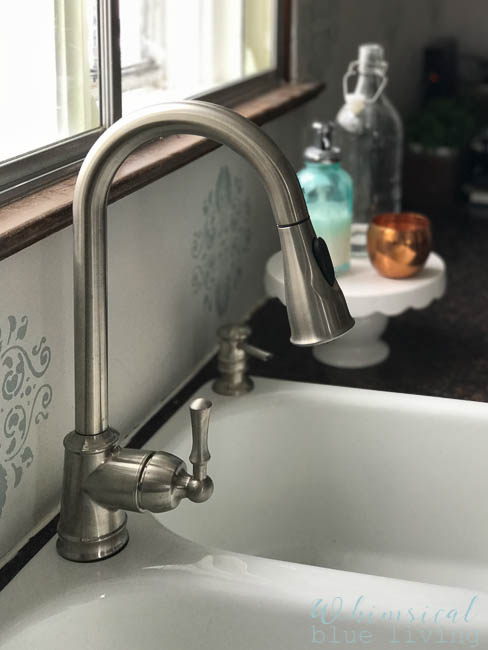 It's amazing what a difference this sink has made! I mean, I knew I would like it more than the shallow sink and broken leaky faucet that we had before, but I truly didn't realize how much I would love this change! And the crazy part is, I really think that we spent less on this sink and faucet than we did on the first cheap one that I bought at the big box home improvement store. I'm telling you, friends, you don't have to have a huge budget to make improvements to your home. With the patience to search for good deals and a little elbow grease, you can transform your home into something you love! And if you shop and donate items to the Habitat for Humanity ReStore you can help support a great cause at the same time. Hooray!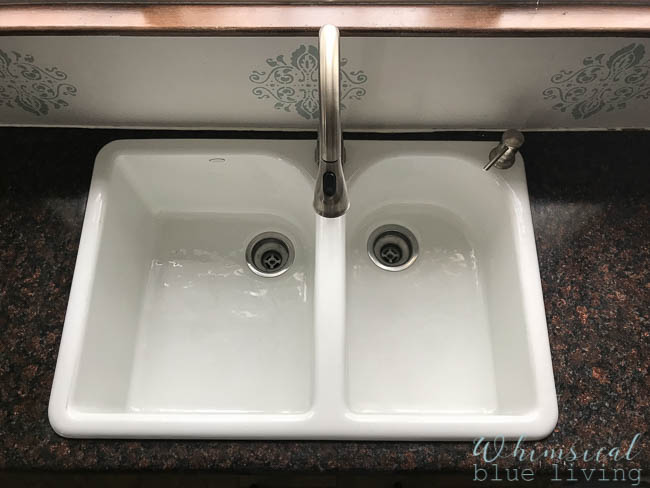 For more inspiration and updates on our projects follow Whimsical Blue Living on Facebook, Instagram, and Pinterest. And be sure to sign up for our newsletter to receive an email every Sunday morning with the posts from the week. That way you never miss a post!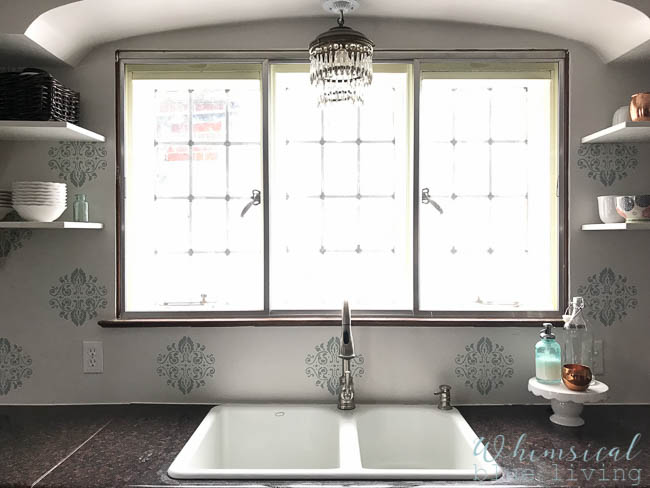 Have a beautiful day!
Sandy