My sister-in-law is a saint. Her husband has spent the last several years attending medical school while she stays home with their six kids. They live in the cutest little 1,400 square foot house that was built in 1850, and it's adorable. Like many old houses, though, it doesn't have a lot of storage. This was especially true in the kitchen. And, the most tragic part (in my mind at least), the kitchen did not have a dishwasher. So, she washed dishes every day by hand for a family of eight! On top of that, she is an amazing cook and makes the most delicious home-made meals, which means there were lots of pots and pans to clean every night as well.
Her kitchen had tons of potential with high ceilings and an entire wall that could hold more cabinets and counter space. There was lots of room to add storage, just not a lot of room in their budget. Thrifty home improvement projects are my specialty! The trick to these kinds of small budget projects is to begin thinking about them long before you actually plan to start working on them. That way you have lots of time to collect pieces and come up with creative solutions! So, last spring when my husband and I were in a slow phase of our own house projects, I started dreaming up ideas for her kitchen.
These "before" pictures of my sister-in-law's kitchen were taken in my pre-blogging days. I had stopped by one afternoon to drop something off and we started chatting about our ideas for the project. I walked into her kitchen during the busiest part of her day and snapped a few quick pictures to take home and study. She was just getting ready to wash all the dishes from breakfast and lunch so that she had counter space to make dinner. No one else in the world was supposed to see these pictures! Then I started a blog. When I checked with her about sharing these "before" pictures with the entire internet, she readily agreed but asked that I assure you all that she is "not a slob." Please, if anything these pictures simply show that she needed more cabinets and counter space for such a big family! Friends, I'm in awe of how hard she works. If I had walked in and taken pictures of her kitchen at 11:00 that night I guarantee it would have been spotless! I think we can all agree that my sister-in-law deserves a trophy for creating home cooked meals and washing dishes by hand for six kids while her husband was away at medical school! Real kitchens for actual families do not look like magazine images in the middle of the day. And to keep things fair, I just turned around and snapped a quick picture of my kitchen that I'll include in the bottom of this post. Because real life is messy, friends!
My sister-in-law's kitchen had one stretch of counter space. The area to the right of the sink was where she sat the clean hand washed dishes to dry. The small area to the left of the sink was her prep area for meals. The window sill doubled as a shelf for her spices (the window looks out onto an enclosed porch.) There was one drawer in the entire kitchen to the right of the sink that held silverware, the cabinet underneath the drawer was mostly taken up by an unused water filter, and a radiator heater sat underneath the sink.
The wall where the stove sat was the perfect place to incorporate additional cabinets and counter space! There was a narrow built-in closet on the far wall for cleaning supplies, and another wall of built-in cupboards by the fridge that made up her entire cabinet space.
They had been told when they moved in that there wasn't a good space to install a dishwasher, but I was determined to find a way. I also wanted to take advantage of the extra tall ceiling height to add more storage, so I was looking for cabinets or shelves that could be placed high up on the walls. Because we were planning to paint all the cabinets white to match the existing built-ins, we weren't too worried about finding a matching set of cabinets. My sister-in-law and brother-in-law plan to build their forever home in a few years, so this kitchen remodel was geared towards improving functionality, not creating her ultimate dream kitchen. I joked that if she just gave me long enough, I could create her entire kitchen for free with all the stuff I tend to find!
Fast forward three weeks. My husband and I were out on a date night and we were trying to figure out what to do, since our dates usually center around home improvement projects! We decided to go out to eat at a nice restaurant. We were driving through a fancy old town on our way to the restaurant, and it just so happened to be trash night. As we were passing some especially impressive older houses, I spotted several white cabinets sitting out on the curb. I twisted around in my seat, pointing and shouting "Are those cabinets? Did those people really just throw out white kitchen cabinets?!?" when I realized my husband was already turning the car around. He knows me so well! We immediately changed our plans and loaded up the cabinets to take to my sister-in-law's house, high-fiving over our lucky find. That, my friends, is my favorite kind of date night! After a thorough cleaning and a fresh coat of paint, the curb side cabinets were as good as new.
Over the next few months we continued to collect pieces for their kitchen renovation. I found a nice deep sink on Craigslist for $50 that came with a faucet and garbage disposal. My sister-in-law and brother-in-law bought a stove, new lights, and ordered laminate counters from the home improvement store. She purchased shelves as well as a freestanding island/buffet piece that had several drawers that she found on Amazon. And the best part of the whole project, they removed the unused water filter that was in the cabinet next to the sink and installed a dishwasher! Hooray!
They've worked hard renovating their kitchen in their free time over this past year, and it looks amazing! By keeping the same layout for their sink and appliances, doing the work themselves, and incorporating both free items and great deals, they've been able to transform their kitchen for a fantastic price!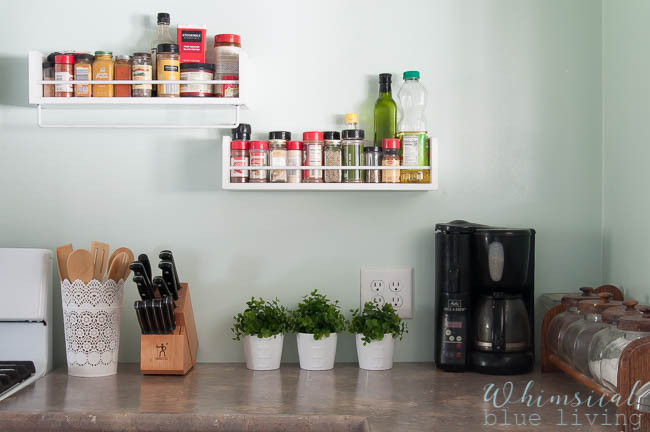 The amount of storage in this kitchen has doubled and the dishwasher saves her literally hours of work. They still have plans to install a colorful glass tile backsplash that I found on clearance at Lowes, and then I think they are done! Isn't it an amazing transformation? We estimate that the project probably cost around $2,000 total. That's absolutely amazing for a complete kitchen renovation!
I asked her the other day to name her favorite part of her new kitchen, and she immediately replied, "My dishwasher is my favorite! And the added space of the countertop by the stove." When I asked if she was happy with the process of renovating her kitchen, specifically adding free and inexpensive stuff as we found it, or, if looking back she wishes she had waited and saved up for a complete kitchen overhaul, she replied, "I would absolutely do it all over again this way. This isn't my forever house, and I wouldn't have wanted to spend the money to make it a dream kitchen." Their renovated kitchen functions so well for their family and makes a huge difference in their daily life, and that makes my heart so happy!
Friends, I am a firm believer in making your home work for you and your family, no matter what your budget. If you are creative in your thinking, patient in your purchases, and prepared to roll up your sleeves and do the work yourself, you can transform your home into something that you truly love!
Be sure to follow Whimsical Blue Living on Facebook, Instagram, and Pinterest for more inspiration and creative ideas! And sign up for our newsletter so you never miss a blog post. You'll receive an email every Sunday morning with the posts from the week.
Also, just to keep things fair, here is that random unstaged picture of my kitchen today. Because life with kids is messy! My kitchen will be spotless at 11:00 PM tonight after everyone else is in bed, if you want to check back then.
Have a beautiful day!
Sandy