Hello Friends! I've been busy working on our kitchen renovation plans and I have so much to share with you that I decided to break it up into several posts. I've recently found some stunning vintage pieces to incorporate into our kitchen and the design is really beginning to come together! It will still be a little while before we actually start the construction and installation process, but that gives me time to finish finding the perfect pieces and add my signature style full of whimsy and blue to the design plans.
If you remember, we bought our 1927 stone tudor house at an auction back in 2014 for a fantastic price, and it needed a lot of work. We've spent the last several years fixing it up and restoring it with gorgeous vintage pieces. When we first moved into our home the kitchen needed the most work. There were giant holes in the walls and floor with screws and nails sticking out, and crumbling plaster where the previous owners had ripped their tile and cabinets out before the house went up for sale. It was a mess! We decided to install a "temporary kitchen" just to get us by while we worked on the rest of the house. I'm so glad we waited to design our dream kitchen, because it's allowed us to rearrange the floor plan to better meet our needs and to find some gorgeous vintage pieces like our six-foot-long 1929 cast iron sink and adorable 1930's stove. We also met the family who lived in our little castle in the 1960's-1980's, and they shared details about the original 1927 kitchen. Be still my heart!
The thing that I love about my design process is that every aspect of my plan has a story behind it, and every vintage piece is full of history and soul. We've met the most amazing people throughout this process, people who are incredibly talented and who are passionate about preserving historic homes and vintage treasures. And our kitchen is going to be absolutely gorgeous, if I do say so myself!
While I'm not trying to replicate the original 1927 kitchen or create a completely authentic 1920's design, I am interested in adding vintage pieces and architectural details that correlate to the rest of the house. We plan to move the refrigerator to the little nook that currently holds the stove, and place our vintage 1930's stove in front of the exposed brick chimney. This layout matches the original design of the 1927 kitchen!
Arches are a theme throughout our home with the gorgeous front door, rounded doorways and arched hallways, and even the cute little curved phone cupboards!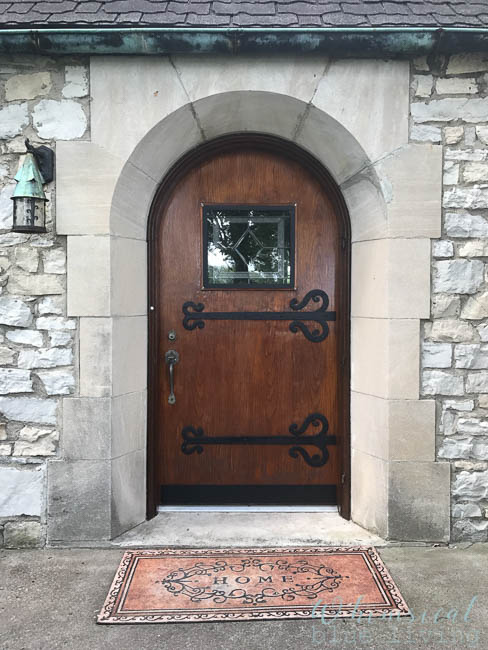 I'm excited to incorporate that theme into our kitchen design as well by creating an arch around the nook for the refrigerator! It's a design element that is historically accurate to the time period, as seen in this 1928 Frigidaire advertisement from the fabulous website Antique Home Style.
Also, if you remember my recent post about the "Sister Houses" that the original owner built for his two daughters just down the road from our little castle, there are the sweetest arches in that kitchen as well! I took screen shots of the kitchen when the house was listed for sale because I was so inspired by the design, and when I met the woman who owned the home she graciously agreed to let me share those pictures with you.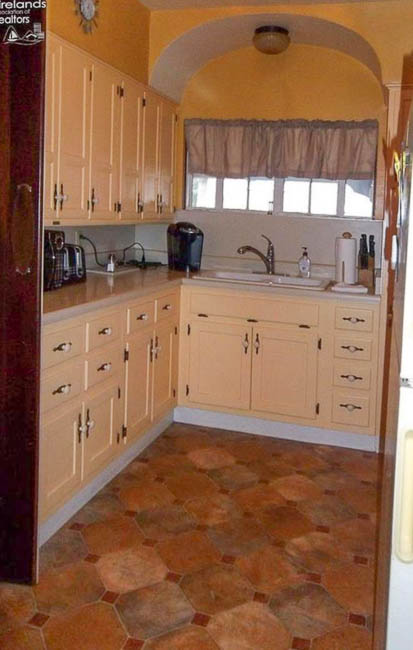 She thinks the arched nook where she has placed her fridge once held cute little built in benches and a table, which I've seen in many of the vintage advertisements on Antique Home Style's website.
I plan to have our "Dream Team" help us with our kitchen remodel, and our fabulous plaster guy is going to match the exact dimensions of the arch that leads from the entry way into the living room!
Isn't that just perfect! My goal is to make that corner of the kitchen look like it was always part of the house. We know that the original nook in that spot was recessed. I believe it possibly had a small closet next to it for brooms and other cleaning supplies, but I'm not entirely sure. I really like that the arch is going to match the design of the "Sister House." I had planned on creating this arch in our kitchen before I knew the story about the connection between the houses, and now it makes the design even more special!
Don't forget to sign up for our newsletter to receive an email every Sunday morning with the posts from the week. That way you don't miss the upcoming posts with more details about the design plans for our gorgeous sink as well as the kitchen cabinets and vintage stove. And follow Whimsical Blue Living on Facebook, Instagram, and Pinterest to see all of our fabulous antique finds and design inspiration!
Have a beautiful day!
Sandy