I'm on a mission to hang a chandelier in every room of our little castle! I mean, what's the point of living in a castle if you aren't surrounded by sparkling crystals? I've always loved crystal chandeliers. They add so much beauty and romance to life, don't you think?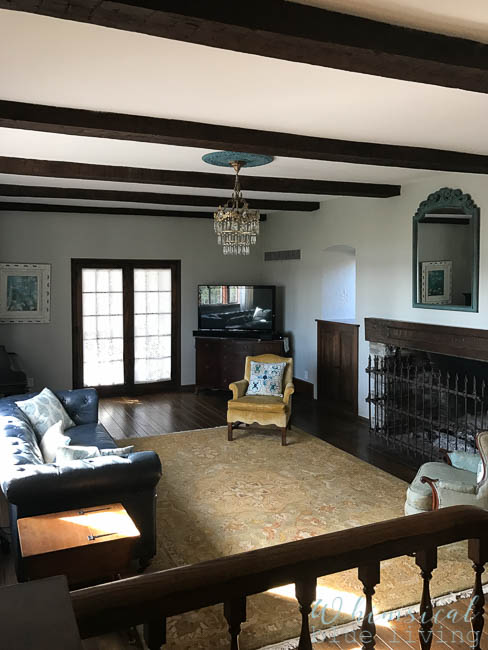 When I bought our newest vintage chandelier at a yard sale I knew that I wanted to paint the ceiling medallion that came with it. I could tell from examining the back of the ceiling medallion that it wasn't old like the chandelier, so I didn't feel bad changing the color. It was covered in a shiny gold paint and I wanted to make it a little more whimsical and blue. I love a pop of blue in an unexpected place! The solution for changing the traditional gold painted ceiling medallion into my own personal style? Spray paint!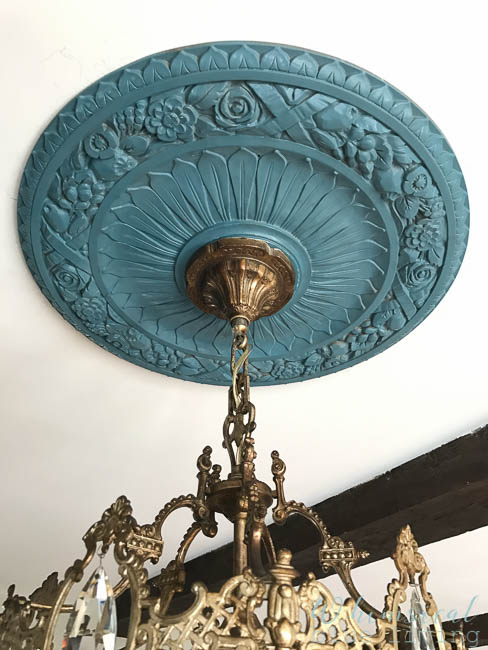 This project was super easy to do and makes a bold statement in our living room. This room has always been a bit tricky for me. It has a lot of dark wood tones and antique pieces, and if I'm not careful it can easily begin to look like a 100 year old woman lives in our home. (100 year old women rock, by the way. And I'm totally an old soul at heart.) By pairing a trendy blue color on the ceiling medallion with an ornate antique brass and crystal chandelier, it gives the whole room a very whimsical blue feeling. And you know how much I love adding whimsy and blue to my life!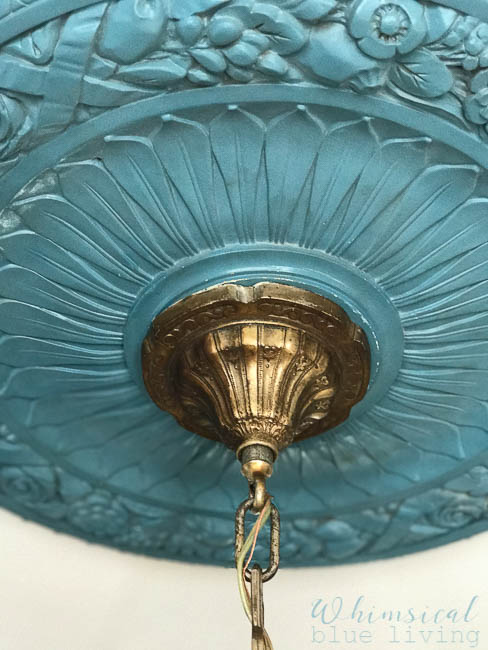 I painted the medallion "Bahama Sea" by Krylon. It's very important to follow the directions on the can of spray paint and to paint several light coats of paint to avoid drips and puddles of paint within the carved designs. The blue spray paint that I used was a gloss finish, so it had a bit more of a shine that I wanted for this project. I loved the color, however, so I simply sprayed a top clear coat of Valspar Project Perfect Top Coat in a flat finish to cut down on the shine. If you ever want your glossy paint color to look more like a chalk paint texture, use a flat clear coat spray paint as the last step. In this case I didn't want the medallion to be too plastic looking, so I used a flat clear coat spray paint at the end of the painting project to avoid the shininess of the glossy finish of the blue spray paint.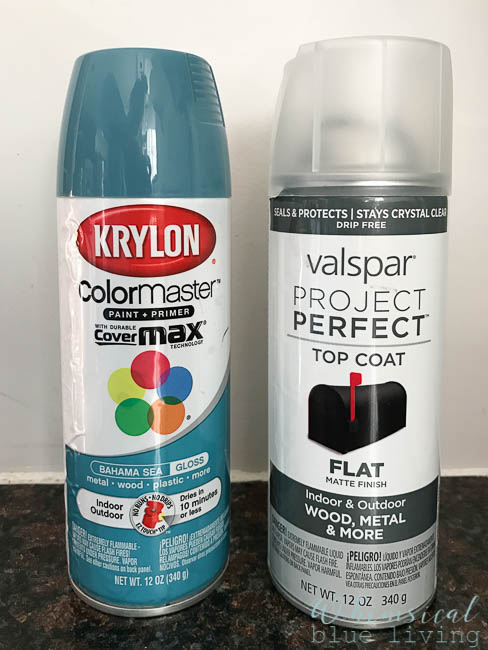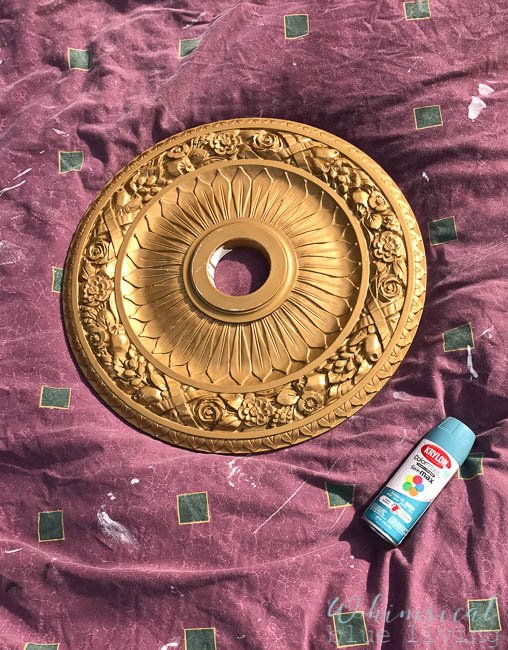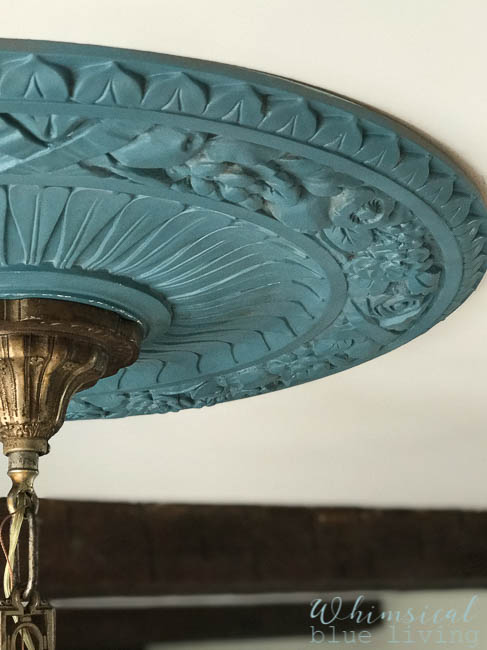 Friends, I love the way the ceiling medallion turned out! It's so me. It looks very similar in color to the mirror above the mantel, but the mirror is actually painted "Spa Green" by Valspar. I'll write a tutorial on that painting technique soon because I painted it by hand and gave it a more rustic look. I love how over time this room has transitioned from feeling very brown and masculine to very blue with feminine touches. And the medallion, chandelier, and mirror all draw the eye upwards, taking advantage of the tall ceiling.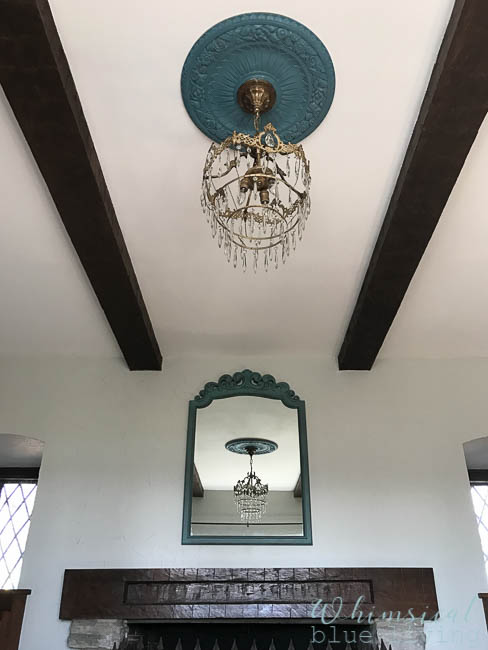 One of the easiest and least expensive ways to add your personal style to your home is with paint. The beautiful thing about the process is that if you don't love how a project turns out, you can always paint it a different color! I especially like painting pieces that aren't particularly old or sentimental, because if you make a mistake it's not a big deal. Never underestimate the power of transforming your home into a reflection of you and your style! Happy painting, friends!
Be sure to follow Whimsical Blue Living on Facebook, Instagram, and Pinterest for even more inspiration! And sign up for our newsletter. We'll email you every Sunday with the posts from the week so you don't miss any posts!
Have a beautiful day!
Sandy