Hello Sweet Friends! Do you ever like to clean up your house before you invite people over? I do. In fact, I actually enjoy having people visit so that I'm motivated to clean! I'm not the kind of person to worry too much if there is dust on the bookshelves or baskets of laundry needing to be folded and put away. Life is just too short to stress over those kinds of details. And while I enjoy a clean house, I enjoy so many other things much more than actually cleaning my house! So I try to strike a balance between my creative personality and the desire to have a clean and comfortable home.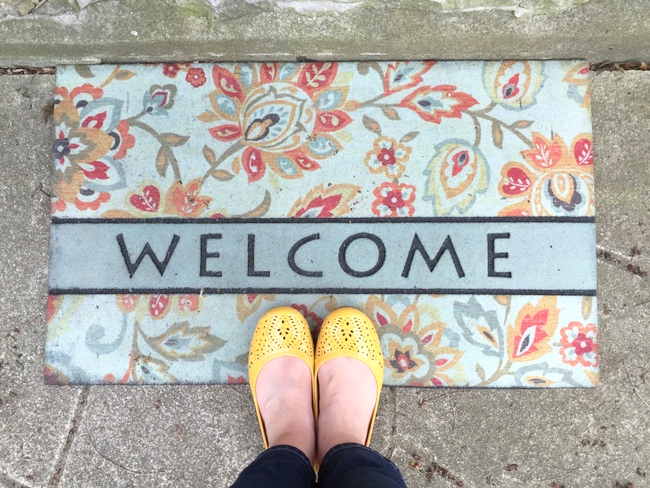 After being asked by several people if my house always looks as clean as in the blog pictures, I've concluded that it is time to share a behind the scenes look at what truly goes into my photo shoots. Let me reassure you that my house doesn't always look so clean and organized, because five people live in our castle. Three of them are little and seem to be under the impression that their massive collection of toys and baby gear must be strewn about on every surface. Naturally, when I invite the whole internet over to my house I like to tidy up a bit first! I really enjoy the process of seeing my creative vision come to life on this blog, and cleaning is part of that. When I share pictures of "Cordelia the Castle" with you I want you to appreciate the architecture of our home, the amazing original details that make it unique and the elements we've added to it. It thrills my soul when I get to tour a beautiful home and see designs that inspire me. And I want you to experience that same feeling of excitement when you read this blog. You get to enjoy the beauty of a historic home without all the cost and upkeep that comes with it. Lucky you! So grab a cup of coffee (or a glass of wine if talking about messes stresses you) and settle in for a chat.
Being a stay-at-home mom means that I spend a tremendous amount of time doing important but also mind numbing work. No one told me so much of my day would be devoted to changing diapers, potty training, wiping up spills, picking up toys, and ruining my children's lives by making them exactly what they asked for to eat. (How is it possible for toddlers to change their minds so quickly?) I usually clean up the house at night after the kids go to bed and generally spend my days undoing all the hard work I did the night before. It's unreal how a kitchen that took an hour to clean can be a mess in less than five minutes. It helps me greatly to have something fun to think about while I'm dealing with the messes. With this blog I get my ideas for posts while I'm busy doing other things. I'll have an idea bouncing around in my head and I'll think about it all day long. Once I get the kids in bed I get to work. I'm a night owl, so I usually stay up late writing and preparing to take pictures. There is something so fulfilling about the process of turning the ideas in my head into reality. I love getting lost in the creative process, feeling completely inspired and unaware of the passing of time. On these nights I don't mind cleaning, because I'm staging an area of our home for pictures in the morning. I often stay up well past midnight cleaning and staging my design so that when the baby wakes me up in the morning I can snap my pictures before the older two kids wake up. So is my house as clean as it appears in pictures? The answer is yes, from 2:00 AM until 8:00 AM it looks beautiful. And then everyone wakes up and life happens!
For example, when I was cleaning the living room before taking this picture I discovered a stash of toys and candy wrappers behind the couch. I picked everything up and gasped in dismay. Someone, and I suspect I know who, had snuck an orange popsicle out of the freezer and hid behind the couch to eat it. When she heard me coming into the room she stashed the half eaten popsicle underneath the curtains, crawled out, and left it there. When I finally discovered the mess, the popsicle had melted and soaked up into the fabric, covering the bottom of the curtain in neon orange goo. Muttering words children shouldn't hear, I tried to drape the curtain in a way that hid the stain and started snapping pictures. If you look very closely at this picture you can see the stain in the bottom right corner! Life with toddlers, my friends, is always messy.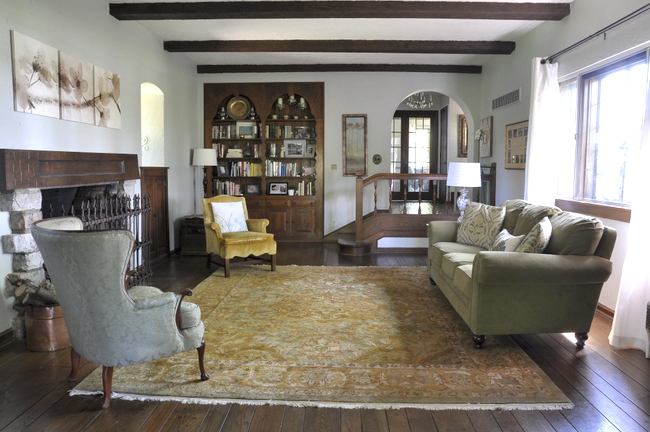 Below is a picture of our play room. I originally had a vision of staging it with more of their cute toys and art supplies. The night before I took this picture the floor was completely covered in toys. After getting the kids in bed and cleaning the kitchen, I put all the small toys in the baskets and dragged the bigger toys into the living room so I could clean the playroom floor. By the time I swept the floor and straightened up the bookshelves it was 2:30 in the morning and I was too exhausted to drag the bigger toys and art easel back into the playroom. In the morning I only had a few minutes to snap these pictures before the kiddos woke up and dumped all the toys on the floor. Believe me, there are so many toys at our house the playroom never looks this clean!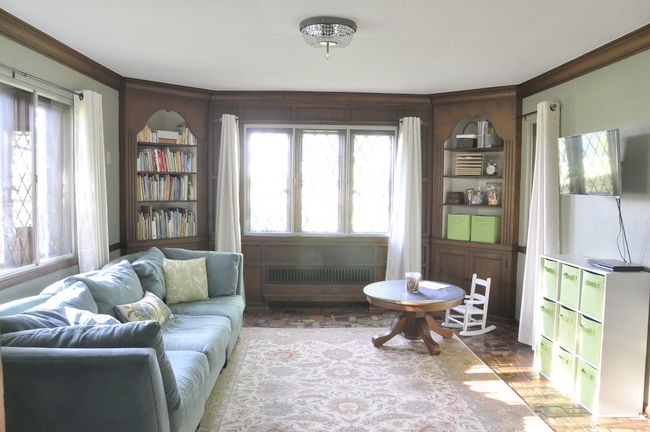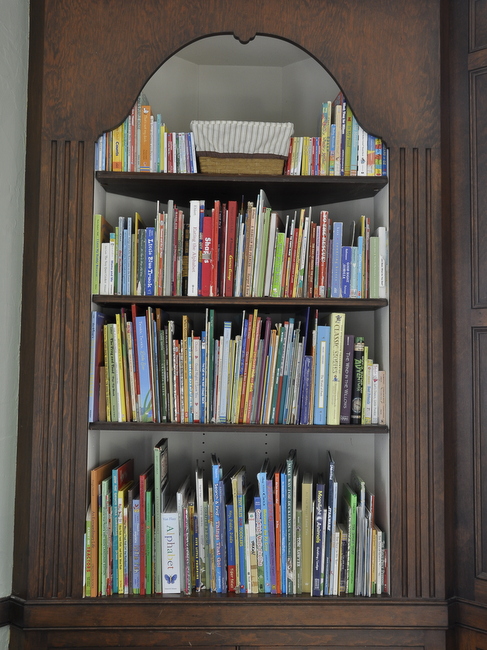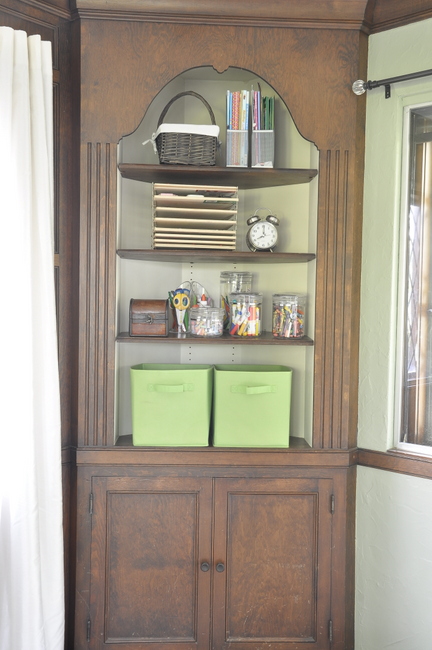 The picture below makes my heart so happy. I took this shortly after our third child was born. His teeny tiny jacket hanging on the hook was so cute and I wanted to document having a new addition to our family. Of course I wanted the picture to look adorable for his baby book, so I moved all the stuff piled by our back door that would be distracting in the picture. This is the sweet picture I took of all five of our jackets hanging in a row.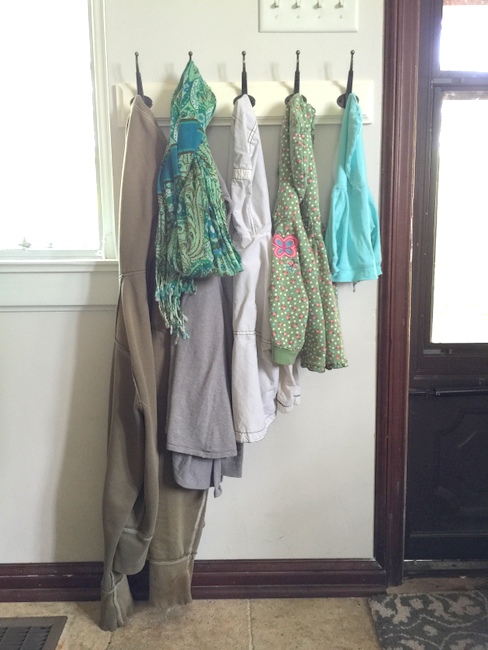 This is all of the stuff I had to move out of the way to get that adorable picture! Those hooks held more than five jackets during that crazy phase in life. With three kids ages four and under we were in full fledge survival mode!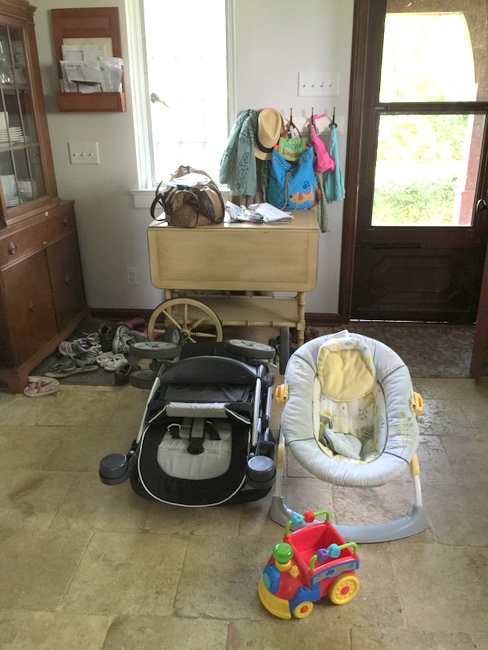 If I hadn't cleared out all the clutter the picture wouldn't have made much sense. It certainly would have had a different feeling and look to it. For me, the picture of the five jackets represents a sweet phase in life, a time when our kids were little and our baby was brand new. The picture makes my heart so happy! I hope that's how you feel when you look at pictures of our home. Happy and inspired by our castle restoration. Please know that just outside the camera lens is a giant pile of stuff that I moved so as not to distract from the architecture and style of the house. And behind the camera is an exhausted but very fulfilled mom who stayed up too late cleaning and is chugging coffee in a race against time before the toddlers wake up. I love that you visit my little blog and share in this amazing journey with me. Thank you for supporting me as I work so hard to make my creative dreams a reality. It means the world to me! May you always feel inspired when you visit Whimsical Blue Living.
With Love,
Sandy