Friends! It's Whimsical Blue Living's first Blogiversary!!! Today we're celebrating the one year anniversary of the day I pressed publish on my very first blog post, and to celebrate we're throwing a party full of whimsy and blue! It's amazing to look back over the last year and see how my dream of sharing the story of our home and the adventures we've had while restoring it has come true! Sweet friends, I am so grateful that you choose to spend time here at Whimsical Blue Living. It is such a privilege and honor to be able to share our journey with you, and you mean the world to me! You are the best!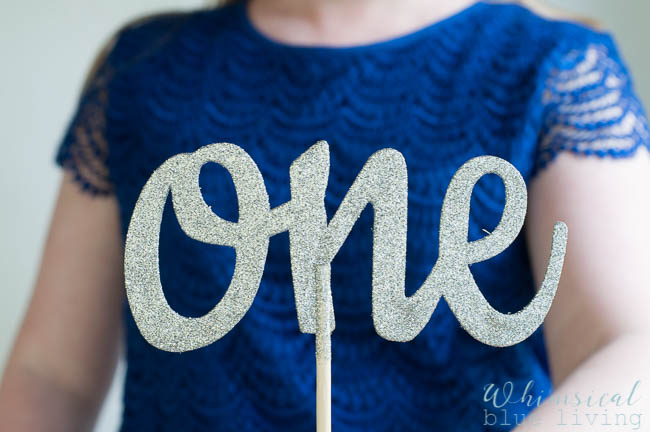 I'm like a proud parent at the first birthday party, reminiscing over important milestones and favorite moments, and marveling at how far this blog has come in one year. I spent so long dreaming about having my own little blog someday. After months of preparation, research, and nervous anticipation, I pressed "publish" and my new blog entered the world! Then the hard work really began. There were the early months when I worked late into the night and woke up early in the morning because I was learning the ins and outs of turning my creative vision into a reality. Everything was new, and I had so much to learn. Now, after a year, I've watched my sweet little blog grow into something beautiful and inspiring, and it makes me so happy!
Throughout the past year I've had so many amazing experiences because of Whimsical Blue Living. I attended The Haven Conference and learned so much about blogging, social media, and design. I've made wonderful friends and met incredibly talented people who are experts at restoring old homes. Sharing what inspires my creative soul with you, friends, is such a joy! To be able to combine my love for writing, photography, design, and restoration projects into one creative endeavor has been an absolute dream come true!
I'm so thankful for my amazing friends who helped me with the technological aspect of blogging and graphic design! I never would have been able to do this without them, and I am forever grateful to them for their creativity, patience, and help. They taught me so much and they've given me such a gift in the form of this blog!
So let's start this party, shall we? I hope you enjoy these highlights from this past year at Whimsical Blue Living!
Favorite First Post:
The story of how we bought our dream house at an auction
A Before Tour of The Castle:
Some "before" pictures from when we first bought our home
My Favorite Funny Story:
Our amazing wilderness adventure!
My Best Tips For Decorating on a Budget:
How to create luxury style on a budget
Where My Passion For Saving Old Houses Began:
My Great-Grandparents' farmhouse
My First Post as a Contributor for a Really Big Blog:
Funny stories about our family celebrations
Inspiration for Life (These are some of my favorite posts!):
Finding what refuels your soul
Giving yourself grace
Empowering ourselves to change our world
Most Dramatic Makeover of the Year:
The sunroom makeover reveal
A Few Facts About Me:
My birthday post
Meeting New Friends and Learning the History of The Castle:
A special visit from a family who grew up in our tudor home.
Favorite Finds:
My best Craigslist tips
Our vintage sink
Our antique stove
A Recent Tour:
A summer tour of The Castle
Friends, thank you so much for sharing in our journey here at Whimsical Blue Living! You mean the world to me!
For more inspiration and updates on our restoration projects, be sure to follow Whimsical Blue Living on Facebook, Instagram, and Pinterest. And sign up for our newsletter to receive an email every Sunday morning with the posts from the week so you never miss a blog post!
Have a beautiful day!
Sandy