The other night I looked at the calendar and realized that my husband actually had the next day off (he gets called into work on his days off all the time). We were planning to look at some antique leaded glass cabinet doors that I had found on Craigslist in the late afternoon, but the morning was completely free. I immediately started dreaming of all the projects we could work on. I glanced into the kitchen, eyeing the spot where I planned to hang the cabinets with the antique doors. There was a wall of paneling that the previous owners had installed over an original brick chimney. The family who lived here before us had said that the brick was in decent shape, and my husband and I had agreed that someday we wanted to take down the paneling and expose the brick when we remodeled our kitchen. It was one of those projects that we knew we would get to at some point, but with so many other things that needed our attention, we just hadn't gotten around to it yet. It occurred to me that this would be the perfect time to remove the paneling. I wanted to find out about the condition of the brick and see if there was any space on the other side of the chimney for an upper cabinet before I bought the doors. I sent my husband a text asking if he wanted to remove the wall of paneling the next morning, and he immediately agreed! I'm telling you friends, he loves me.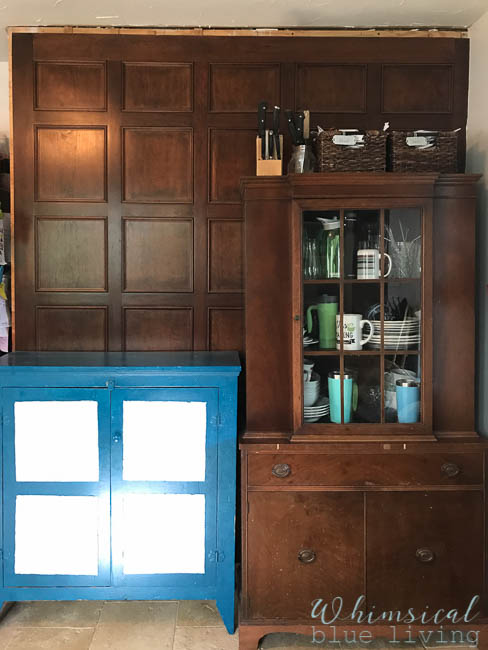 Later that night when he got home from work we discussed our plan. The paneling appeared to be attached with small nails to a board that was in turn screwed into the brick. The plan was simple.
Pry the paneling off the board with a crowbar and hammer
Remove the screws
Reveal the beautiful brick chimney and open the space in the wall to the right of the chimney where there was undoubtedly a large stash of money. (I like to dream big when I plan projects!)
The next morning I loaded up the kiddos and took them over to my mother-in-law's house while my husband collected tools and moved the fridge and hutch out of the way. "It won't take us very long to remove the paneling," I had assured my mother-in-law when I had checked with her about watching the kids. My husband called while I was still at his parents' house. I picked up the phone, confident that he was calling to tell me he'd finished the project!
"It won't budge" he stated in a frustrated voice. "We need more tools." Luckily my father-in-law has every tool known to mankind, so I started searching through his jam-packed garage with only a vague idea of what I was looking for. I was climbing up on a rickety old step stool, carefully reaching for a tool that was located on the very top shelf, when I felt a strange tug on my head. I tentatively reached up and felt something hard, cold, and sharp touching my hair. Jerking my head back, I tangled my "mommy top-knot bun" in the jaw bone of a giant cow skull that was hanging ominously above me!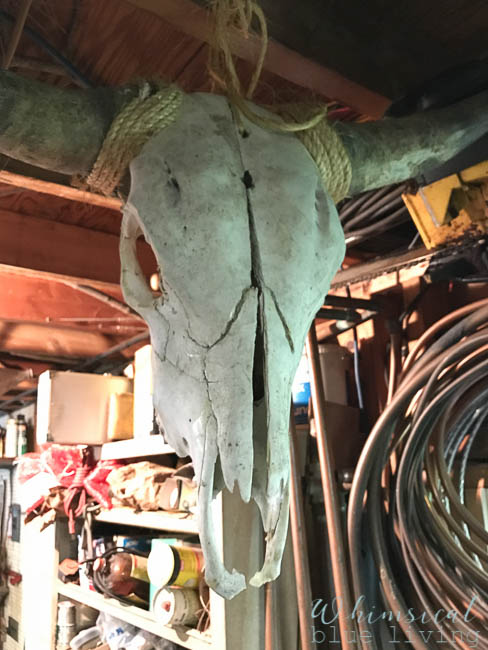 I screamed, yanking my hair free and jumping off my rickety step stool. The skull seemed to be staring down at me from it's empty eye sockets. It was really creeping me out! But I couldn't let it deter me from my mission. Nothing could come between me and my dream of original exposed brick! I gathered my courage, scooted the step stool over, grabbed the tools I needed and rushed out of there, leaving the cow skull behind to guard the garage. So far this project was not going as planned. I crossed my fingers that it would be worth it in the end. You never know exactly what you will find when you start tearing things down and opening up walls in an old house!
When I arrived home the paneled wall looked exactly like it had when I'd left. This was not a good sign. After one last attempt to pry it loose using three crowbars at the same time, we moved on to the saw.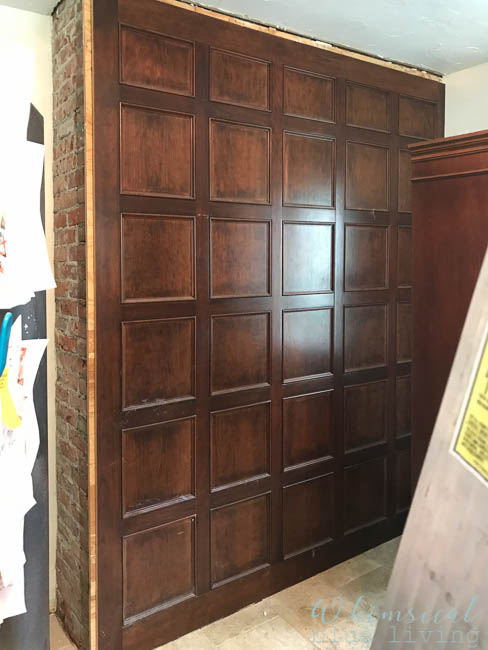 I felt guilty cutting up such pretty wood, but sometimes you have to sacrifice something that is nice in order to reveal architecture that is even better. If there hadn't been original brick behind it I would have definitely left the paneling up, because it was really beautiful. But I had to choose, and I chose the brick.
Apparently the paneling had been nailed and glued to not one but two layers of wood, so we had to saw it into what looked like a giant tic tac toe board and then pull it off in sections using the crowbar. We repeated this process for each layer. The glue was insane. That wall of paneling was not designed to be easily removed. It was slow, tedious work, and the sawdust was flying everywhere, making me wish I had taken the time to pack up our dishes that were displayed on our open kitchen shelves. We hadn't expected it to be so difficult and messy!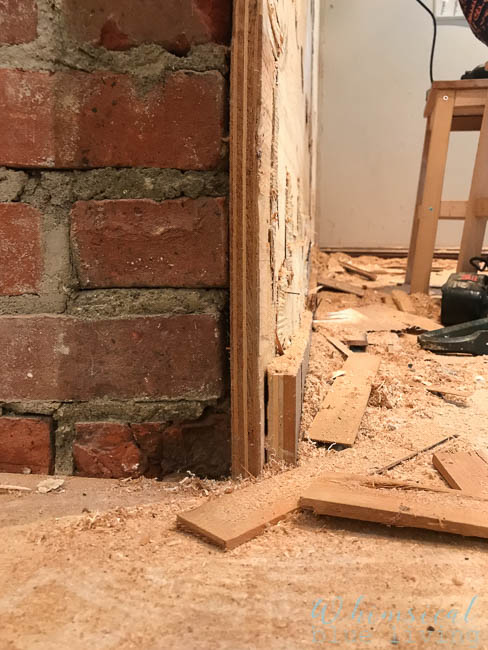 When we finally got to the last layer of wood, we carefully removed the screws to reveal this beautiful brick chimney!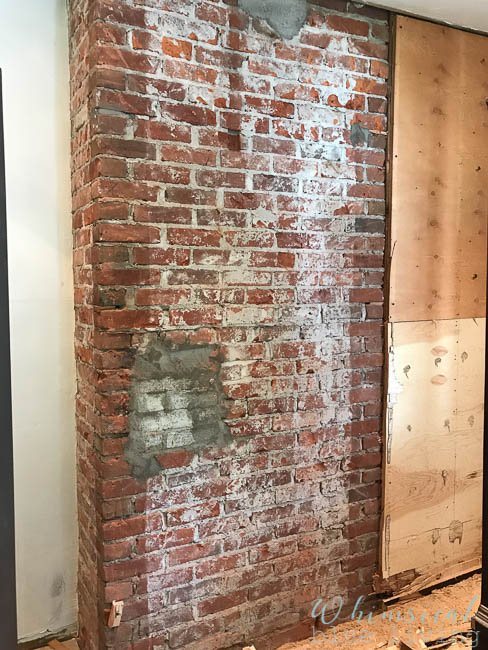 I love the look of it, especially the imperfections, because that shows it's age. There is a space at the top that is covered in mortar that used to be the vent for the original stove, and an area that has been filled in near the middle that was most likely where an incinerator chute was located. When we redo our kitchen I plan to put the stove in front of the chimney and leave the brick exposed. I might clean it up a little, but I love the character it adds to our kitchen. Isn't it gorgeous?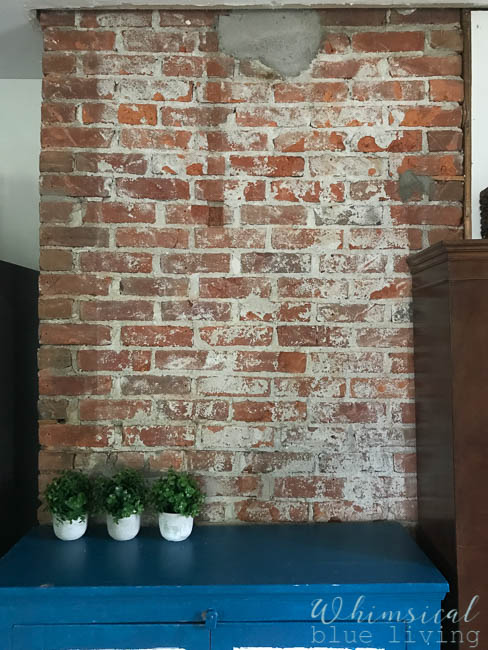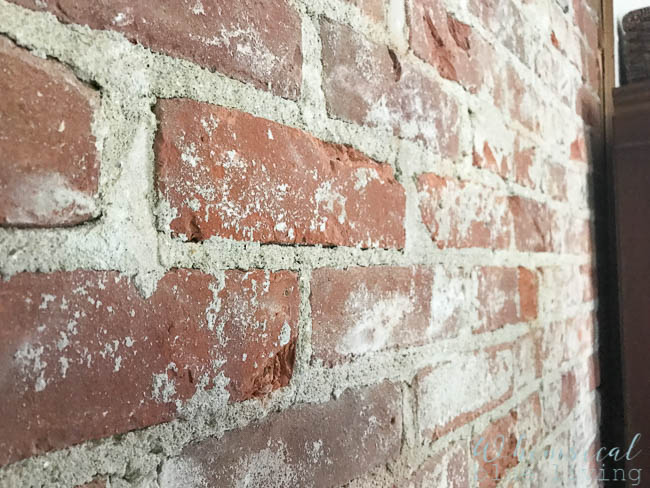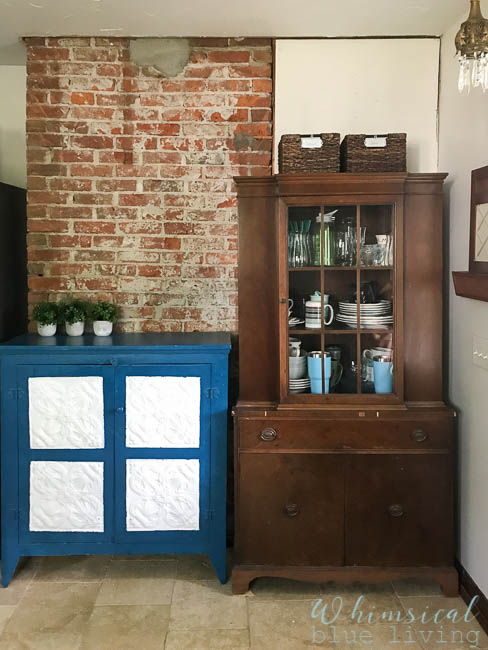 We didn't find anything exciting in the wall to the right of the brick chimney, which I had suspected would be the case since there is a little nook on the exterior of the house that fills the space. So we just put the board back up and painted it to match the wall color while we wait to redo our kitchen.
I'd rather have more space for a kitchen cabinet instead of an outside nook, but oh well. I'll think of something to do with that space. Maybe we'll just install a narrow cabinet next to the chimney to make the kitchen look balanced. I also didn't end up buying the antique doors on Craigslist that started this whole adventure, as they weren't quite what I was looking for once I saw them in person. That happens sometimes when searching for vintage treasures, but I don't mind. I'm so excited about the brick in our kitchen! And I enjoy the process of searching for the perfect pieces for our home. Keep an eye out for some fantastic vintage cabinet doors for me, friends! I'm on a mission to add tons of vintage charm to our kitchen remodel!
Have you ever discovered any neat architectural pieces in your house? Would you have left the paneling, or do you prefer the brick? Let me know what you think on Facebook, Instagram, and Pinterest. And be sure to sign up for our newsletter to receive an email every Sunday morning with the posts from the week!
Have a beautiful day!
Sandy