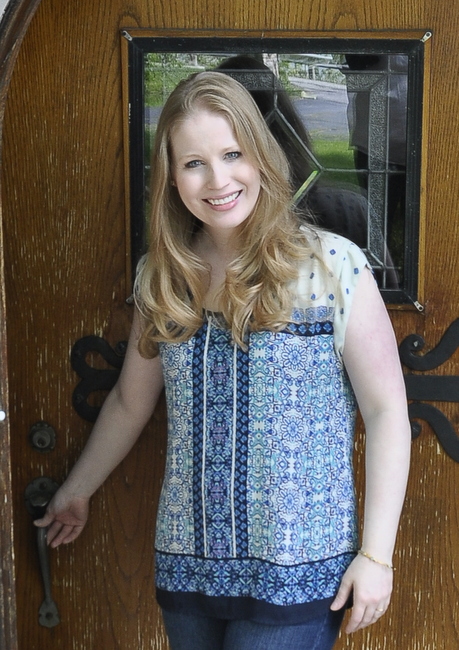 Hello sweet friends! I'm Sandy, the creative soul behind Whimsical Blue Living. Old houses and vintage items have always made my heart very happy. My husband and I purchased our house of dreams at an auction and have been spending every free moment restoring it to it's former glory. It's always been a goal of mine to own and restore a historic home, but I truly never expected to live in one this beautiful! Our 1927 stone tudor style house is our own little castle, and we are so excited to let you take a peek inside our home and share in our dream come true!
I've always loved design and antiques, and I've spent my whole life rescuing discarded and overlooked vintage items. My Grandma K. instilled her love of antiques in me, as well as the thrill of the hunt for a great bargain. I have fond memories of exploring my great grandparents farmhouse that had sat empty for years and collecting treasures that I still have today. Antique items have so much sentiment and soul in them, and I love their connection to the past. Everything in our home has a story and a memory. Everywhere I look I see items that remind me of the people we love and adventures we've shared, and I am surrounded by happiness!
As a hopeless romantic who loves chic flicks and old musicals (Gene Kelly in Singing In the Rain was my first movie star crush), I'm known to randomly break into song and dance whenever the mood strikes. The color blue is my absolute favorite, and a house just doesn't feel like home until every room has a touch of blue in it (as well as a chandelier-preferably vintage)! A perfect day for me includes coffee and chocolate, reading a classic novel or memoir, using my creativity to add beauty to life and restore forgotten treasures, and marveling at the gorgeous Northwest Ohio skies. As a former elementary school teacher turned stay-at-home mom my days are spent raising three sweet kiddos while tackling house projects. You'll often find me covered in paint and peanut butter and jelly. There is nothing better than dancing in the kitchen with my husband and snuggling my sweet babies.
I'm so glad that you are here to share our journey with us as we transform our home into the castle of our dreams!