It was a sunny spring morning, and my dear friend Amanda and I were having an adventure. We were spending the day filling our creative souls and hunting for vintage treasures for our homes. The plans included checking out the local yard sales, hitting up the Habitat for Humanity Restore, and popping in to all the local antique and thrift stores. The day felt full of endless possibilities! We drove slowly down the main street of her gorgeous old southern town, craning our necks back and forth looking for yard sales. When we spotted a sale at an imposing brick mansion we both squealed with delight! It was one of those historic homes full of old southern money and charm, and I was hopeful that we would find some amazing treasures! We were absolutely giddy with excitement!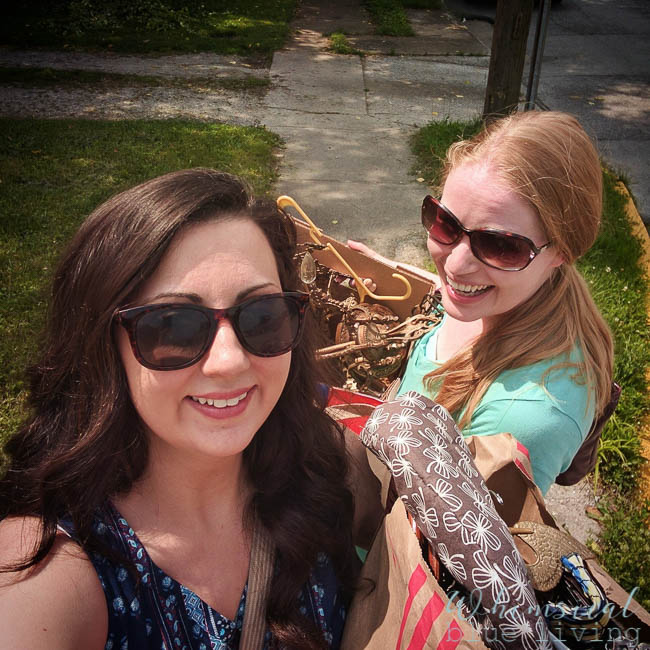 We chatted with the couple who owned the house as we perused the items spread across folding tables. They told us how they had restored their historic home themselves, climbing up on scaffolding with a pressure washer to remove the white paint that had covered the beautiful red brick. We laughed over stories of all the problems that can occur with houses that are well over 100 years old, and I could tell they took great pride in their home. It's always fun to meet fellow kindred spirits who share a love for historical houses.
As I searched for vintage treasures, a box that sat under a giant oak tree caught my eye. I noticed a glimmer of brass in the sunlight and the unmistakable sparkle of crystals, and my heart skipped a beat. Hurrying over to inspect the contents of the box, I gasped at the sight of an ornate vintage chandelier!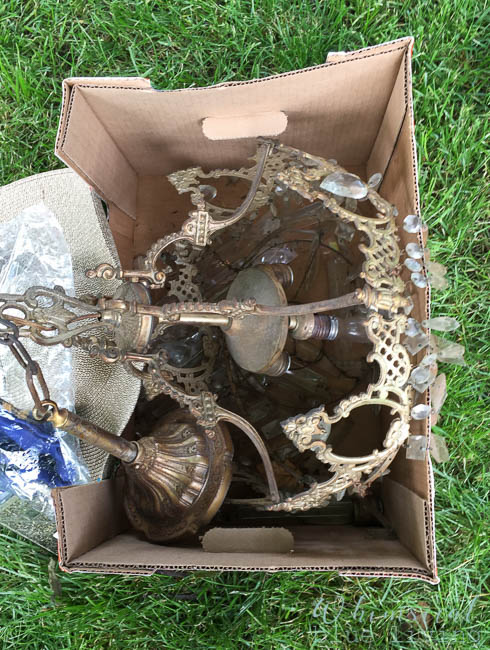 The design on it was incredible, with intricate scroll work and heavy crystals. Leaning against the outside of the box was a ceiling medallion painted gold. I quickly inspected the condition of the chandelier. The wiring looked old and I could see that the crystals would need to be cleaned and restrung. But it was so regal and majestic! It also did not have a price on it….
The wife, seeing my interest in the chandelier, walked over to chat. She explained that it was very old, possibly even original, but just not their style. The light was working when they removed it, but it had been sitting in the box for some time and would need to be cleaned up and put back together. I smiled, assuring her that I've had lots of experience restringing crystals onto chandeliers. Then I asked her how much she wanted for it, holding my breath and praying she would say a number that I could afford. She tilted her head to the side, shrugged, and said casually, "Oh, I don't know. Make me an offer."
My mind went blank. I had no idea what to offer her! It was such a unique chandelier, I had never seen one quite like it before, and I was uncertain about the amount of work it would need to fix it up. At antique stores I usually paid around $200 for my other chandeliers, but they were not as old or fancy as this one, plus they were already cleaned up and rewired. This light would most likely need to be rewired, and I had no idea how much that could cost. Still, I really loved it and was willing to pay a little more for such a unique piece. I turned to my friend Amanda, hoping she could offer some guidance. "What do you think?" I asked her. She had no idea, and we both looked at each other with wide eyes, trying to figure out how to negotiate the best price for this one of a kind treasure.
"Really, just make me an offer" the woman said again with a smile. My mind raced. She had said the light had been in the box for a while. It was almost lunch time so I assumed that they were probably going to wrap up their sale soon, and perhaps they were eager to get rid of what was left. The other items on the folding tables were very reasonably priced and I'd overheard them agreeing to sell items for lower prices than what they had written on the stickers. And if she had really wanted a specific amount she could have put a price tag on the chandelier at the beginning of the sale. Still, I had no idea where to start negotiating, and I was terrified that if I started with a price that was too low I would ruin the whole process. I turned to my friend Amanda again, hoping that since she has had lots more experience with this sort of situation she could offer up some wisdom. "I really don't know how much it's worth, but it's so beautiful" I said breathlessly.
"Here, I'll pull up Etsy on my phone and see how much lights like this sell for on there" Amanda offered, and I immediately panicked. I knew how much restored vintage chandeliers sold for on Etsy and Ebay, and it was a lot more than I wanted to pay at a yard sale for a light that needed work!
Quickly, I turned to the woman and blurted out, "I don't want to offend you, but will you take $20?" Then I held my breath, certain she would order me off her lawn for offering such a ridiculously low number.
Glancing down at the box, she replied in a slightly confused voice, "$20 for the chandelier and the medallion, right?" I nodded, unable to speak, certain I had offered and price that was too low. I was filled with nervous anticipation of her counter offer.
There was a pause while she looked at me. She was as cool and calm as only a true southern woman could be. Then, without any hesitation in her voice, she smiled and replied, "Okay!"
I couldn't believe it! Surely I had heard her wrong! Did she just agree to sell me both pieces for such an amazing price? Amanda and I grinned at each other and I picked up the box and hugged it close, amazed that such a beautiful chandelier was going to become part of my little castle. The woman smiled sweetly as I paid her, happy to see how much I loved her light. My feet barely touched the ground as I carried the chandelier back to the car!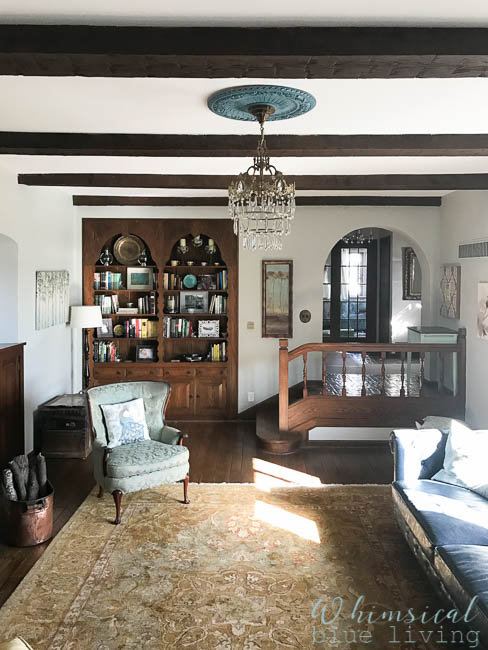 My husband and I decided to have the light rewired, and I asked my one of my favorite antique dealers if she could recommend a place for us to take it to have the work done by a professional. She referred us to a local lighting company who does amazing work rewiring vintage lights. I carefully cleaned the crystals and restrung them along the tiers of the chandelier, replacing the broken metal chains that were supporting each layer. The gold ceiling medallion wasn't very old, so I didn't feel bad changing the paint color. A quick coat of spray paint to add some whimsy and blue was the finishing touch!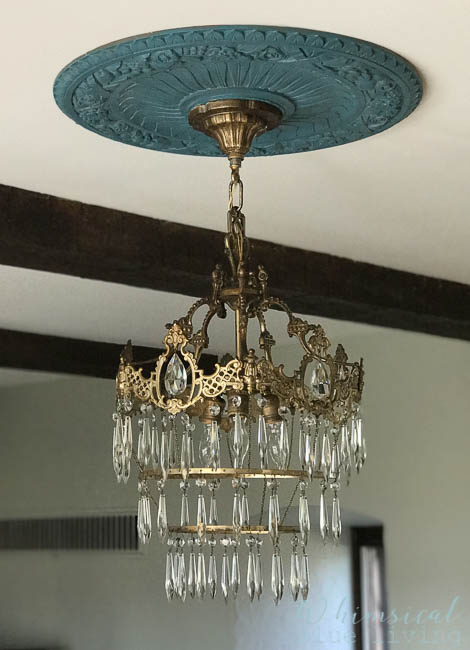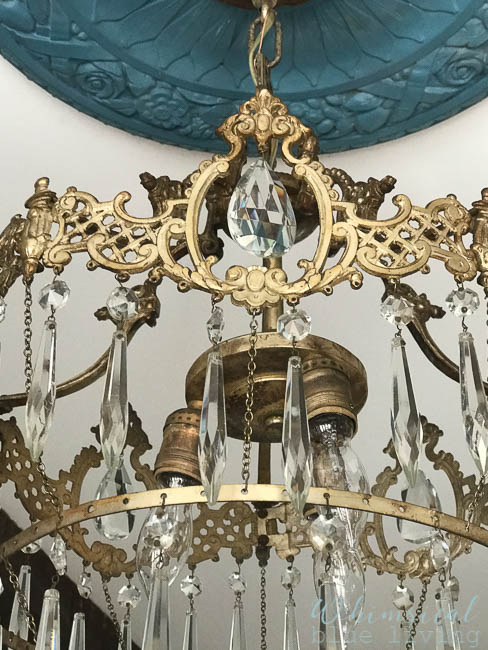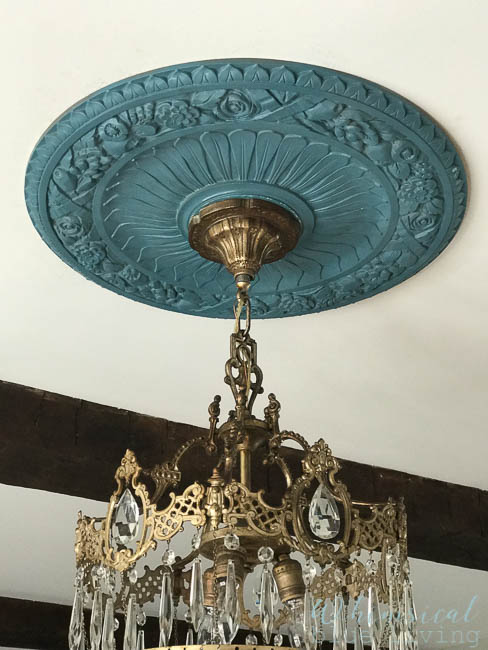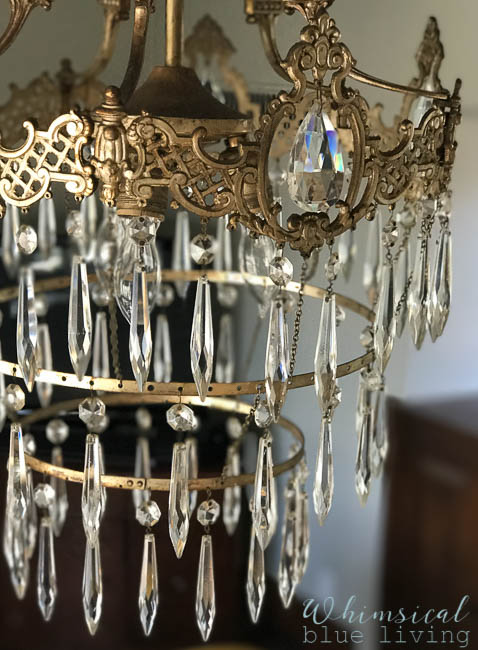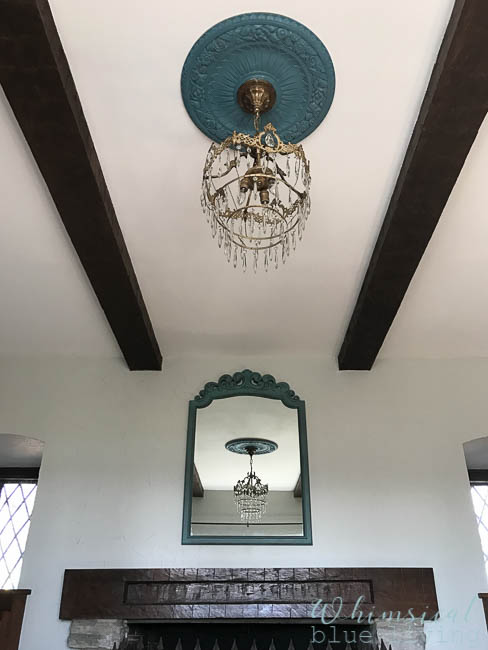 I absolutely love our new vintage crystal chandelier! It adds so much glamour and romance to our living room, and it fits the look and style of our 1927 Tudor home perfectly. It was one of those lucky finds that was just meant to be!
For even more inspiration, be sure to follow Whimsical Blue Living on Facebook, Instagram, and Pinterest. And sign up for our newsletter so you never miss a post! You'll receive an email every Sunday morning with the posts from the week, and we never sell or share your email address.
Have a beautiful day!
Sandy