Recently a childhood friend of mine posted on Facebook that she was having trouble finding a light for above her kitchen island that didn't cost a ton of money. When I suggested that she search for one on Craigslist, she replied that she had never thought to look on Craigslist for lights before! I smiled, because I actually hear that a lot. Friends, you can buy so many great items for your home on Craigslist, and it's unbelievable how much money you can save!
Craigslist is one of my favorite sources for buying items for our home. I actually prefer it to eBay (although we use both) because I can see an item in person before making the final decision to purchase it. My love for Craigslist was born out of necessity. We had to be very careful with our budget when we first moved into our little castle. I'd always been a fan of shopping at thrift stores and yard sales, but having young kiddos made browsing through a store or yard sale to find the perfect item more of a hassle than it was worth. Craigslist allowed me to search for items without having to load the kiddos into the car and navigate through a store full of breakable items while my children melted down.
By purchasing home items found on Craigslist, I've been able to buy higher quality items for our home at fantastic prices. Some items that we've purchased from Craigslist have been either new or barely used. We live in an area of Northern Ohio that has tons of older homes, so the selection of vintage items for sale on the site is amazing! I'm telling you friends, if we had waited until we had the budget to go on a giant shopping spree at a real store, we'd still be eating our meals on a card table while sitting on folding chairs. Instead, by taking the time to search on Craigslist, we've been able to furnish our home with beautiful pieces that are perfect for our family.
Below are just a few of my favorite tips for finding great deals and amazing items using the website Craigslist.
Be Aware of Your Budget
I buy most of our rugs on Craigslist for around $50 for the very practical reason that kids are messy. I know the odds are high that over time our rugs will be subjected to spills, dirt, and my least favorite, the dreaded stomach virus. In the midst of cleaning up life's messes, I want to have the option to simply roll up a rug and throw it away without feeling guilty about how much we spent on it. We've been lucky so far that I've been able to clean all of our rugs without any problem. This is due in part to the fact that the rugs I've purchased are made out of higher quality materials like cotton and wool, which usually cost much more when purchased new at a store. I like to pay around $50 for an 8×10 size rug, as compared to several hundred dollars (or more) for the same size rug from a store. When scrolling through rugs on Craigslist, I don't click on the ones listed for $3,000 because that's not even close to my budget. I do, however, consider rugs that are listed at around $100 because people are usually open to negotiating.
Don't Be Afraid to Ask
If you are interested in an item but the price is too high, contact the seller and simply ask if the listed amount is their best price. My vintage brass and crystal chandelier in the playroom was originally listed at $600 but I noticed that it had been posted for three months. When I texted the seller to ask if the light was still available, he immediately responded with a price drop of $300, and we negotiated in person down to the price of $250. It turns out I was the only person to inquire about the chandelier in three months, and he was motivated to sell it! Lucky me!
Shortly after we moved into our home I was searching for a church pew and came across a local listing for several pews that were being removed from an old church. They needed some work, but I liked the shape and simple design of them. However, they were listed for $100, which was more than I wanted to spend at that time on church pews that needed work. A few months later I was talking to a woman who mentioned that a relative of hers had posted several church pews on Craigslist and because he wasn't sure what to list them for, he just posted $100. After a little while no one responded, so he simply threw them out. If I had just contacted him and expressed interest in the church pews he would have given them to me for free! Lesson learned.
Be Patient
Friends, finding the perfect item on Craigslist can take a long time. If you need something quickly, you might not be able to find it on Craigslist. However, if you can take your time, you might find some fabulous deals! I searched for almost a year for our daughter's rug and finally found this Land of Nod rug for $40. We didn't mind waiting since her room was under construction the whole time I was searching for her rug. Just when I thought I'd have to pay full price for a new one at the store, I found this one for her room, and she loves it!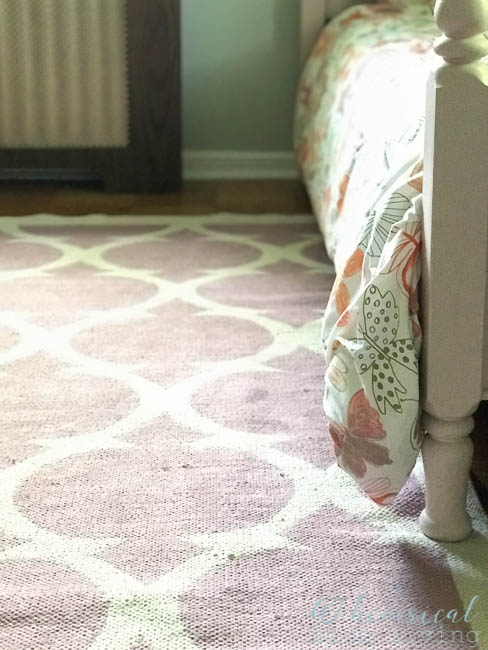 Occasionally I will find exactly what I'm looking for the very first time I check Craigslist, like our vintage bathroom sink that I bought for $25. But usually it takes a little while. So if you know you have some projects coming up, start looking now for the items you will need. Search often, as the inventory is constantly changing. When I'm really needing an item I try to search at least once a day, because often the best deals get snatched up quickly!
Use General Words to Search
A Craigslist search is only as detailed as the person who is listing their item for sale. In other words, if a seller simply lists their indigo blue leather tufted chesterfield sofa as a "couch," you won't find it when you type "sofa" into the search box. When I was searching for a new sofa for our living room I always did two different searches, the first for a "couch" and the second for a "sofa." Sometimes I would see the same items under both searches, but often the posts were different. It took a few months of searching before I finally found our tufted leather sofa, and it looks beautiful in our living room!
Remember to Search Craigslist When Traveling
Some of my best Craigslist finds have been discovered while I'm traveling out of town. I found my Pier One table for $40, our wool Pottery Barn 8×10 bedroom rug for $55, our vintage crystal chandelier in the playroom, and our leather tufted sofa all from the Craigslist site in my parents' town. By checking the Craigslist site for an area you plan to visit, you broaden the selection of items for which you are searching!
Of course, my all-time favorite Craigslist find to date is our vintage 1929 kitchen sink! It is in amazing condition and is going to look beautiful in our kitchen! I did tons of research before buying this sink so I would know how to identify it's age and authenticity. It's a very rare sink and is absolutely gorgeous!
A few more quick tips I follow when buying items on Craigslist: Use common sense. Always bring a friend. Meet in a public place, if possible. Let someone know where you are going. Do your research beforehand so you are confident about the quality of an item. Only make and accept payments in cash. Don't be afraid to say no. Plan ahead for how to transport the item back to your home.
If you aren't very familiar with Craigslist, this blog post by Young House Love has some wonderful information about using the site. My post today is just a quick overview based on my own experience using the site!
Have you ever found something amazing on Craigslist? I'd love to hear about it! Do you have any tips to add to mine? Follow Whimsical Blue Living on Facebook, Instagram, and Pinterest for more of our favorite finds! And be sure to sign up for our newsletter to receive an email every Sunday morning with the posts from the week!
Have a beautiful day!
Sandy