Friends, one of my favorite ways to make my house feel like "me" is to add color. I love color! Specifically the color blue. In case you couldn't tell from the name "Whimsical Blue Living", it's kind of my signature color. I even got married in a custom made light blue wedding dress! It's my thing. And surrounding myself with beautiful colors and designs makes my heart happy and brings a smile to my face. Adding color to your home is easy and can influence how you feel in a space.
If you're not sure what colors to include in your home, a good place to start looking for inspiration is in your wardrobe! Open up your closet and pay attention to what colors you tend to gravitate towards in your personal style. Some people love neutrals, including white, black, gray, and tan. Others enjoy bright and bold colors. Sometimes there is an overall favorite color theme, like my closet full of various shades of blue. Notice if you tend to be drawn to solid colors or clothing with prints or patterns. Pay attention to details like lace, fringe, modern designs, or an eclectic vibe. All of these are good indicators of what sort of design you might enjoy in your home.
If you love lots of different colors, or are a fan of changing your surroundings often, it's a good idea to add color and pattern in a way that can be easily adapted and modified. If you are like me, and you've loved a certain color and style for years (hello vintage, whimsy, and blue!), you might want to invest in more permanent pieces that reflect your favorite colors.
Here are a few fun and simple ways to add color to your home!
1. Paint
Paint is a relatively inexpensive way to make a big impact in your home! And remember, it doesn't have to just be on your walls. In fact, I'm a big fan of a neutral or light colored wall to allow colorful accessories and art to really pop! Because we have dark wood trim in our 1927 tudor style home, I've painted many of the walls either white or light gray and added blue painted furniture and accents. It's a fun way to try different color combinations, and if I want to change it up in the future, it's an easy switch!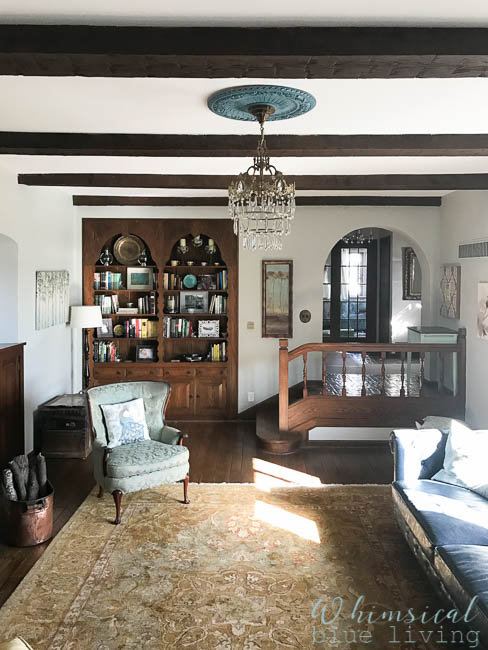 A few of the rooms in our house are painted a bolder shade of blue, which I absolutely love! These room have furniture pieces and accessories that are more neutral so they stand out against the color on the walls.
Remember, it's hard to paint the walls your favorite color AND accesorize a room with your same favorite color. Everything just blends together and the interesting details tend to get lost. You need some form of contrast. Blue and white is a favorite color combination of mine for this very reason!
2. Rugs, pillows, and curtains
Adding color and pattern through rugs, pillows, and curtains is easy and fun! I tend to buy very classic rugs with a traditional pattern that I can use for years, because rugs are more of an investment piece (although I buy mine on Craigslist for fantastic prices). Colorful pillows with whimsical patterns are my favorite way to add style, and they are easy to change. You can even purchase pillow inserts (I have some from IKEA) and then change out the pillow cover if you don't want to store extra throw pillows. Have fun, don't be afraid to try new things, and pick pieces that make your heart flutter! That way you always smile when you look at them.
3. Dishes
I have a thing for colorful mugs and glasses. There is just something so nice about drinking coffee out of a pretty mug first thing in the morning! It's a small way to celebrate the start of the new day. For years I resisted the idea of using white dishes because it seemed so safe and boring, but over time I've seen the wisdom of having a classic white set of dishes. I love my cute little ruffle edge set from IKEA! They have a lovely vintage feel to them! And I display (and use) my favorite colorful patterned mugs and vintage yellow glasses to inject my style into my kitchen!
4. Art
Art is such a wonderful way to add color to your home. One of my favorite aspects of our home is our gallery wall on our stairs! It is a delightful combination of family pictures, beautiful photographs, portraits, and art. Each piece has a special story or meaning behind it. I've framed pictures of our favorite places, vintage photos of family members, and art and photography that I've purchased on Etsy that has a special significance to our family. Over the years we've had professional photographs taken of our family in different outdoor settings, and we always wear some combination of blue clothing. So these family pictures that are framed and displayed have a cohesive look to them, even though they've been taken over several years! I love all the beautiful memories and moments we've captured over time. The overall effect is a display of beautiful, meaningful photographs and art that inspires my soul!
5. Sentimental pieces
One of my favorite ways to add both color and meaning to our home is by incorporating sentimental pieces. I love special pieces from our family, such as blue china pieces from my husband's family and colorful furniture from my Grandma. By surrounding ourselves with items that have a deeper meaning, we create an environment that both inspires us and connects us to those we love.
Making your home a reflection of you and the things you love is so much fun! It's what makes our house feel like a home. For more colorful inspiration and ideas, be sure to follow Whimsical Blue Living on Facebook, Instagram, and Pinterest. And sign up for our newsletter to receive an email every Sunday morning with the posts from the week!
Have a beautiful (colorful) day!
Sandy